"Courage is the discovery that you may not win, and trying when you know you can lose"
"Together we stand, divided we fall"
PHILADELPHIA GATORS CELEBRATE THEIR VICTORY AGAINST THE #1 SEED
THE NEW JERSEY PITBULLS
---
---
---
---
---
CONGRATS TO THE PHILADELPHIA GATORS THEY ARE OFFICIALLY N.E.A.F.L MEMBERS!!!!
 PRACTICE DAYS ARE AS FOLLOWS:
MONDAYS: 725 CONSHOHOCKEN RD, CONSHOHOCKEN PA 19428
9:00PM-11:00PM
WEDNESDAYS: 2109 W. CHEW AVE (BEHIND THE REC CENTER)
PHILADELPHIA, PA 19141
TIME: 8:00PM-10:00PM 
---
REST IN PEACE COACH JAMES DOUGLASS MURPHY
ON SEPTEMBER 26, 2017 A GREAT MAN WAS CALLED HOME TO BE WITH THE LORD. COACH DOUG WAS A WONDERFUL MAN, BROTHER, FATHER, COACH, PHOTOGRAPHER, AND MENTOR. HE WAS A GREAT SUPPORTER WHOM ANYONE COULD CALL ON ALL THE TIME. EVERYONE LOOKED UP TO HIM IN MANY WAYS ON AND OFF THE FOOTBALL FIELD AND HE BROUGHT THE VERY BEST OUT OF EACH AND EVERY PLAYER HE CAME IN CONTACT WITH. HE WILL TRULY BE MISSED AND HOLD SPECIAL SPOTS IN OUR HEARTS.
MEMORIAL/REPAST
WHERE: THE VENANGO HOUSE @ 2104 VENANGO STREET, PHILADELPHIA PA 19140
MONDAY. OCTOBER 2,2017
9 AM TO 1 PM
---
ON NOVEMBER 11, 2014 THE PHILADELPHIA GATORS BECAME THE FIRST SEMI-PRO TEAM TO DO A VIDEO SHOOT FOR SCHUTT HELMET, NEW RECORDING HELMET TO BE WORN BY THE NFL AND COLLEGE TEAMS!! JOB WELL DONE GATORS!!
PICTURES BELOW
---
Founder & Philadelphia Lady Gators @ The Gators Cabaret
 TO SEE MORE PICS FROM THE CABARET GO AND CLICK ON PHOTO ALBUM!
---
Back in 2010 when the idea of a new semi-pro team came to Mr. Andreas & Mrs. Ruthie Roberts minds, they would have never imagined it to make it this far. Their whole idea of creating the team was not only for recreational purposes but to give the young men in the surrounding areas of Philadelphia a positive activity to keep them productive and off of the streets. Just like a house is built up starting from the ground you can liken it to how this journey was created without any sponsors or extra funding to help. It certainly wasn't easy for them to get where they are now, but by putting god first they knew they could excel. Mr. and Mrs. Roberts are not only founders of this team, but they are also founders of a family like no other, where young men know they can come to and not only enjoy the game of football but also enjoy a close association with people they can call family. This journey for these founders has not been easy but they know that god would have not brought them along with their team this far to leave them. With a outstanding coaching and lady gator staff along with a talented team these wonderful individuals are able to proceed. Mr. and Mrs. Roberts had to struggle to get the team to where they are now and despite many set backs that had them ready to fold , their strong ambition and faith in god kept them pushing and believing in their team. Now here they are 2014 standing strong with an undefeated team with a record sitting at 10-0. The different experiences from 2010 up until now has molded them into "Rock Steady"  Gator founders with experience.
HEAD COACH & OWNER MR. ANDREAS ROBERTS
                           This man right here is something very special. With hard work and dedication he has guided the Gators to an undefeated season. Whatever he is doing has shown clearly in his teams performance every game. His love for football and his faith in god are two of the many reasons these young men are able to be under his wing. Despite back lashes, such as his sicknesses , set backs and sometimes just plain old bad days, this man continues to push on and believe in his team. He knows that it is in gods strength and mightiness that all things are possible if only you believe. The gators have grown in so many ways with Andreas as their head coach. He has taught them leadership , how to remain humble and most importantly how to stick together as a team and family. He is a mentor, father, grandfather, husband,  and a wonderful head coach. Not only is this man a inspiration but he is a living example of an almighty gator because no matter the circumstance, he's fighting to win.
WE LOVE OUR HEAD COACH!!!!!!
But wait one more thing he cleans up real nice too!!!Now will you check him out.
---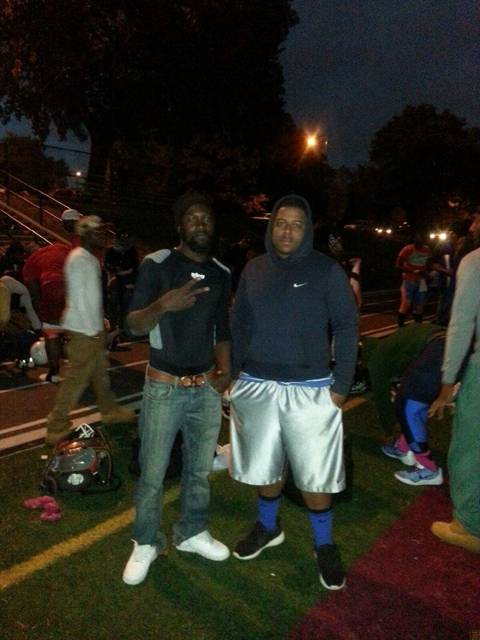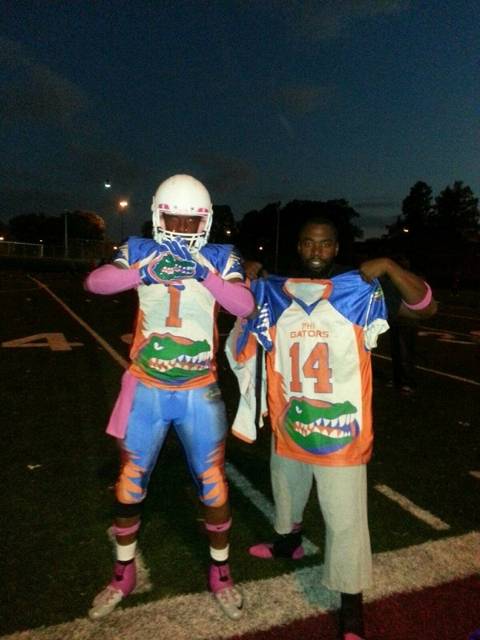 ---
THE PHILADELPHIA GATORS DEFEAT THE UNDEFEATED DELAWARE BUCKEYES WITH A SCORE OF 14-2
---
---
PHILADELPHIA GATORS 2014 SCHEDULE
   8/10/14      SPARTANS @ GATORS      W 6-24
   8/17/14      PANTHERS @ GATORS      W 6-40
   8/24/14      KNIGHTS@ GATORS           W 0-42
   8/30/14      GATORS @ KINGS                W 24-0
   9/7/14        FALCONS @ GATORS         W 22-12
   9/13/14      GATORS @ COWBOYS        W 22-14
   9/20/14      GATORS @ BUCKEYES       W 14-2
   9/27/14      GATORS @ KNIGHTS          W 34-0
   10/5/14      CHIEFS @ GATORS              W 24-20
   10/12/14    SPARTANS @ GATORS        W 42-0
---
---
THE PHILADELPHIA GATORS ARE NOW APART OF THE I.F.L LEAGUE WHICH CONSIST OF THE FOLLOWING TEAMS:
*DELAWARE BUCCANEERS
*PHILADELPHIA GATORS
*DELAWARE COUNTY RAVENS
*PHILADELPHIA PANTHERS
PHILADELPHIA SPARTANS
*FRANKFORD CHIEFS
*LADCO KINGS
*NORTH PHILLY COWBOYS
*SOUTHWEST FALCONS
PHILADELPHIA GATORS ARE STILL LOOKING FOR COACHES. CONTACT HEAD COACH IF YOU ARE INTERESTED IN BECOMING A GATOR
HEAD COACH ANDREAS ROBERTS
267-446-4895
---
---
THE PHILADELPHIA GATORS COMMUNITY SERVICE PROGRAMS
MISSION- The mission of the Philadelphia Gators Community Service Programs is to make a positive and measurable impact on the youth development in the Philadelphia area in the areas of education, community outreach and health and wellness.We demonstrate to the community that the Philadelphia Gators is a positive and successful organization with people that care and understand the needs of the children and our communities.
VISION- Many of the problems surrounding the at-risk youth can be traced to a world view that leads them to a path of misdirection and disunity. They have not been educated on how the system works, and they turn to a self-defeating thug mentality. Yet, these youth, both boys and girls, look up to athletes and seek to emulate them. The vision of the Gators is to provide positive athlete role models, and through them, to offer programs for outreach, education and training that leads to better life choices. The thug mentality must be beaten.
Our programs have flourished over the years becoming a multifaceted service organization. Our mission encompasses rendering assistance to individuals, families, the elderly and especially at-risk youth. Our Community Service Programs include:
ENRICHING SOULS- This community service program is designed to visit the Senior Centers, in the Philadelphia area and visit with the Elderly. Not only do they appreciate our company but they are a wealth of knowledge from their years of experience.
GATOR YOUTH FOOTBALL CAMP- This series will use sports and the emulation of professional athletes as a vehicle to reach at-risk youth through athletic team competition, skill building workshops and self-esteem clinics.
GATOR APPRENTICESHIP PROGRAM (GAP)- Since kids often have innovative ideas about business and making money, this program is designed to expose the hidden talents of youngsters interested in starting their own business.
CONFLICT RESOLUTION- Designed to assist youth deal with problems in healthy/constructive ways. Topics in this series include avoiding gang recruitment, violence, family dysfunction through role playing and one-to-one mentoring.
---
MISSION STATEMENT

The Philadelphia Gators is committed to doing good work in the community. It is an important part of what we do and who we are as an organization. It is the contribution of the organization, their individual and collective dedication to community service that results in meaningful and positive change in our communities. As we pursue our goals, we are guided by the following:

~ Put the needs of local communities first
~ Support leadership and public service careers for our programs participants and community volunteers
~ Measure and continually improve our programs benefits to service participants, community organizations and beneficiaries
~ Use service learning principles to put volunteer and service activities into appropriate context that stimulates life-long civic engagement

THE PHILADELPHIA GATORS ARE ON A MISSION TO GIVE BACK TO THE COMMUNITY!!
---

---
2012 R.A.F.L DIVISION CHAMPS!!!!!!
---
---
---
---
---
---
---
---
---
---
---
76 West Sports


Dear Philadelphia Gators Semi-Pro Football Organization,
First, we would like to thank you for allowing 76 West Sports to cover your event for our PhillyCAM program titled The Neighborhood Sports Showdown. This is a programming notice alerting you to the slated time and date your segment may appear on television.
Please keep in mind programming may change at any time. Below is the estimated date and time for your segment:
Comcast channels 66 & 966 and Verizon channels 29 & 30 in Philadelphia only

Wednesday, May 9, 2012 4:30 pm (Coach Perry's interview at Gators practice)
Saturday, May 12, 2012 10:30 am (Coach Perry's interview at Gators practice)

Wednesday, May 23, 2012 4:30 pm (Gators participate in Comcast Cares community service)
Saturday, May 26, 2012 10:30 am (Gators participate in Comcast Cares community service)

Wednesday, June 6, 2012 4:30 pm (Gators 2011 Classics vs Falcons and Hornets)
Saturday, June 9, 2012 10:30 am (Gators 2011 Classics vs Falcons and Hornets)

Please check https://phillycam.org/watch-2 periodically for programming changes. Individuals who do not have Comcast and Verizon in Philadelphia can view the show at https://phillycam.org/on-demand-2 (type sports in the search box). The show should be available online a few weeks after it initially airs on television. Currently, your segment will likely run as part of show #18, #20, and #22.
If you like the segment, feel free to leave positive feedback at https://phillycam.org/content/contact-us
Thank you again for your generosity and please keep us informed if you have future events you would like for us to cover.

Best regards,
Jonathan E. White
76 West Sports Founder and Producer