ADAPTIVE PROD'N OF THE NUTCRACKER - NOVEMBER 30
JENNY HEATH-KAPLAN AWARDED 2019 JACK RUTLEDGE CUP!
DANCES START ON SEPTEMBER 20
BE SURE WE HAVE YOUR CURRENT EMAIL ADDRESS
MONTY HALLOWEEN PARTY - OCTOBER 25
PRINCETON SPECIAL SPORTS & PROGRAMS
"Sometimes it is the people no one imagines anything of who do the things no one can imagine."
The Imitation Game, 2014    
PSS SPORTS ARE OPEN TO KIDS WITH SPECIAL NEEDS AGES 6 AND UP FROM ANY TOWN. GO TO  HOW AND WHEN TO SIGN UP FOR OUR SPORTS UNDER HEADLINES FOR MORE DETAILS.

THE PRINCETON COMMUNITY DANCES ARE OPEN TO ADULTS AND TEENS AGES 13 AND UP WITH SPECIAL NEEDS. SCROLL DOWN FOR MORE INFORMATION AND REGISTRATION LINK.
PLEASE USE EMAIL IF YOU NEED ADDITIONAL INFORMATION. AS PSS IS RUN ENTIRELY BY VOLUNTEERS, PHONE MESSAGES MAY NOT BE RETURNED.

                        SUPPORT PSS WHEN YOU SHOP ON AMAZON SMILE!  https://smile.amazon.com/ch/20-0422569.
(Logo Designed by Dustin Hazzard)
---
STUDENTS: WANT TO MAKE A DIFFERENCE & EARN COMMUNITY SERVICE CREDITS?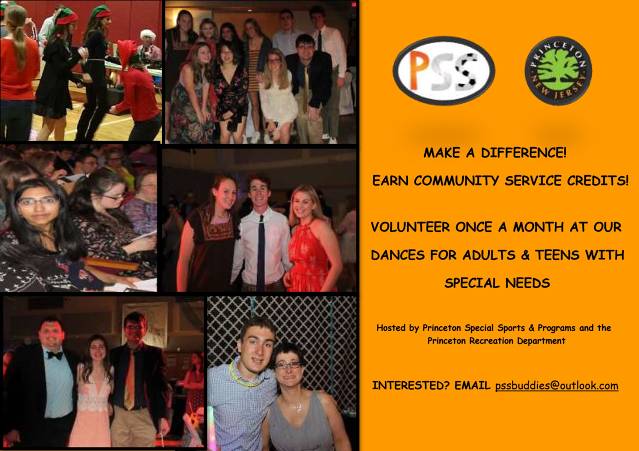 ---
PRINCETON COMMUNITY DANCES for adults & teens (13+) with special needs.
PSS and the Princeton Recreation Department co-host monthly dances (with pizza!) for adults and teens (ages 13 and up) with special needs.  Registration required. Except for the Spring Formal, which has an earlier registration deadline, you can sign up until 3:00 p.m. on the date of each dance. Support personnel welcome without charge. You can register HERE.

WANT TO BE A STUDENT DANCE VOLUNTEER? Email Valerie Walker at pssbuddies@outlook.com.
---
JENNY HEATH-KAPLAN AWARDED 2019 JACK RUTLEDGE CUP!

THE JACK RUTLEDGE CUP IS AWARDED ANNUALLY TO THE PLAYER WHO HAS  DEMONSTRATED THE EXCEPTIONAL DETERMINATION, ENTHUSIASM, AND SPORTSMANSHIP EXEMPLIFIED BY OUR FRIEND AND PLAYER, JACK RUTLEDGE. JACK LOST HIS VALIANT FIGHT AGAINST LEUKEMIA IN JANUARY 2008. JENNY IS THE DAUGHTER OF WENDY & STEVE AND ATTENDS PRINCETON HIGH SCHOOL.
PAST WINNERS ARE JOHN DIVER (2008), ETHAN GUELPH (2009), ANDREW McTIGUE (2010), JED YOUNG (2011), FRANCESCA DONA and BEN ORESKY (2012), MICHAEL CARNEVALE (2013), KELLY SASOR (2014), BEN BROSOWSKY and ERIC LLANOS (2015), THOMAS STELLA (2016), JAMES GATER (2017), and LUKE JARRACH (2018).
CONGRATULATIONS, JENNY!
---
MONTY HALLOWEEN PARTY ON OCTOBER 25 (AGES 15+)
Our newest partner, Montgomery Township Recreation, is sponsoring a HALLOWEEN PARTY on October 25. Hosted by MTRD's own DJ Jared and Princeton Recreation alum John Groeger with assists from TEAM PSS/PRD, we're looking forward to PIZZA*GAMES*DANCING*COSTUME CONTESTS* and MORE! No charge for support personnel. Sign up by October 23 HERE.
---
REGISTRATION EXTENDED TO OCTOBER 21! ADAPTIVE PRODUCTION OF THE NUTCRACKER ON NOVEMBER 30 (AGES 18+)
We'll be starting the holidays off with a trip to see Roxey Ballet's sensory-friendly production of THE NUTCRACKER on November 30! Sponsored by PSS, Princeton Recreation, and Montgomery Township Recreation. Open to adults (18+) with special needs. Registration closes on October 21. You can sign up HERE. Unlike most of our activities where support personnel are welcomed without charge, you will need to buy a ticket for anyone accompanying you, including support personnel, in addition to your own ticket.

---
NEW JUNIOR COACHES: ANEESH KUMAR, CHARLOTTE WALKER, GRACIE POSTON, and OLIVIA BROWNDORF!
ANEESH KUMAR, CHARLOTTE WALKER, GRACIE POSTON, AND OLIVIA BROWNDORF WERE NAMED JUNIOR COACHES ON SEPTEMEBR 30th! JUNIOR COACHES ARE  STUDENT VOLUNTEERS (BUDDIES) WHO ARE ELEVATED BASED ON THEIR EXCEPTIONAL DEDICATION TO PSS AND THE PEOPLE WE SERVE.
CONGRATULATIONS!
---
VOLUNTEERING
STUDENT VOLUNTEERS -- CONTACT VALERIE WALKER AT pssbuddies@outlook.com.
ADULT VOLUNTEERS -- IF YOU ARE INTERESTED IN BECOMING AN ADULT COACH OR IN OTHER ADULT VOLUNTEERING OPPORTUNITIES, PLEASE EMAIL princetonspecialsports@gmail.com. ALL PSS ADULT VOLUNTEERS MUST COMPLETE A VOLUNTEER APPLICATION AND CONSENT TO A NATIONWIDE CRIMINAL BACKGROUND CHECK. COACHES AND ON-FIELD VOLUNTEERS WILL ALSO NEED TO ATTEND SAFETY AND CONCUSSION PREVENTION TRAINING.