Congratulation to the 2017 SYFA Champions
PeeWee Lions
Division I Gators
Division II Tigers
Division III - The "U"
Welcome to the home of the
Slidell Youth Football Association
Oct 20
Pee Wee
Crimson Tide @ Long Horns
9:00am
Eagles @ Purple Knights
9:30am
Division I
Saints @ Hurricanes
10:45am
Spartans @ Ragin Cajuns
11:00am
Division II
Division III
Dolphins @ Patriots
2:45pm
View Full Schedule
SYFA Annual Cheer Extravaganza
Saturday, October 13, 2018
---
BREAST  CANCER  AWARENESS
OCTOBER is Breast Cancer Awareness Month and SYFA is once again contributing to this great cause!
All Football and Cheer Coaches are asked to have their teams PINK OUT the Park for the entire month of October! Go Pink with socks, mouthpieces, jerseys, shoe strings, t-shirts, bandanas, eye black strips, gloves, ribbon, tape, caps, sweatbands, etc.
The concession stand/ticket booth will accept cash donations the weekends of 10/6, 10/13, and 10/20.  All cheerleaders will canvas the park and stands to ask for donations each of these Saturdays. We are making contact with a local cancer center to make our donation which is tentatively scheduled for 10/27. Thanks in advance for your
support to this most worthy cause!
---
---
SYFA 2018 Opening Day was a success!
Thank you to the coaches for their countless hours and dedication in working with our youth.
Just a reminder that practices must now be dropped to 3 days a week, for 1 1/2 hours.
---
From the Desk of The President…..
On behalf of the Slidell Youth Football Association Board of Directors, I would like to welcome the many new and returning athletes and families to SYFA.  My name is George Roberson, Jr. and I will serve as your 2018 President. I have been an active member of SYFA for over 10 years as a parent, Board Member, and Coach. As your President, my ultimate goal is to ensure that SYFA provides a safe, respectful, enjoyable, and competitive atmosphere for our football players and cheerleaders. Youth sports are a great way to teach our kids about teamwork, integrity, discipline, sportsmanship, leadership, and other admirable character traits. Our coaches volunteer countless hours of their time and strive to teach our kids the fundamentals of football and cheerleading.

We could never have enough parental involvement and ask that each of you consider volunteering your time during this football season; please contact a member of the Board of Directors for information. The exemplary efforts of the entire SYFA Family working together for the betterment of our youth is indicative of what the word 'community' is all about. Let's all put our best foot forward and stay focused and motivated to make this a positive and memorable football season. Your kids are my kids and together our kids will be 100% KIDS FIRST.
With much gratitude,
George J. Roberson, Jr.
2018 SYFA President


---
SYFA 2018 Football and Cheer Camp
Special Thanks to Will Clapp of The New Orleans Saints.
Shout out to the coaches and players of Brother Martin,
Northshore High, Slidell High and Salmen High.
---
All Coaches and Parents of SYFA, please be advised that no tailgating or barbecues will be allowed on SYFA property without permission from the Board of Directors.  Thank you for your attention.
-SYFA Board of Directors
---
---
"ATTENTION ALL COACHES and TEAM MOMS"
Effective immediately Sponsor check(s) can no longer be made payable to "SYFA". Any check(s) written to SYFA must be WRITTEN OUT TO "SLIDELL YOUTH FOOTBALL ASSOCIATION". Checks not written correctly will be returned. We were informed of this New Bank Policy and we must follow them. Our Sponsorship forms states this.
Thanks, 
---
---
What Makes A Good Coach?
A great youth coach is one who: 
Understands that the game is about the players, not about themselves
Makes coming to the rink an enjoyable experience, not a dreadful one
Coaches every player on team, not just the best ones who he wants to keep around for next year
Knows that positive reinforcement is much more productive than negative
Remembers what it was like to be a kid and then treats the players how he or she would like to have been treated at that age
Communicates effectively with all players and their parents so misunderstandings are minimized
Knows when to step back and let the kids figure things out on their own
Understands that the referees are going to make mistakes and teaches the players on the team to accept that fact and not let it effect how they play the game
Is respectful of opponents and teaches his players that a quality opponent will help them improve and take their game to a higher level
Has heard and understands the phrase "profanity is a crutch for a weak mind"
Knows when to shut up and let the players talk things out themselves
Is smart enough to know that just because "it was done that way when I was a kid" doesn't make it the right approach
Is willing to take the responsibility for a loss and give the players the credit for a victory
Knows that every player on the team is important to success of the team and will contribute at some point if given the chance
Recognizes that yelling is only a short term method of communication and sooner or later they will quit listening unless they want to
Realizes that only a fraction of a percentage point the players who play the game will even have the opportunity to play at a level beyond high school
Recognizes and is okay with the fact that they are coaching a youth sport and their "coaching career" will end before or when their child's participation ends and it is not the first step to a professional coaching career
Understands that coaches don't develop players, they develop themselves—coaches can only provide them the opportunity to do so
Knows that honesty and integrity will get you much farther in life than sacrificing them in order to win
Understands that motivation and respect born of fear might get you some wins in the short term, but true respect has to be earned over time by doing the right thing
Realizes that the time to coach is in practice. The games are the time for players to play and a coach can often be more of a hindrance than a help during games
Is smart enough to know that players don't improve if they are sitting on the bench
Acknowledges that the player who actually did make it to the higher level probably got there in spite of their coaching, not because of it
Is willing and able to learn something new from players every time out on the ice
Remembers the coaches and teachers who had an impact on them, both positive and negative, and utilizes that experience
Understands the power of the coach and acts as a positive role model for the players at all times
Knows the value of a smile
Defines a successful season not by what was won or lost, buy by whether the players are inspired to play again next year 

---
---
Rec & Leisure: Young Slidell football players can score some long-lasting memories
Every time I turn off of Old Spanish Trail onto Terrace Avenue, the memories come flooding back.
And if you grew up in Slidell, or if you are growing up in Slidell, that sentence probably makes you think of playing youth sports, too.
For me, they start back in the 1970s, when I was a regular at the Slidell Bantam Baseball Association fields located just off Terrace Avenue. Baseball was my sport, though I did give football a shot sometime around 1980, I guess.
The experience was pretty strange, to say the least. I was the youngest and smallest kid on the team, and I played offensive guard. That's the position usually reserved for the guy who eats two school lunches, not the one who looks like he might have his lunch money taken by the schoolyard bully.
But I digress.
My football team was named the Cajuns, which is as apropos as any mascot name around south Louisiana. We had a kid on the team who went on to play major college football. The quarterback handed the ball to him on every play, which usually resulted in a touchdown run.
The Cajuns went undefeated during my one year of football, which probably makes me one of the few people on Earth who can say he "retired" from the sport with an unblemished record.
Those are my memories of playing at the Slidell Youth Football Association, and they are quite vivid, honestly, given that they harken back nearly 40 years.
I wondered about the memories being made by hundreds of other young children when I visited the SYFA fields (also just off Terrace Avenue) on Aug. 20. That was the opening day of the 2016 season, and as usual, the first day of the season is one of excitement and anticipation.
About 700 youngsters ages 5-12 are suiting up at the SYFA this year. There are about 30 teams in four age brackets – 5-6, 7-8, 9-10, 11-12. They vary in size and shape, and in ability and tenacity. But they all seem to be having fun, and that's what youth sports is all about.
Football is thought of as a cool-weather sport, and just about all of us have huddled underneath blankets on half-frozen metal bleachers, cheering on a brother or a boyfriend though chattering teeth. But Aug. 20 was not one of those days. It was hot and humid, and seemingly more suitable for the beach than the ball field.
But again, no one seemed to mind, as helmets bobbed like inflatable toys floating on a hazy ocean of green grass, hemmed in by a multitude of cheering parents.
The SYFA regular season will continue through Oct. 22, and the championship games in each age group will be held soon thereafter. Those title matchups will be held at a local school; either Northshore, Salmen or Slidell High.
The location is to be determined, much like the memories of the boys who will be playing football this day.
Some of them will turn out to be like my teammate, who was handed the ball on every play and ran for a touchdown. Others will turn out more like me -- the undersized kid in the oversized shoulder pads.
Some will switch to baseball, and some will stick it out in football. Maybe they'll be dads one day, too, much like the ones rooting for the home team on the sideline this sticky August day.
Whatever happens, they're all making memories. And that's what counts, most of all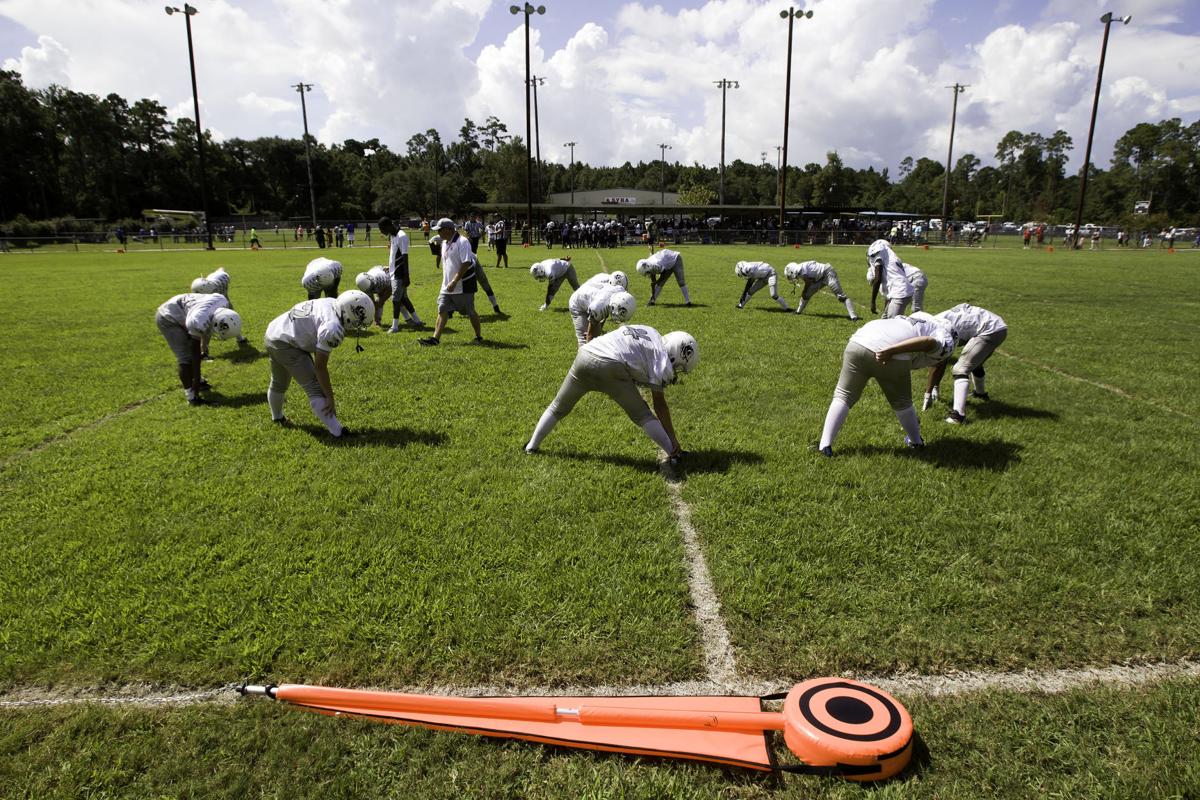 Members of the Division 3 Ducks stay loose during am injury timeout on Aug. 20 during Slidell Youth Football Association opening day.
---
---
---
                 Slidell Youth Football Association Mission Statement
The Mission of Slidell Youth Football Association is to provide all youth in our community the opportunity to play football or cheer; without regards to his or her size, athletic ability or experience. Our goal is to teach our Youth the Fundamentals of Football, Discipline, Respect, Team Work, Sportsmanship, Leadership, and Character. This will help our Youth develop important life skills while cheering and playing the game of football. Together with the participation of parents, coaches and players, we will have a fun and exciting season.
SYFA BOARD    
---