---
---
Hi THHS Volleyball Parents,
Please see the attached flyer on how to register for the clinics starting this Thursday. Just disregard the online "description dates/times" as those are incorrect. 
GO MUSTANGS!
---
LEAGUE CHAMPS! 2 YEARS IN A ROW! 8-0!
---
VARSITY TEAM PHOTO 2018
---
JV TEAM PHOTO 2018
---
FROSH TEAM PHOTO 2018
---
League has Started!
We are off to a great start with our Sea View League schedule! 
Varsity beat Mission Viejo on Thursday, March 22nd. 
Games this week  Tuesday vs. San Juan Hills at San Juan 6 pm 
                             Thursday vs. El Toro at Trabuco  6 pm 
Come Watch and support the boys in BLUE!   Go TRABUCO!
---
March 6, 2018 – 05:00 PM
Come support the Mustangs on Tuesday, in the Trabuco Gym as we take on Santa Margarita HS. 
JV and F/S are at 4 pm 
Varsity  5 pm 
Go BLUE!!
---
Team Pictures - Tuesday Feb 27th
February 27, 2018
we will be taking team photos and individual shots at The Refinery, Tuesday, Feb 27 at 2 pm -- meet at The Refinery and then the boys can head over to practice when we are done
---
Boys Volleyball Season Starts This Weekend
We Are Excited for Trabuco Hills Boys Volleyball to start playing  this weekend in the Tesoro HS Varsity Tournament.
Come support the boys, they play at Tesoro HS at 8 am, 10 am and 1 pm and then into pool play into the afternoon
Photos and results will be posted after Saturday matches 
---
December 11, 2017 – 06:00 PM
We will be having a parent meeting in the THHS Library on Monday, December 11th at 6 pm 
Please be sure to attend so we can pass out the athletic clearance forms and give you important information about the upcoming season
Please contact Coach Dave Hollaway if you have any questions at  hollaway@sbcglobal.net
or Contact Assistant Coach Craig Moothart at  moothartc@svusd.org
---
Varisty are League Champs! 8-0!
---
---
VARISTY
---
JUNIOR VARSITY
---
FROSH/SOPH TEAM
---
2017 TRABUCO HILLS BOYS VOLLEYBALL HIGH SCHOOL SEASON
is off to a great start with conditioning and practices
Anyone interested in participating in the Trabuco Hills High School Volleyball Program
Please contact
 Coach David Hollaway  -  hollaway@sbcglobal.net
 Coach Craig Moothart - moothartc@svusd.org
 Boys Volleyball  Manager - Lisa Brosnan - lfuerst-brosnan@cox.net
---
Saddleback Valley Unified School District is committed to equal opportunity for all individuals in education. The district programs and activities shall be free from discrimination based on age, disability, gender, gender identity/expression, nationality, race or ethnicity, religion, sexual orientation, or association with a person or group with one or more of these actual or perceived characteristics equal rights and opportunities. Married, pregnant and parenting students shall have the same educational and extracurricular opportunities as all students. Expecting and parenting students retain the right to participate in any comprehensive school or educational alternative programs for which they would otherwise be eligible. The District shall promote programs that ensure that these discriminatory practices are eliminated in all District activities.

---
OC All Stars!
Congratulations to some of our Mustang Seniors who were invited to play in the OC All Star Game.  All players represented the "South Team" and both teams were victorious!  Congratulations (from left to right)  Tara Eaton, Jack Flynn, Chase Moothart, Antonette Rolda and Allison Kantor!
---
JV Team Wins in 3!
Congratulations to our JV team for battling and winning in three games against a strong Dana Hills JV Team!  Next up for all levels - LHHS @ LHHS on Wednesday, 4/20.  One gym means game times are 3:30, 4:30 and 6.  GO BLUE!!
---
Boys Volleyball Supporting Antonette Rolda for Committing to Cal State Dominguez Hills
Congratulations to fellow Mustang Antonette Rolda for committing to Cal State Dominguez Hills to play Women's Volleyball.  A celebration was held at Trabuco Hills on Wednesday, April 13th.  Go Antonette!
---
MUSTANGS SWEEP RIVAL EL TORO
Mustang boys volleyball enjoyed a three level sweep of cross town rival El Toro Chargers. It was the second time this week that all three levels battled to victory. Congratulations And GO BLUE! 
---
Varsity Takes 2nd in Beach Cities Tournament
To cap off an exciting week, the Mustang Varsity Volleyball Team took 2nd place in La Jolla at the Men's Beach Cities Invitational, March 18 and 19, 2016.  The team went 6-1 for matches and 12-3 for sets over the two day tournament.  Highlights include defeating West Ranch for the second and third times in ten days as well as powering through to take Top Ten OC ranked, Beckman High School, in three sets to advance to the finals.  In the end it was Carlsbad High School who took first place honors in close sets.  Congratulations to sophomore Justin Brosnan who was awarded Libero MVP of the tournament.  Also chosen by the tournament director as All Tournament, Ryan Mysko and Jack Flynn.  Congratulations to the entire team on a great week.  Special note and thanks go to JV teammates Harrison Griffin and Austin Dill for traveling with the Varsity team to both of their tournaments.
---
Mustangs Sweep San Clemente in Season Opener!
In exciting style the Varsity team swept the San Clemente Tritons tonight in three games.  With close scoring and back and forth games, the Mustangs defeated the Tritons in three games for the first time in recent years, maybe ever.  The Varsity team heads to La Jolla for the weekend for the Beach Cities Tournament hosted by La Jolla high school.  
Mustang volleyball returns on March 22nd as all teams head to Dana Hill High School.  Dana Hills has only one gym, so game times will adjust accordingly. 
---
Tesoro Tournament Top Team
Our Frosh/Soph boys came together last Saturday, March 12, 2016 at the Tesoro Tournament to place in the top 4.  The boys battled all day to make it to the semi final game.  Congratulations boys on a great tournament! 
---
Mustangs Undefeated at SLO Mid State Volleyball Tournament to Become Tournament Champions!
Congratulations to the Varsity team for going undefeated in this weekend's SLO Mid State Volleyball Tournament, March 11th and 12th, 2016.  They won 15 consecutive games to end the weekend as tournament champions.  Congratulations to each and every team member and coaches - everyone contributed to the success and every point was exciting to watch. There was amazing serving, blocking, kills and passing. Special nod to Chase Moothart and Ryan Mysko who were selected All Tournament and to Jack Flynn who was chosen tournament MVP. 

---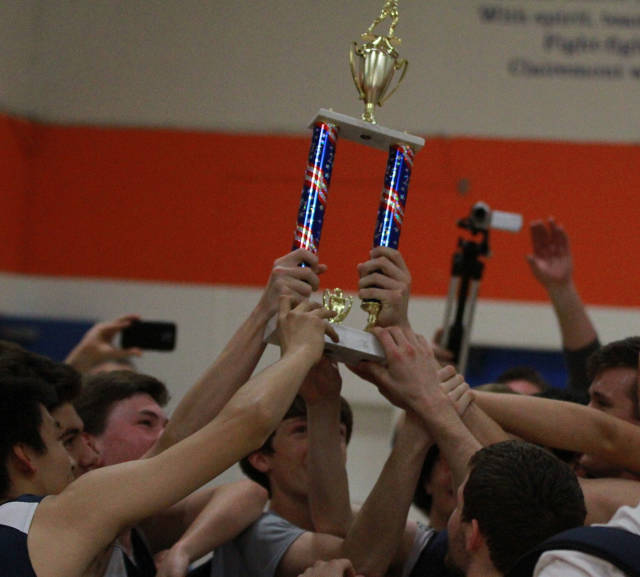 The Varsity team participated in the La Jolla HS Beach City Invitational in March of 2015.  The team finished 6-1, winning the Silver Division championship.  Congrats boys!  Looking forward to this year March 18th and 19th!

---
The Varsity team traveled to San Luis Obispo in 2015 for the 26 team Mid State Volleyball tournament.  The team finished in 3rd place.  They were 7-2 on the weekend, beating South Coast league rival Laguna Hills in the 3rd place game.  They travel this year March 11th and 12th... Good Luck Gentlemen!

---
Game photos versus Foothill from March 2015

---
---