---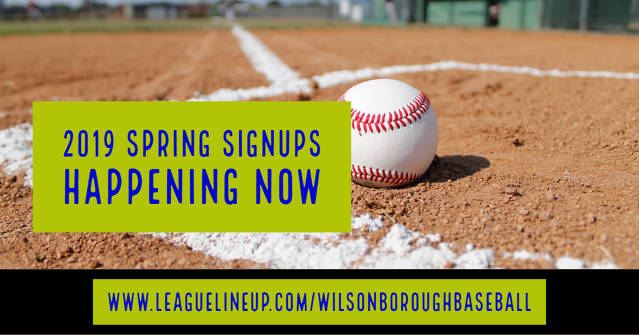 Signups have begun for the WBSA 2019 Season.
$50.00

for all T-ball players. Boys & Girls (pre-K & Kindergarten)

$75.00

for boys in 1st through 8th grade & girls 1st through 9th grade

$100.00 for boys participating in Connie Mack (9th grade through age 17) & girls participating in Seniors Softball (10th grade through age 21)
*NEW FOR 2019* The WBSA will be offering adult recreational baseball. We will be participating in the Lehigh Valley Baseball League. The total cost per player will be $150.00. Games will be on Sundays. 18-22 games.
Also, we will be putting in at least one team into the Palmer Softball league. It'll cost $75.00 per player. Games will be on Sundays with doubleheaders starting at 9:00am and last game starting around 1:00 depending on how many teams participate. 16 games guaranteed with a double elimination playoff the last week of the season.

We will be hosting live signups at Borough Hall on:
Saturday, February 2 from 12:00 to 2:00

Sunday, February 10 from 10:00 to 11:00 *before the WBSA meeting*
Registrations will start closing down in March or once the rosters are full. Reserve your spot today.
---
---
ATTENTION: We are still looking for head coaches at certain levels. If you interested, put in an application on our website, and you must attend the next meeting to be voted in. we are looking for coaches at:
Girls T-ball

Farm level Baseball (1st grade)

Minors Baseball (3rd & 4th grade)

Majors Baseball (5th & 6th grade)

Connie Mack Baseball (9th-12th grade)

Seniors Softball (10th grade & up)
Next meeting is on Sunday, February 10th at 11:00am at Borough Hall.
---
Start Date for First 2019 Games
Friday, April 12, 2019 5:30 PM
Signup for Alerts
Get important messages from Wilson Baseball & Softball Association by Text & Email