University of North Carolina at the Impact World Series 2011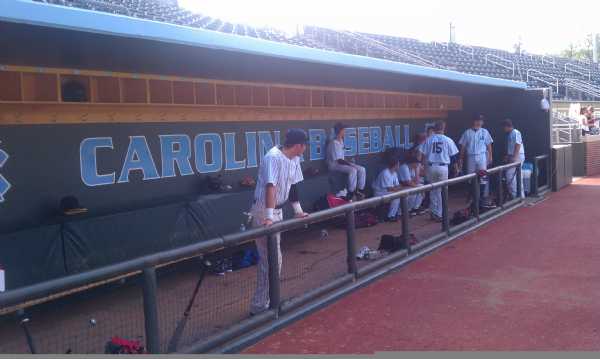 The New Jersey Yankees are a showcase travel baseball organization started by baseball professional Paul Magrini. The program is geared towards player development and college showcase teams which will put our players in front of college coaches. From there Coach Magrini will be a consultant through the college recruitment process, based on his 3 years as a Division 1 college coach. The Yankees will be run like an organization with different levels and age groups catering to each individual player's needs.
The Yankees will have a 17U College Showcase Team, 16U Showcase Tournament Team,  15U  Prospect Team, and 14U Development team in the upcoming 2017 season.
Coach Magrini has coached and developed top players to the collegiate and pro levels. Check out our Showcase Team Alumni Page under Headlines at the top right of this homepage.  Players have found the right fit at the Junior College, D1,2, 3 levels and have received scholarships and also moved on to play at the Pro Level.
Pitching For Success Long Toss Velocity Program
Pitching For Success Off Season Long Toss Velcoity Throwing Program. Mechanics, Long Toss, Pickoffs, Pitcher's Fielding Practice, Core Circuit workout, Weighted Ball Training, and Thoro band arm care.
The program is designed by Coach Magrini based on what is used at the top college programs and at the professional levels.
Players have made gains in Strength, Endurance, and Velocity!  Players have gone on to the collegiate level well prepared for success!
Coach Magrini keeps his clientèle small and spots are limited so he can give his full attention to all of his students.
He is proud to say that all of his clients had successful and injury free seasons!
Dates: December 7, 14, 21, 28 2016, January 4, 11, 18, 25,  February 1, 8, 15, 22  2017
Location: Paramus Catholic Bubble 425 Paramus Rd Paramus, NJ 07652  Located behind the school
Time: 8-9:30pm
Cost: 12 sessions  $540
Sign Up Forms are located on the left hand side of the site under Main Menu
For more info go to :    
pitchingforsuccess.net
email   paul.magrini@gmail.com
A three sport all state athlete(Football, Basketball, Baseball) at Wallington HS, Paul was drafted in the 5th round by the Detroit Tigers in the 1991 draft. He finished his high school career with a 38-8 pitching record which is the most wins in New Jersey history. He also finished with a career .375 batting average over 4 years, including hitting .435 with 5 HRs and 33 RBI as a senior.
Magrini went on to play 3 ½ years in the Tigers chain , before an arm injury and Tommy John surgery sidelined his career  a year and a half. He rehabbed and cameback to have a successful minor league career in 5 years of independent stops in Winnipeg, Manitoba, Souix Falls , South Dakota, Johnstown, Pennslyvania, and finally with the New Jersey Jackals. He finished with a 38-28 record with a career 3.74 ERA in 9 minor league seasons. He won 2 championships, in 1993 with the Niagara Falls Rapids (Detroit, NY-Penn league), and 1998 with the New Jersey Jackals(Northeast, independent). Magrini was 3-0 in playoff games for the Jackals in a 2 year span and won 18 games. He is a member of the Jackals 5 year Anniversary Team picked in 2002.
Paul's coaching career began in 1998 as an assistant at Passaic Valley HS where they won the Passaic County Championship that year.
He moved on to the college ranks in the fall of 1999 to become the pitching coach at Division 1 Pace University for 2 years where he helped resurrect the program into the successful one it is today. The made the New York Conference Semi-Finals in his 2nd year.
From there he took his first head coaching job at Montclair HS where they handn't had a winning season in 10 years. Magrini got them there in his 3rd year with a 14-13 record. Four of his former players went on to play college baseball. Three at the Division 1 level, including Marlon Calbi who went on to be a 4 year starter at Villanova.
From there Magrini joined the staff at perennial power Nutley HS as an assistant for 3 years where they won 48 games and a conference title during that time. 3 players moved on to play college baseball, including Guiseppe Pappacio who got drafted by the Chicago Cubs out of Seton Hall University.
He then went on to become the pitching coach at Division 1 Fairleigh Dickinson University in Teaneck from the 2008-2009.
In 2015 Magrini joined Paramus Catholic HS as  Assistant Head Coach. PC has had back to back 15 win seasons and beat state power St. Joe's Montvale twice, which they have never beaten. In 2016 the Paladins beat Don Bosco and made it to the final 8 of the Bergen County Tournament with 2 wins. They also made it to the quarterfinals of the Parochial A State Tournament where they lost to eventual State Champ Seton Hall Prep. The 30 wins in the most for PC in the last 20 years!  In June 2018 Magrini was named Head Coach.
He looks to guide them to being a perennial power in North Jersey.
Magrini has been a professional instructor since 1997, running Paul Magrini Baseball, LLC. He has trained many top players in North Jersey. He has managed travel club teams the Field 1 Blue Sox(2005-07), the South Bergen Mets(2008-10), and from 2011- present New Jersey Yankees for the 18u-14u levels playing in national tournaments across the country. Coach Magrini has coached, mentored, and provided recruiting advisement to hundreds of  student athletes who have received scholarships to Division 1,2,3 and Junior Colleges across the country including Rutgers,Vanderbilt, Stanford, Louisville, Arizona St., Lehigh, Delaware, Villanova, University of Tampa, and the College of Charleston.  7 of his former players that he trained or coached were drafted at the professional level including 2 that have made it to the Big Leagues!
   njyankees.com                              paulmagrinibaseball.com
NJ Yankees Gear will now be on Sale:
Majestic Hooded Fleet Sweatshirt  $55
Majestic Fleece Performance Pullover $60
 Majestic Performance Property of NJ YankeesT-Shirt $28
Flex Fit On Field Hat  $20
Showcase Team Alumni

Players who have played on the Field 1 Blue Sox(2005-2007) South Bergen Mets(2007-2010), NJ Yankees(2011-present), Paramus Catholic High School(2015-present) and coached by Paul Magrini
Mike Schwartz 2005-2006  Montville   Tampa University   Drafted by Chicago White Sox
Alex Meyer 2005  Don Bosco     Georgetown University
Spiro Molfetas 2005  Don Bosco   NJIT
Mike Denhardt 2005  Don Bosco     Boston College   Drafted by Cincinnati Reds 
Sean Beirman 2005  Kinnelon     Vanderbilt/ Tampa University  Drafted Tamp Bay Rays Atlanta Braves, Chicago White Sox
Joe Dabba  2005-6  IMB Academy    Eckert College
Billy Swenson 2005-6  Montclair   Lehigh
Harry Woods  2005-6  Montclair   Washington University
Phil Gertner  2005-7  Montclair    Lehigh
Bobby Kral  2005-6  Randolph    College of Charleston Draft pick San Diego Padres
Sam Cerbo 2006   Don Bosco   Delaware
Marlon Calbi 2005-8  Montclair   Villanova
Dan Nodarse 2007 Rutherford  Rutgers Newark/ William Paterson Universtiy
Rich Gaito 2007  Cliffside Park     Campbell University
Anthony Gomez  2007 Don Bosco  Vanderbilt  Drafted Florida Marlins
Guiseppe Papaccio 2007   Nutley  Seton Hall  Drafted Chicago Cubs
Jerry Elsing  2007  Montville   Rutgers
Niko Speciale 2007  Don Bosco  Wake Forest
Ryan Levin  2007  St. Joe's   Virginia
Paul Bello  2007  Delbarton  Georgetown
Vinnie Delvelchio 2008  Bloomfield   NJIT
Mike Chiavaralotti  2008 Bloomfield  Iona
Jason Chesterman  2008  Bloomfiled  St. John's
Julian Diaz  2007-8  North Bergen   Long Island University
Kevin Miller 2008  Bloomfield  Montclair St.
Dave Durko  2007-8  Nutley   Scranton University
Chris Jenkins 2007  Westfield   Stanford
Alex Lesch  2009 Clifton  Montclair St.
Kevin Cowan  2009  Roselle Catholic   Albany
Ryan Karl  2010  Montville  Louisville/ Cornell
Brian White  2010  Salisbury Prep Louisville
Eric Peterson  2010  Blair Prep  St. John's/ Hofstra
Brian Keane  2010  Montville   NJIT
John Jennings  2010  Governor Livingston   Rutgers
Matt Dawkins  2010  Bergen Tech  Marist
Dan Sheldon   2010   Hillsborough    Marist
Matt Clancy 2010  Old Tappan  St. Johns's  13th round pick Seattle Mariners 2015
Mike Tolerico  2009-2011  Wayne Valley    Montclair St
Donnie Cusick 2009-2011  Wayne Valley   Montclair St
Jason Midkiff  2011  Paramus Catholic   St. Peters
Ryan Kelly 2011  Bergen Catholic  Salve Regina


Garrett Luna 2011-12 Paramus Catholic   St. Peter's/ Ramapo/ Felician

James Spadacinni 2011-12  Butler    St. Peter's
Brian Mayer  2011   Brick     U. of  Delaware
Joey Salerno 2012   Ramsey     St. Louis Univ

Jason and Jared Avedisian 2012  Wayne Hills   Montclair St. Univ

Matt Moscovious  2012 Paramus Catholic  Morris Community

Mike Martinez 2012 Bergen Catholic  Rutgers
J P Vail 2012  North Rockland  Harford CC  Virginia Commonwealth University
Zack Cerbo  2013  Bergen Catholic  Arizona St. Univ.
Rex McMillian 2013 Rutherford  NJIT
Bridger Cohen 2013  Mendham   Stevens Institute
Anthony Rocco 2013    Brick   Pace University
Chris Beischer 2013  Paramus Catholic  Ramapo
Niles Malvasia 2011-2013  Hackensack   Gloucester CC
Justin Esteves 2013-14 Queen of Peace  FDU Teaneck
PJ Potter 2013  Lodi   Hofstra
Evan Dymond 2013  Pascack Valley  Widener University
Matt Chemis 2013  Sparta   Ramapo
Pete Masterson 2013  Park Ridge  Kutztown University
Matt Pampin 2013-14  Sparta  Caldwell University
Jon Bonica 2013-14   Pascack Valley    Penn St Altoona
Mike Cattani 2014-15   Paramus Catholic   Adelphi
Anthony Roseline 2012-15   Paramus Catholic   Rutgers Newark
Dylan Mendel  2014-15   Sparta   Rowan University
Tommy Ackershook 2013-14  Pequannock  Stevens Institute of Technology
Mike DeSenzo 2014  Pequannock   Stockton University
Ryan Callihan 2013-14   Monroe Woodbury  Keystone University
Alvin Vega 2015  Elizabeth  Canisius
Alex Greco  2013-15  Ridgewood    FDU Madison
Joe DeFeo  2015   Newton   FDU Madison
Jimmy Fasano 2105  Old Tappan  Montclair St.
Ricky Reyes 2013-15  Garfield   Monroe  CC, Susquehanna University
Nick Bruno 2015  Belleville   Rutgers Newark
Gavin Niland 2014-15 Paramus Catholic St Thomas Aquanis/New Jersey City University
Ryan Kaverick  2015   Hasbrouck Heights    Mulenberg
Donovan Arroyo 2015-6 Queen of Peace Corning(NY) CC/New Jersey City University
Ohjiro Motoki 2015  Cresskill   High Point University
Joe Miceli 2015 Indian Hills Desalles University
Giordan Cerbo 2016 Seton Hall Prep     Grand Valley State University (AZ)
Chris Marquart 2016 Morris Catholic   St. Peter's 
Madoc Fischer 2015-2016 Paramus Catholic   Salem State University (MA)
Matt Goehrig 2015-17 Paramus Catholic   Post University
Jason Ortiz 2015-17 Paramus Catholic  Fairleigh Dickinson University
Austin Miles 2016 Livingston      Misericordia University
Nate Byrd 2014-16  Depaul      Bergen CC
Justin Yannece 2016   St. Peter's Prep    Kings College
Tyler Wehner 2015-16  Fair Lawn   Misericordia University
Sebastian Spahn 2016  Pompton Lakes  Univ Sciences Philly

Jeff Pena 2016 Hackensack   Bergen CC
Gabe Morales 2016  St. Mary's   Barton College, NC
Andrew Rodriguez  2016  Paramus Catholic   William Paterson University
Joe Millar 2016-17  Pope John     Endicott College
Lou Scappiticcio 2015-17  Fair Lawn  FDU Madison
Caleb Ware 2015-17  University   Rutgers University at Newark
Justin Mercogliano  2016-17  DePaul   Alvernia  University
Jerry Giannoulis 2016-17  Paramus Catholic   Dominican College
Ryoji Schwartz 2018 Hendric Hudson,NY   Montclair St University
Nick Helman 2016-2018 Phillipsburg   Misericordia University
Manager Paul Magrini
Summer 2016


6 Showcase Tournaments:
Diamond Nation Super 17 and 17U World Series Flemington, NJ
All Star Baseball Showcase at  Rider University
Pastime Tournament at Rutgers University
Maple Zone Sports Institute Showcase,  Ashton, PA
Richmond County Showcase, Staten Island, NY
Dynamic Championships    George Washington University, Maryland University
Independent Scout games with top travel programs in the area

College Recruiting Advisement

5 Showcase Tournaments:

Diamond Nation 16U World Series
Triple Crown   Northern NJ
Diamond Nation  Mid Summer Classic, Flemington, NJ
Richmond County  Staten Island, NY
Introduction into the Recruiting Process, Exposure, and Recruiting Advisement
Summer 2017
4 Showcase Tournaments
Blue Chip Prospects Brooklyn, NY
Triple Crown North Jersey
Richmond County Staten Island, NY
Diamond Nation, Flemington, NJ
30+ games
Introduction to the college scouting process, exposure, and recruiting advisement.
The NJ Yankees will be having a 13-14U Development in the Spring-Summer of 2019 Season.
The team will look to develop and help with the transition to the "Big" Field 60/90 feet.
Players will be prepared to play the game to get them ready for the Varsity level in HS and hopefully to continue to the college level. They will learn the right way to play the game which will allow them to showcase their talents in a team oriented way. This is what College Coaches are looking for.
The team will have winter training from January through February to work on their skills and then practice as a team to prepare for the spring season which will begin April 1st.
They will play independent games and play in tournaments at Diamond Nation and Perfect Games events before the Bergen County Memorial Day Event.
They will practice during the week and play on weekends.
Looking for top 7th and 8th graders looking to learn and play top competition to get ready for top HS level baseball.
Joe Yurko- 16U Manager
Coach Yurko is an alumnus of Wilkes University where he played catcher. He then went on to teach and coach at Westwood High School. He was the Head Coach there for 21 years. His 324 victories makes him the winningest coach in school history. He won 20 games 9 times. Westwood had a run of making the state and county tournaments in eleven out of 13 years from 199-2011. Including making the finals of the Bergen County tournament in 2006 and 2010, a outstanding feat for a Group 2 school. Westwood also won 4 league championships. His 2006 team was voted the Bergen County Group 1/2 Baseball Team of the Year.
Coach Yurko has had 23 players named All-County including 7 1st teamers. 34 of his former players have gone on to play at the college level, including 2 that have played professionally.
Coach Yurko joined the NJ Yankees staff as the 16U Manager in 2015 and has been valuable in player development and preparing his players for the next level. His is also our head catching instructor.
Chris DeCarlo 15U Manager :
Chris was a 3 year starter at Queen of Peace HS as a catcher were he was All League. He then went on to play at Kings College of Pennslyvania(D3). He has coached travel ball with the NJ Ironbirds 14u and is currently the Head Freshmen coach at Paramus Catholic HS. 

Ray Tognella-  
Ray is an alumnus from Paramus Catholic HS. He then went on to play Division 1 baseball at St. Peter's college as a 4 year player and middle infielder. 
 He also is part owner of Luna Baseball Academy in Paramus, NJ where he is a hitting and infield instructor.
In 2014 he was the NJ Yankees 18U manager.
Scott Luna- Asst. Coach and recruiting adviser for the 17U Showcase Team.
Scott is a Lodi HS alumnus who then played collegiately at William Paterson University.
He was an assistant coach at Lodi HS before starting the NJ Mariners Organization which was one of the top youth travel programs in North Jersey. From there he went on to coach at Paramus Catholic HS, where he took over as Head Coach in 2008 and continued before retiring from PC in 2018. He has became part of the 100 wins club in Bergen County and finished with 124 wins.  He also has been an associate scout for the Seattle Mariners, and instructor with Ripken baseball.
Scott has been a coach and adviser for the NJ Yankees since 2011, including being the 18U manager in 2012 where he coached his son and NJ Yankees alumni Garrett Luna who is currently playing at Felician College.
He currently own and operates Luna Baseball Academy in Paramus, NJ. He also has started the NJ Ironbirds travel baseball program for youth levels.