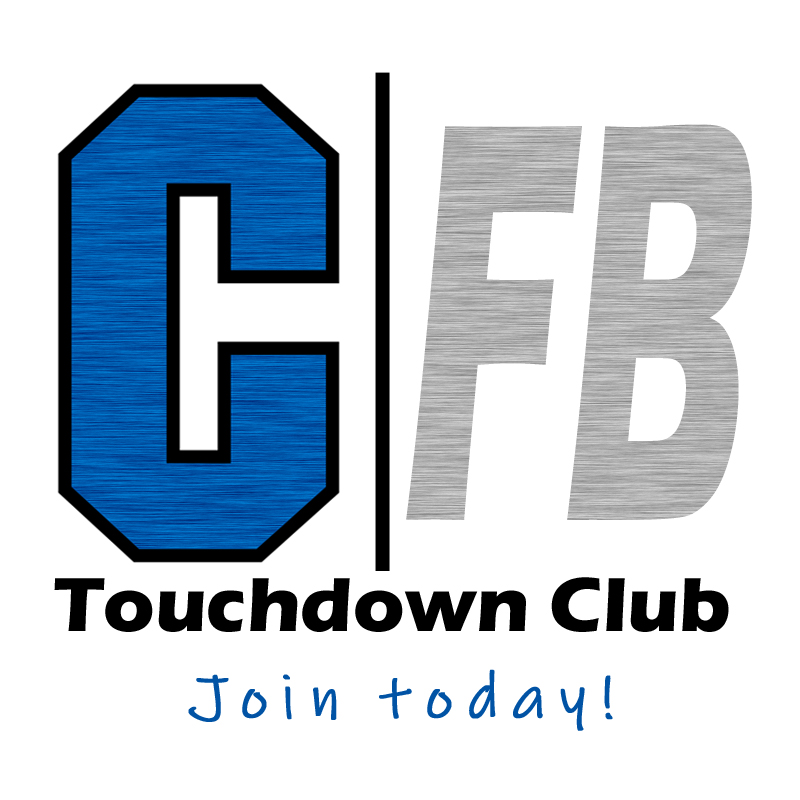 To join please visit: tiny.cc/KnightsTouchdownClub

Touchdown Club Membership Levels
Touchdown Club Gold - Couple - $400
All sports passes (2) for free entry to all home Centennial games for all sports for the entire 2019-2020 school year

Personalized parking for home football games in the stadium lot

Custom Touchdown Club Seats (2) in the Touchdown Section at The Fortress

Personalized TD Club t-shirts (2), magnet, calendar, and window sticker

Food in the TD Club tent before every home football game
Touchdown Club Gold - Individual - $250 
All sports pass for free entry to all home Centennial games for all sports for the entire 2019-2020 school year

Personalized parking for home football games in the stadium lot

Custom Touchdown Club Seat in the Touchdown Section at The Fortress

A personalized TD Club t-shirt, magnet, calendar, and window sticker

Food in the TD Club tent before every home football game
Touchdown Club Silver Parking - $100 per person
Personalized parking for home football games in the stadium lot

A personalized TD Club t-shirt, magnet, calendar, and window sticker
Touchdown Club Silver Seatback - $100 per seat
Custom Touchdown Club Seat in the Touchdown Section at The Fortress

A personalized TD Club t-shirt, magnet, calendar, and window sticker
Touchdown Club Bronze - $50 
Centennial t-shirt, magnet, calendar, and window sticker
 
 
*   All Sports Passes WILL NOT be honored at any GHSA Playoffs / Tournaments.
---
Dear Knights Football Friend,  
    My name is Shane Sams, and I am the Head Football Coach at Centennial High School. My family and I are excited to be part of the Centennial Community. To be part of a school that embraces football is truly something special. One of biggest aspects of a successful football program, from Jr Knights to Varsity, is the Touchdown Club. Many people overlook the importance of a TD Club and what the TD Club does. There is a lot that goes on behind the scenes of a football team that requires as many people being involved as possible. Below are just some the services our TD Club provides to our football program:
Stadium maintenance

Pre-game meals

Assist with summer camps

Friday night duties

Send our players to camps for recruitment

Assist with fundraising

 
Our coaches and players have been putting in a lot of sweat and work this off-season to help prepare for the coming season. We need our parents, fans, and community to come together and help support our football players by joining the TD Club. The more people that we have supporting and assisting with our football program, the faster we will grow. Even the smallest amount of assistance is huge to growing our football program.  Too many times we have parents and fans leave the work to a small group of people and expect for big things to happen. It is time that we change that mindset and become "All In" to help our players and coaches become successful on and off the field. Attached below are the levels we are offering to gain membership into the TD Club. This year we will be having a weekly TD Club meeting every Monday evening following a game week. Coaches will talk about the previous game and introduce our Players of the Game from Varsity to JR Knights. There will also be weekly emails from myself updating our community on our football program. I want to thank you for taking the time to read this letter and look forward to you being part of our growing football program.
Thank you,
Shane Sams
Head Football Coach
Centennial High School