Your 14U Havenwood Chaos

The fall 2011 Chaos finished their season with a perfect 10-0 record. Outstanding pitching, catching, hitting, defense and team work allowed this team to be so successful. Congratulations to the players and coaches!!!
19U Chaos - 2014 NCCGSL Finalist
8U All-Stars - 2014 Bowie Tournament Finalist
14U Piranhas - 2014 NCCGSL Final Four
2012 Spring Parade
What a beautiful day for the parade and some preseason softball games. Our organization shined once again as we represented ourselves in the parade today. It was a great site to look out as far as the eye could see and see nothing but Havenwood Girls Softball players marching through the streets in front of me. Afterwards, we were all treated to some great preseason games and allot of softball talent. Today was a day full of smiles and good things and I was proud to be part of it all...
14U Havenwood Chaos - Opening Day
David Farley, who was named the Pasadena Voice Volunteer of the Month for the countless hours he gives to the Havenwood Softball Association, receives his award from Assistant Editor Hayley Gable. Click here, to read the complete article.
8U Havenwood Havoc

The Havenwood Havoc make it into the semi-final round and take 3rd place at the 2011 BBGC 8U Softball Tournament. Congratulations to the girls and their coaches.

Orioles Day 2011

The Orioles got to meet the girls from Havenwood once again. This is our third year Havenwood has participated in this event and this year was bigger than ever. Over 220 members of the Havenwood family took part in the event and had a great time. Orioles Day is a fun day that brings everyone together for a great time. It certainly lived up to that again this year. Great job Havenwood!!!!
Opening Day Parade 2011
This year's parade will always be remembered as "The Rain Parade". As one coach said, "It was a mess, but the girls had no cares until they got cold (at the end), it was fun to say the least." I agree, the girls had a blast as they were cheering as they marched down the street, waking up those still sleeping in the neighborhood and making the best of a not perfect situation. Most of all, they did it together. Yet more things reinforced through our great program. We also let some of our local politicians see and hear first hand what our softball program is made of. Havenwood Girls Softball is for real and you girls let everyone know that. Let's hope for some dryer weather from here on out...


Field Clean-up Day 2011
In by far, the most well attended and most aggressive field day in the history of Havenwood, we had more than 40 parents and players show up with rakes and shovels in hand to work their butts off to improve the George Fox facility for our girls. Of all the fields, field #2 is the most unrecognizable (in a good way). It had suffered from years of patching it up and no assistance from the county. We have never attempted to undertake something this big and I can not believe the work that was put into making it the field that sits there this evening.

You always hear about how many people help the boys programs and how the girls are kind of an after thought. However, today was their day, a day for our girls. The whole day made me proud to be part of a community that bonds together for our daughters. People walked away tired and sore and proud that they are the ones that made the difference for our girls. Thank you everyone, you made the difference...


The Powerhouse 14U Havenwood Chaos Kicking Off The Fall 2010 Season
2010 Hit-a-Thon
A beautiful day that consisted of smiling faces, some monster shots to the outfield and a lot of families having fun and supporting the young ladies that make up Havenwood Girls Softball.
2010 Opening Day
Although I ate a pound of dirt blown up by the wind, it was a beautiful opening day. Here are some pictures of the players that make it beautiful and make all the work worth it. It was great to see them all together on the field again. More pictures will be posted, as I receive them.
2010 Orioles Day
The Orioles got to meet the girls from Havenwood again. Over 200 members of the Havenwood family took part in the event and had a great time. Everyone loved the uniforms and some of the wacky hair styles sported by our girls. The girls were on the Jumbo-Tron no less than 10 times and some were on TV. Oriole Day is a fun day that brings everyone together for a great time and it lived up to that again this year. Great job Havenwood!!!!
George Fox Field #3
George Fox Field #3 was many years in the making and a high priority for me and the rest of the Havenwood Board over the past two years. Most people only see a bunch of dirt on a field. However, I see a lot of hard work raising funds, meeting with county crews and executives and finding sponsors. I also see where everyone banned together to do this during low economic times and still worked hard to raise funds to upgrade the rest of the program. However, what I see most of all is a place where our youngest players can smile, have fun and be proud of playing softball for Havenwood.
Beware of Tigers
The 10U Havenwood Fierce Tigers had a great year and made it into the Elite Eight. Congratulations to the coaches, players and parents.
Congratulations Team Chaos for Completing the Fall Season Undefeated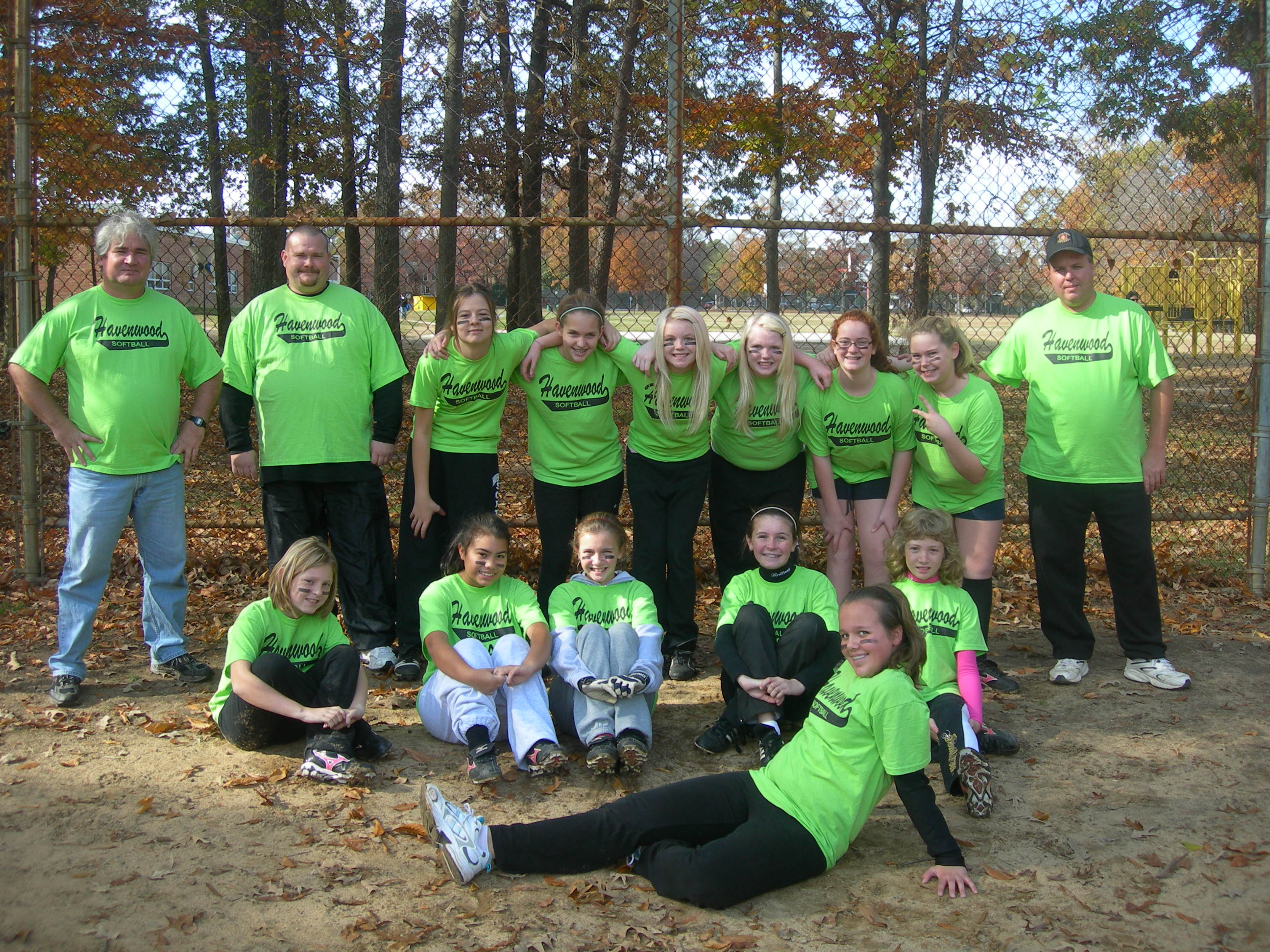 The games were kept instructional, as players were moved into different positions and no less than three pitchers (usually four) were sent out to the circle every game. Most importantly, the girls grew as a team and had tons of fun!!! (not pictured - Jessica and Jordan)
Touching Them All
Great Story About Sportsmanship!!!