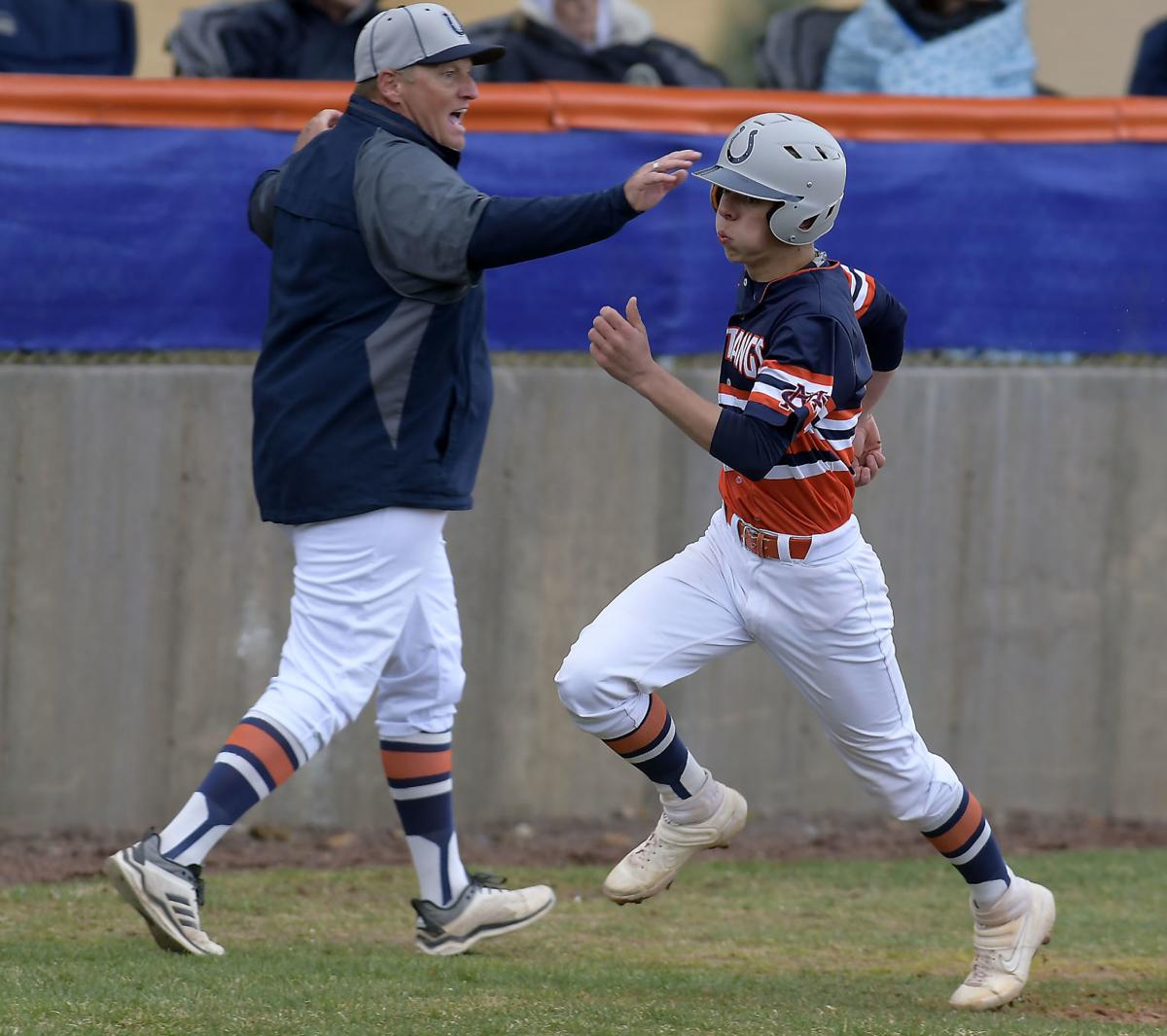 Coach Stephen Hansen - Manager

The 2020 season will be Coach Stephen Hansen's 19th season as the head coach of the Mountain Crest Mustangs. (1998-2012 and 2017-present).  Under the guidance of Coach Hansen Mountain Crest has won the State Tournament in 1999 and 2009.  They were also state runners-up in 2007.  The Mustangs have won 11 region championships under the direction of Coach Hansen as well.  Before Coach Hansen was a Mustang he was the head coach at Tooele High School for six seasons winning four region championships and a state championship in 1996.   Coach Hansen has compiled 411 career wins. 
Coach Hansen played college baseball at Snow College, Colorado State and Southern Utah University.  He graduated from SUU with a bachelor's degree in physical education and special education.  He later received his Master degree from Grand Canyon University. 
 In 1987 Coach Hansen married his wife Jill which is very much involved with Mustang Baseball.  She is the voice of the Mustangs and the official scorekeeper along with many other things.  Steve and Jill have two kids Trace (26) and Jori (24).  Jori is married to a former Mustang baseball player Spencer Coombs.  They have two sons Scholfield and Harrison.  Steve and Jill are proud grandparents.  You will see the whole family at the games helping out and supporting the Mustangs.  Mustang Baseball is a family affair.  The Hansen's defiantly bleed orange and blue.
Coach Dustin Smith - Varsity/JV (Outfield and Hitters)
Dustin Smith attended Mountain Crest and played baseball for Coach Hansen while in high school. In the fall of 2002 he played for Dawson Community College where he excelled as a Team Captain. He was named All-Conference MVP in 2003 as well as being named a member of the NJCAA All-American team. Dustin transferred to Mayville State University where he finished his collegiate baseball career. Dustin moved back to Hyrum where he married the love of his life and started his career in coaching. Dustin has coached baseball at Mountain Crest High School since 2006. He has also been involved with the Cache Wolverines programs where he has both played and coached little league teams. Dustin and his wife, Megan have four kids, all who are heavily involved in sports programs within our community. Dustin has a passion for coaching and developing youth in order to help prepare them to advance at the next level in their lives.
Coach Zach Brinkerhoff - Varsity/JV (Pitchers and Catchers)
Zach Brinkerhoff grew up in Cedar City, Utah where he prepped at Canyon View High School. While at Canyon View, he was an All-State pitcher for 3 years. He played summer ball with the Utah Marshalls coached by Sam Swensen from his sophomore year until his senior year. Zach accepted an offer to play for BYU when he was a sophomore in high school. While at BYU, Zach was part of the team who won the West Coast Conference in 2016. 
After playing for BYU, Zach moved to Cache Valley with his wife. He knew he couldn't go  without baseball, so he reached out to Coach Hansen as soon as he could. He began coaching under Coach Hansen in 2017 and is entering his fourth year as a pitching coach for the Mustangs. In 2019, Coach Brinkerhoff and his pitching staff set a state record for consecutive scoreless innings pitched. He and his wife Samantha have been married since 2016 and have loved being involved with MCHS athletics from day 1.

Coach Trace Hansen - Varsity/JV (Infielders and Hitters)
Trace Hansen enters his first season on the Mountain Crest coaching staff. Previously, Hansen coached collegiately at his alma mater, West Texas A&M, where he earned his bachelor's degree in Sports & Exercise Science, and master's degree in Sports Management.
While serving as the infield coach for three seasons, Hansen helped the Buffs record a record of 117-44 (36-18, 40-14, 40-12). In 2018, he was a part of the Lone Star Conference coaching staff of the year. In 2019, the Buffs were nationally ranked as high as 2nd, which is the highest national ranking in school history.
As a player Hansen was a two time All-Conference selection for the Lone Star Conference. In 2016, Hansen led the Buffs in hitting at .367 in He earned CoSIDA Academic All-Region honors, named to the LSC All-Academic Team and was Second team All-Region by three different media outlets. In 2015, Hansen started all 55 games in the infield for the Buffs. He hit .300 with 40 runs scored, 61 hits, 10 doubles, three triples and four home runs, while recording 29 RBI and had a slugging percentage of .438. Hansen reached base at a .397 clip and 110 putouts with 143 assists and just six errors for a .977 fielding percentage. He had 20 multi-hit games with five multi-RBI games.
While at BYU Hansen played in 58 games with 38 starts for BYU in two seasons...Had 46 hits with 11 doubles and one triple while hitting .284...He slugged .364, while reaching base at a .324 clip.
Hansen played for Mountain Crest High School (2009-2012) where he earned Region 5 MVP two times, first team all-state three times and honorable mention All-America during his senior season. He was part of the state championship team in 2009.
Coach Waylon Hervey - Sophomore Head Coach
Waylon Hervey has coached within the Mountain Crest High School and Hyrum Trappers baseball organizations since 2013. He enjoys working with the Freshmen/Sophomore team on a full-time basis and remains informed about and involved with players at the Varsity and JV level as well.
A Mustang through and through, Waylon played 4 years of high school baseball at Mountain Crest before graduating in 2010. He played many positions throughout his playing career, specializing at the corner infield positions. He was a part of the 2009 Region champion and State championship team. 
Following his graduation from Mountain Crest High School Waylon stayed involved with the baseball community playing in the Northern Utah League where he became even more versed in all positions and honed his skills and knowledge of the game as a catcher. He enjoys watching and attending as many baseball games as possible from his nephew's little league games to faithfully following his beloved St. Louis Cardinals. 
When the opportunity to become involved with Mountain Crest Baseball as a coach came up, he jumped at the chance and hasn't looked back. He takes great pride in teaching his players to be better at the game of baseball as well as skills that transfer into other areas and can be used for the rest of their lives.

Coach Jaxon Burbank - Sophomores
Jaxon Burbank is in his second year helping coach the freshman/sophomore team at Mountain Crest. He pitched and played middle infield during his 4 years at Mountain Crest and was part of the teams that won region in 2014 and 2015. He earned all-valley honors as a pitcher and was named part of the 5A Academic All-State team his senior year. He was also part of the 2015 Blacksmith Fork Trappers team that won the American Legion State Tournament and competed in the American Legion Regional Tournament in Boulder, Colorado. The oldest of 8 siblings, Jaxon loves to watch, coach and play baseball with his younger brothers as they continue their baseball careers. He loves Mountain Crest Baseball and is proud of the tradition that it has to be a top competitor year in and year out. He continues to play baseball in the Northern Utah League for the Hyrum Hornets alongside his brother Jase and other former teammates.
Coach Jase Burbank - Sophomores
Jase Burbank is in his second season as a coach for the freshman/sophomore team at Mountain Crest. During his time as a player, Jase pitched, caught, and played the infield. He was named to the All-Region team his senior year. He also earned All-Valley honors as a pitcher and played in the 4A All-Star game. Jase loves to stay involved with baseball whether it's helping coach, playing with his brothers, or playing in the Northern Utah League for the Hyrum Hornets with his brother Jaxon and other friends.