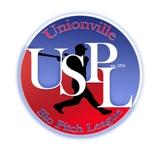 About the USPL -


The Unionville Slo Pitch League (USPL) was started in 1974 as a recreational men's league for players of all abilities.
We field 18 teams in the regular division with player ages ranging from 21-60+.  We also have 10 teams in our Masters division with player ages ranging from 40-65+.
On May 11, 2020 we'll be starting our 46th consecutive year of slo-pitch play.  Between mid-May and early September, the regular division plays 25 regular season games and 21 in the Masters division.
The season concludes on the weekend of September 25-27 with our electrifying "Championship Weekend".  Food, beer tent, music and some outstanding ball.

For residents of Unionville/Markham (or if you happen to be an owner of a business paying taxes in Markham), our regular division is for men 21+ years, while our Masters division is for men 40+ years as of Dec/31/2020.
Far beyond the many years of competition, Slo Pitch generates a sense of fellowship among teammates and opposing players. There is a certain bond that leads to some great long term friendships. Some say that this camaraderie is unique to the sport.
It's a great way to spend an evening or two a week at the ballpark, rekindling your youth and making new friends. We share many laughs on the field, in the dugout and even more at our post game celebrations.  Many of our members review the highlights of their game over refreshments afterwards.
If all roster spots are filled, you may join the spares list.  This list is then eligible to play in games when a team requires extra players to round out a game roster.

Alcohol Policy
The U.S.P.L. has implemented a policy of zero tolerance in relation to the consumption of alcoholic beverages by U.S.P.L. members before, during or after a U.S.P.L. softball game or other U.S.P.L. function or event, which takes place in park or diamond facilities, including adjoining parking facilities, licensed to the U.S.P.L. by the Town of Markham (the "Alcohol Policy") and that if a written complaint is received by the U.S.P.L. Executive from any member of the public or from a U.S.P.L. members, which involves an alleged breach of the Alcohol Policy by a U.S.P.L. members, the Executive is fully empowered to investigate the complaint and impose such penalties and/or sanctions against the breaching members and/or member's team, which may include, without limitation, financial fines, forfeit of game points and individual or team suspension or expulsion from the U.S.P.L., as deemed necessary by the Executive.