Just like how you ace at shooting baskets, you need to make sure that you are acing at the management of your basketball team or league too. LeagueLineup can make this into a simple affair because we have a wide spectrum of powerful tools to help you create an online voice.
Whether you are running a basketball team, club, association, tournament, or league, we can help you create an absolutely FREE website to manage your operations online. You will enjoy many customizable features which include Automated Standings, Roster & Player Profiles, Fan Shop, Message Board & Guestbook among other tools. What's more, no technical expertise is required to set up the website, and you take just minutes to get it started!
Join us at LeagueLineup and benefit from nearly two decades of experience in sports teams and league management solutions. You will instantly see why we might be the greatest thing since sliced bread!
Create your free Basketball website now
BASKETBALL WEBSITE FEATURES

Features included with EVERY LeagueLineUp site
SEE ALL FEATURES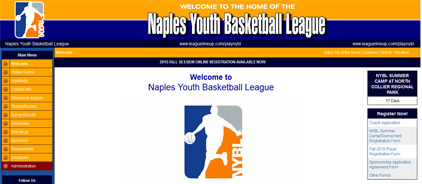 Naples Youth Basketball League
Naples Youth Basketball League currently features 11 different types of leagues ranging from Hot Shots (ages 5-6) to Mens League. Our technology-driven tools enable them to show the latest standings in the different leagues as well as post their upcoming games and practices. Thanks to our Online Forms feature, they are able to offer easy online registration and online payment for their different leagues and camps.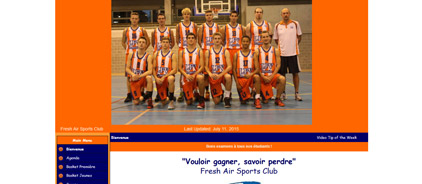 Fresh Air Sports Club
Located in Bruxelles, France, Fresh Air Sports Club provides a good reminder that LeagueLineup has gone global as we serve sports teams and leagues outside of the United States too. We have helped this recreational basketball club build a simple yet efficient website and they have utilized it by posting regular stories with exciting images of their club members in action.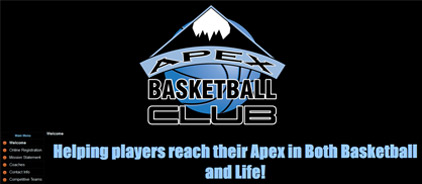 Apex Basketball Club
Based in Northern Colorado, Apex Basketball Club has found a great solution in LeagueLineup when it comes to keeping their members updated about the latest news on youth camps, group coaching, competitive club teams and more.
Fairdale Basketball
Fairdale High School Basketball Team needed a simple yet robust solution to manage their team and let their players obtain information with convenience. LeagueLineup was the perfect match for their needs. Today, they have used our website builder to create a powerful online space where they can share news of upcoming practices, sponsor information and happening events, among others.
Avon Basketball Association (ABA)
Created in 2013, Avon Basketball Association (ABA) is committed to creating additional basketball opportunities for players (Grades K – 6) who live in Avon. With our free website space for this association, they are able to share upcoming events and videos, besides letting their members register through their website.