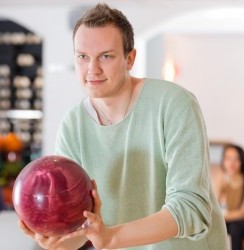 Just like any sport, having a website for your bowling team or league is really important, and eliminates a lot of miscommunication about which alley to play at, when to show up, and who you're playing against. LeagueLineup offers a 100% FREE website builder specifically designed for bowling and many other sports, and you can easily get started today.
With just a few clicks of the mouse, you can be well on your way to designing a fully functional website for your bowling team, league, club, or association. Set up an Event Calendar to keep track of upcoming matches, upload current League Standings to see where everyone is at, and post recent Game Results and Statistics – there is just so much you can do with our website design features!
LeagueLineup was first launched in 1998, and ever since, we've assisted millions of teams and leagues build their sports websites. Now, it's your turn – bowl a strike with LeagueLineup today!
Create your free Bowling website now
BOWLING WEBSITE FEATURES

Features included with EVERY LeagueLineUp site
SEE ALL FEATURES
Bowling Team Websites

See What Our Customers Have Built!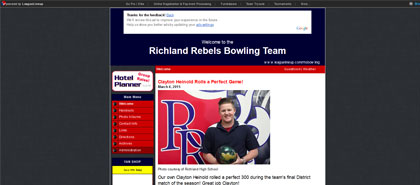 Richland Rebels Bowling Team
You'll see a very tightly designed layout on the website of the Richland Rebels Bowling Team. The blue and red theme sits atop a gray background, and everything looks really good together. Details about the previous and upcoming season can be found on the home page, with links to a Photo Album, Handouts, Contact Info, and more.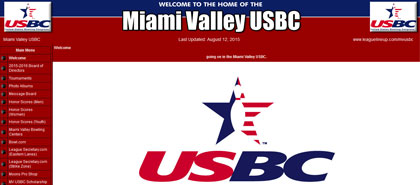 Miami Valley USBC
The Miami Valley USBC website also sports a red and blue theme, with a much wider layout than the Richland Rebels. A plain front page displays only the USBC logo, but quick side-bar links can take you to pages with Tournament Information, Message Boards, Honor Scores, and even a Fan Shop where you can buy league apparel.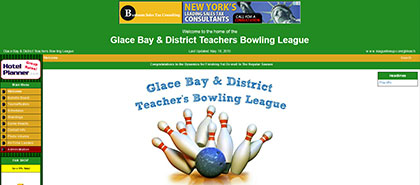 Glace Bay & District Teachers Bowling League
This Canadian league based out of Glace Bay, Nova Scotia, is rocking a green and gold theme. A perfect strike is shown on the home page, along with some recent match result information. They've also got a Bulletin Board, Team/Roster Info, Schedules/Standings, and a Fan Shop. You should definitely check out this cool bowling website!
Oakhurst Bowling League
Oakhurst Bowling League has a very simple LeagueLineup site with straight to the point information and not a lot of fluff. You can check out their League Standings, Rules, Schedules, and Rosters – and chat on the Forum if you're looking for discussion.
Harry's Hippies Youth Bowling League
Harry's Hippies Youth Bowling League has a clean blue and white layout with a couple of short paragraphs about the league on their front page. They've got some unique menu options, like the HHYL Bowler of the Month, a history of various Scholarship Award Winners, and more. This site is a good example of how your website doesn't just have to be using features such as Automated Standings, Schedules, and Game Results.