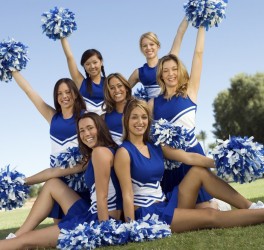 Since 1998, LeagueLineup has been serving more than 250,000 organizations representing 5 million teams in terms of sports team and league management solutions. We provide absolutely free and easy-to-create websites for any cheerleading team or league. All you have to do is sign up and use the website creation tools to design a custom cheerleading website.
Why do you need a cheerleading website? Well, having an online presence to facilitate cheerleading team or league management is very important. There are a lot of benefits to gain when you create a website for your cheerleading team, club or league. It can be used as a recruitment portal, a place to disseminate information about the team and even as a social space for your members to interact.
Oftentimes, website creation solutions will require you to spend some money. At LeagueLineup, we offer you the awesome opportunity to create a professional website without spending a cent. Try us out today and see the impact we can make for your cheerleading team or league management!
Create your free Cheerleading website now
CHEERLEADING WEBSITE FEATURES

Features included with EVERY LeagueLineUp site
SEE ALL FEATURES