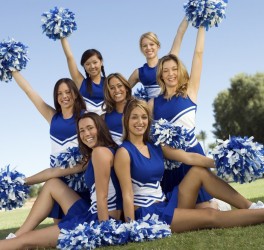 Since 1998, LeagueLineup has been serving more than 250,000 organizations representing 5 million teams in terms of sports team and league management solutions. We provide absolutely free and easy-to-create websites for any cheerleading team or league. All you have to do is sign up and use the website creation tools to design a custom cheerleading website.
Why do you need a cheerleading website? Well, having an online presence to facilitate cheerleading team or league management is very important. There are a lot of benefits to gain when you create a website for your cheerleading team, club or league. It can be used as a recruitment portal, a place to disseminate information about the team and even as a social space for your members to interact.
Oftentimes, website creation solutions will require you to spend some money. At LeagueLineup, we offer you the awesome opportunity to create a professional website without spending a cent. Try us out today and see the impact we can make for your cheerleading team or league management!
Create your free Cheerleading website now
CHEERLEADING WEBSITE FEATURES

Features included with EVERY LeagueLineUp site
SEE ALL FEATURES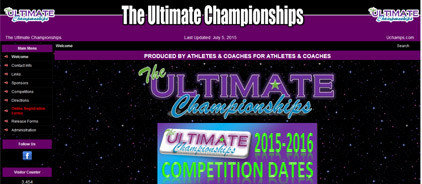 The Ultimate Championships
The Ultimate Championships is a cheerleading championship league that is managed by athletes and coaches in Florida. We love how they have turned their website into a sparkling online space and how our Online Forms feature has been put to good use. In addition to developing cheerleading in that region, the league is also used for a good cause because all the proceeds from the league are donated to the Alliance for Lupus Research Foundation.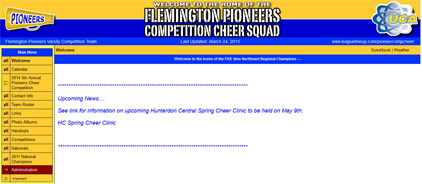 The Felmington Pioneers Competition Cheer Squad
The Felmington Cheer Squad is involved in competitive cheerleading and they have relied on LeagueLineup to create a website that is primarily used to share information about upcoming events as well as a platform for recruitment of team members. Some of the most utilized features on their site include the Photo Albums and Team Roster.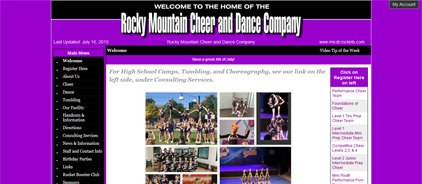 Rocky Mountain Cheer and Dance Company
Rocky Mountain Cheer and Dance Company is a gym that offers cheerleading training and camps, tumbling classes, choreography services, kids party activities and cheerleading consulting services. They have used LeagueLineup to create a simple website that is used as a platform to promote their extensive range of programs and services. Some of the features on the site include the News and Information Portal as well as a Fan Shop to promote their merchandise.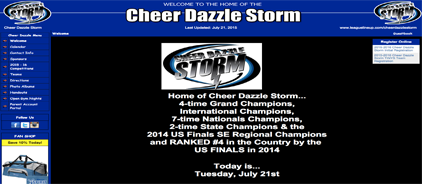 Cheer Dazzle Storm
Based in Florida, this is one of the most successful cheerleading teams in the country, ranked fourth nationally in 2014. They used our services to create a website that is actively used for recruitment drives and information sharing. Some of the most used features include the Fan Shop and the Photo Albums.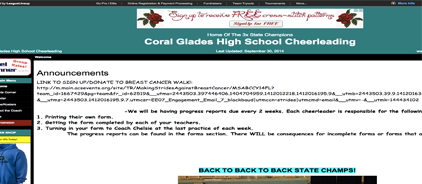 Coral Glades High School Cheerleading
The Coral Glades High School Cheerleading team has used our site builder to create a simple website for their members to retrieve information online and has tapped on our Calendar, Team Roster and Fan Shop features to enhance their site.