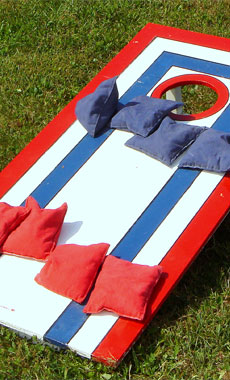 LeagueLineup has been providing custom websites to millions of sporting teams and leagues since 1998. We provide a simple and easy to use website builder that allows you to create and customize a multi-functional website with a lot of useful event organization features. If you've got a Cornhole team or league, you need to consider setting up a website to post event schedules and update your members on what's going on with the league.
Our Cornhole Website Builder will provide you with all of the tools necessary to create a website, but requires absolutely no web design or coding knowledge on your part. You'll simply input the information about your team or league, choose pre-built functions like an Event Calendar or League Standings page, and just type in the information while all of the coding is done automatically. LeagueLineup website's also feature a customizable Fan Shop where you can sell team or league merchandise.
Join the millions of teams and leagues across the globe that are already utilizing a free website from LeagueLineup, and get registered today. We are sure that you will find it much more easier to run your Cornhole team or league with little hassle!
Create your free Cornhole website now
CORNHOLE WEBSITE FEATURES

Features included with EVERY LeagueLineUp site
SEE ALL FEATURES