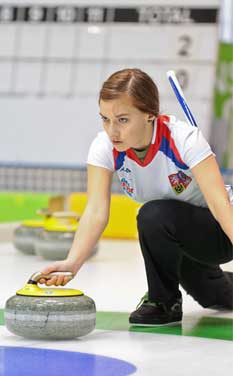 If you are currently trying to run a Curling team, league, club, or association without a website to keep everything organized – we can imagine the kind of uphill task you have set for yourself. LeagueLineup has been assisting teams and leagues in the sport of Curling, as well as a variety of other sports, to create fully customized sports websites. We've been around since 1998, and have continued to grow and have made our Curling Website Builder to be extremely simple and easy to use.
With LeagueLineup's completely free website builder, you can set up an Event Calendar to easily share match dates, times, and locations with the rest of your team or league. Upload recent results to the Match History page, and input wins and losses into a fully automated League Standings page. You can even set up Photo Albums and a Fan Shop where visitors can purchase apparel and other merchandise.
Whether you're just a single Curling team, or you're building a site for a league of 40 Curling teams, our site builder will get the job done. There's no web design or coding experience required to create a website with LeagueLineup, and since it is absolutely free – you've got nothing to lose! Register with us today and take the first step towards building your Curling team or league website right away.
Create your free Curling website now
CURLING WEBSITE FEATURES

Features included with EVERY LeagueLineUp site
SEE ALL FEATURES