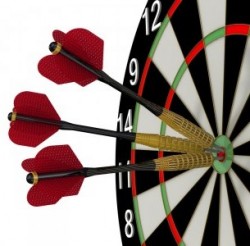 Are you in search of a free-to-use website builder for your darts team, league, or club? Well, you just hit the bullseye, because that is exactly what we offer at LeagueLineup! Our feature-rich Darts Website Builder helps you create a custom site with plenty of tools that will help you manage and organize things much easier.
It'll only take a few minutes to get started, and you can have your Darts team or league's website finished with a handful of clicks and keystrokes. Once you've got a color scheme and some basic design, you can easily add a Calendar to keep track of upcoming events. You can also add a section for League Standings and Game Results, or create a custom menu for anything else you have in mind.
LeagueLineup has been recognized as an industry leader for sports team and league management solutions since 1998. Don't hesitate any longer, you've got nothing to lose with our 100% FREE website builder, so get started today!
Create your free Darts website now
DARTS WEBSITE FEATURES

Features included with EVERY LeagueLineUp site
SEE ALL FEATURES