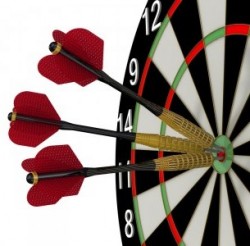 Are you in search of a free-to-use website builder for your darts team, league, or club? Well, you just hit the bullseye, because that is exactly what we offer at LeagueLineup! Our feature-rich Darts Website Builder helps you create a custom site with plenty of tools that will help you manage and organize things much easier.
It'll only take a few minutes to get started, and you can have your Darts team or league's website finished with a handful of clicks and keystrokes. Once you've got a color scheme and some basic design, you can easily add a Calendar to keep track of upcoming events. You can also add a section for League Standings and Game Results, or create a custom menu for anything else you have in mind.
LeagueLineup has been recognized as an industry leader for sports team and league management solutions since 1998. Don't hesitate any longer, you've got nothing to lose with our 100% FREE website builder, so get started today!
Create your free Darts website now
DARTS WEBSITE FEATURES

Features included with EVERY LeagueLineUp site
SEE ALL FEATURES
Darts Team Websites

See What Our Customers Have Built!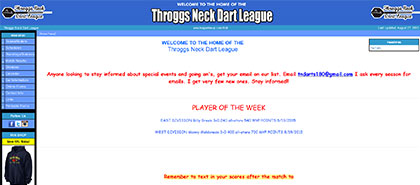 Throggs Neck Dart League
There are 20 teams across two divisions that make up the Throggs Neck Dart League. Their LeagueLineup website sports a blue design, with a bunch of useful information on the front page. Schedules, Standings, and Match Results are available on the side-menu, as well as a Fan Shop where exciting apparel can be purchased.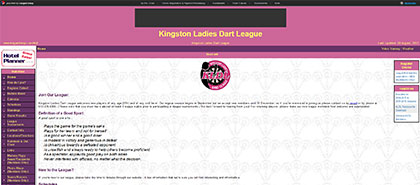 Kingston Ladies Dart League
A pink layout goes very well with the Kingston Ladies Dart League, an all-female league. The home page greets you with the KLDL logo, as well as some information on how to join the league, and the definition of being a good sport. They've got their league Rulebook & Out Chart, Contact Info, and League Tournaments on the side-menu.
Mid-Penn Dart League
Mid-Penn Dart League sports a black and blue theme with a triple bullseye logo on the front page. Plenty of resourceful links on their menu including past All Stars, All-Time Leaders, Sponsorship pages, and more. We simply love the look of their website!
Kasas City Coed Dart Association
The Kansas City Coed Dart Association keeps things short and to the point, but still manages to relay all of the information that their players will need. They've got a League Calendar, Division Information, Schedules, Standings, and Game Results among many other features that LeagueLineup offers for them.
Jamesburg Men's Dart League
Blue, white, and green are the colors boasted by the Jamesburg Men's Dart League website. This league, based out of New Jersey, hosts 14 teams, and has many features such as Schedules, Game Results, and Standings on their LeagueLineup website.