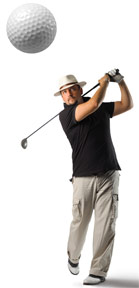 As a golf team or golf tournament manager, getting a website is just like hitting a hole in one the cyber way. There is a lot you can benefit from by setting up a website for the team or tournament such as increased exposure, better marketing and sheer convenience.
At LeagueLineup, we understand that you will want to get websites up and running with minimal cost and effort. The good news is that we provide the tools you need to create a high quality, professional-grade website! Features that you can gain from us include zero cost, fast setup, revenue generation through the Fan Shop and much, much more!
Since 1998, we have been helping millions of youth golf and amateur teams, clubs and tournaments achieve management success online. Join us today and be amazed!
Create your free Golf website now
GOLF WEBSITE FEATURES

Features included with EVERY LeagueLineUp site
SEE ALL FEATURES
North Penn High School Golf Team
The North Penn High School Golf Team has decided to go with a blue and white theme for their website. The result is an easy to use website that is also pleasing on the eyes. Commonly used features on the site include the Team Roster, Schedule and Photo Albums. We especially love their team promo video on their Welcome page!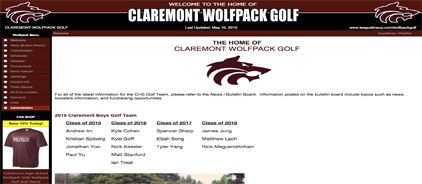 Claremont Wolfpack Golf
This is one of the most active golf teams on LeagueLineup. When they have decided to start a website, they used our tools to come up with a simple and easy to use website and tapped on our feature-rich offerings. We are excited that they have actively utilized the Team Roster, Fan Shop, Calendar and Automated Standings to their advantage.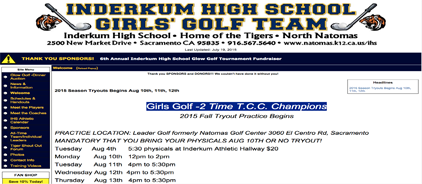 Inderkum High School Girls' Golf Team
Based in Sacramento, CA, the Inderkum High School Girls' Golf Team needed a robust solution to manage their team and let their golfers obtain information easily. LeagueLineup delivered exactly what they needed! We love the professional look of their website and the fact that they have created a Sponsors page as well as capitalize on the website space to promote their Fan Shop at the bottom of each page.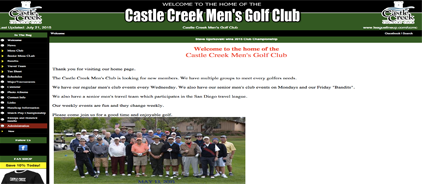 Castle Creek Men's Golf Club
This is a men's golf club located in San Diego, and has a very active Calendar. LeagueLineup tools are used to create a simple but elegant team website with a black and green theme. They have mainly used our free site as an informational dissemination portal.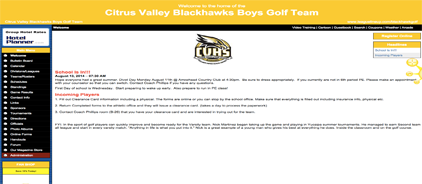 Citrus Valley Boys' Golf Team
The Citrus Valley Golf Team has used LeagueLineup to create a simple website that makes it easy for their team members to access current news and information. And if you happen to drop by, check out their Fan Shop where they have some really neat looking merchandise up for grabs!