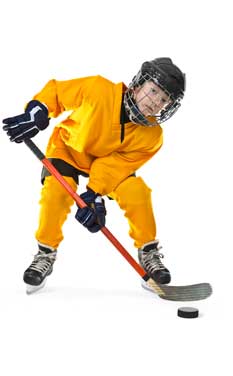 Ice Hockey is one of the biggest sports in the world, which means there are a lot of different teams and leagues associated with the sport on a variety of different levels. If you're a manager of one of those teams or leagues, you know that keeping everyone on the same page can be difficult.
Fortunately, you can make things a lot easier on yourself and everyone else by creating a free website with LeagueLineup! Our Ice Hockey Website Builder provides you with all the sports team and league management tools you'll need to build a website, with no prior coding or web design experience required on your part.
A few of the features that our site builder offers includes an Event Calendar, Match Results, League Standings, All-Time Leaders, Photo Albums, Message Boards, and the list goes on and on. You can even set up a Fan Shop where you can sell your own league apparel and other merchandise straight from your LeagueLineup website. A Directions page is also very helpful to show team and league members how to get to certain events.
Register a free account with LeagueLineup, and you'll have a basic website up and running in just a matter of minutes. Start building your Ice Hockey website today!
Create your free Ice Hockey website now
ICE HOCKEY WEBSITE FEATURES

Features included with EVERY LeagueLineUp site
SEE ALL FEATURES