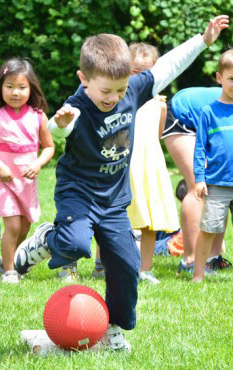 Managing an entire Kickball team, league, club, or association can be very difficult when done on paper and through phone calls. Fortunately, we offer a completely free solution at LeagueLineup with our easy to use website builder designed specifically for all kinds of sports organizations.
Even someone with no web design experience can set up a basic page for their team or league in just a few minutes. You can use our pre-built menu features to set up pages for Calendars, Match History, League Standings, and so much more. We can even help you set up a Fan Shop where visitors of your website can purchase apparel and other things from your team while you earn commissions from every sale.
Remember, it is 100% FREE to sign up for LeagueLineup, and you can get your Kickball team or league website up and running today – so get started now!
Create your free Kickball website now
KICKBALL WEBSITE FEATURES

Features included with EVERY LeagueLineUp site
SEE ALL FEATURES
Kansas City Big Balls Kickball
One of the most professional Kickball websites on LeagueLineup is definitely the Kansas City Big Balls Kickball site. Their home page has a great video introducing the league and its players, as well as quick links to registration and sponsor details. A side-bar menu has links to Schedules/Standings, Directions, Contact Info, and also a page that explains how you can be a Kickball Warrior – someone who plays for multiple teams.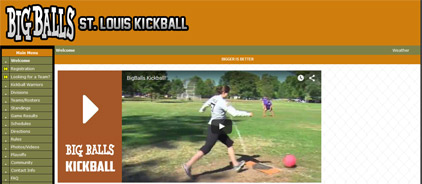 St. Louis Big Balls Kickball
The St. Louis chapter of Big Balls Kickball looks equally as great as the Kansas City chapter, so we have to share this one as well. A lot of the general information is the same as KC's, but they've got their own gray and blue theme, as well as the Game Results and Schedules for their area.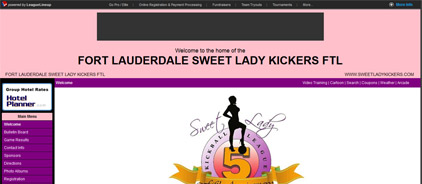 Fort Lauderdale Sweet Lady Kickers
This female Kickball league boasts a pink, purple, and white theme with their fancy Sweet Lady Kickers 5th Anniversary logo on the front page. A lot of useful information is displayed on a lengthy front page, keeping the secondary links short and sweet – mainly the Game Results, Standings, and Contact/Direction information.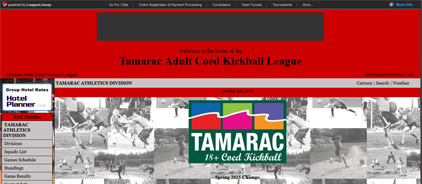 Tamarac Adult Coed Kickball League
The Tamarac Adult Coed Kickball League layers their background with tiled images of action photos from Kickball matches. Team photos of each of the past seasonal champs are also displayed on the home page, with links to the Game Schedules, Standings, Results, Contact Info, and more on the side-bar.
South Austin Adult Kickball League
There are 13 teams across two divisions in the South Austin Adult Kickball League. Two crowned champions are displayed on the front page, one for the Tuesday night division, and the other for the Friday night division. Their website also features a Community Forum, as well as standard LeagueLineup's website design features such as Schedules, Game Results, and Automated Standings.