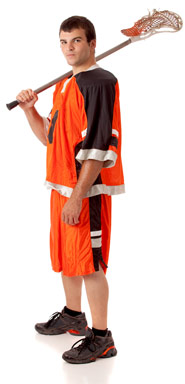 When you run a Lacrosse team or league, it can be hectic trying to run the administration as well as keep all the stakeholders updated on news, standings, activities and more. By using LeagueLineup's tools, you can make team or league management a breeze.
At LeagueLineup, we offer you tools to help you build a FREE website in a matter of minutes. You can also enjoy features such as a Fan Shop, Online Forms or automated Calendar a well as a truckload of other features on your site.
If you want to experience the best in sports team and league management solutions today, you should sign up with us and get started. With nearly two decades of experience, LeagueLineup is the perfect partner for laxheads!
Create your free Lacrosse website now
LACROSSE WEBSITE FEATURES

Features included with EVERY LeagueLineUp site
SEE ALL FEATURES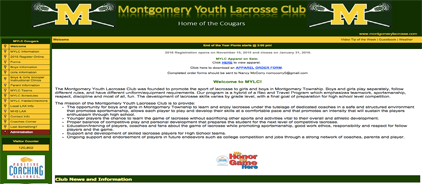 Montgomery Youth Lacrosse Club
The Montgomery Youth Lacrosse Club was founded with the purpose of promoting Lacrosse among the youth of Montgomery Township. Over time, it has grown to become one of the most successful clubs of its kind in the region. They have used our tools to develop a sleek website which is powerful yet scalable.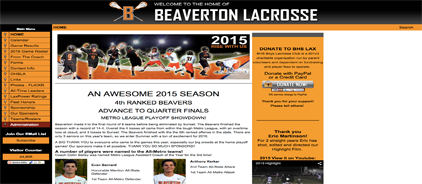 Beaverton Lacrosse
The Beaverton Lacrosse Team have used LeagueLineup to create a website that functions as a communication portal between team members, fans and other stakeholders including sponsors. Despite the fact that the website looks professionally designed and easy to use, it only took minutes to set it up!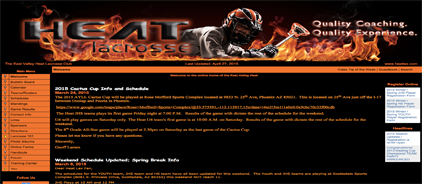 Heat Lacrosse
The Heat Lacrosse Club has a sizzling hot website and we adore it! They wanted a user-friendly website to carry out their club administration and that's why they have made LeagueLineup their home. By tapping on features such as Schedules, Standings, Game Results, Photo Albums and Fan Shop, Heat Lacrosse is able to showcase their team events as well as share information about their activities online in an easy manner.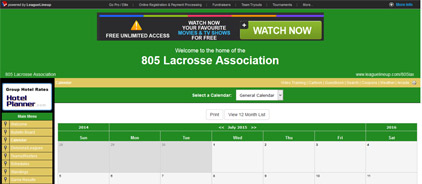 805 Lacrosse Association
Based in California, the 805 Lacrosse Association is one of the most active establishments in the region. It was developed with the intention of promoting the sport among the youth in California. The association has successfully used our tools to create a simple to use website with top notch features including Automated Standings, Game Results, Sponsorship information and much more.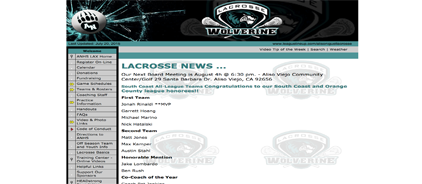 Aliso Niguel Lacrosse
The Aliso Niguel Lacrosse Team is a conglomerate of three different teams from the South Coast and Orange County in California. By working with LeagueLineup, they are able to keep everyone updated on the different team events and news in an effortless way.