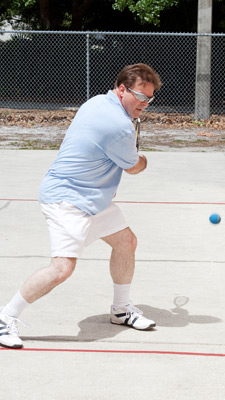 Are you in charge of a Racquetball team, association or league? If so, you're likely looking for assistance in creating a website for your stakeholders since you have ended up on this page! Fortunately, you're in luck, as LeagueLineup offers a 100% free solution to your dilemma: a feature-packed, easy to use Racquetball Website Builder. Register an account with us today, and you'll be on your way to building your own website to manage events and post information about your Racquetball league or association.
You can use your website to share registration details and forms, as well as information about upcoming matches and tournaments in the Event Calendar. Update your League Standings and Statistics to show who is on top of the leaderboards, and create a Message Board where site visitors can chat. You can even create a Fan Shop to sell league merchandise straight from your LeagueLineup website. The list of features goes on and on, and you can even create custom pages for blogs and other things.
What are you waiting for? It is time to take the next step and sign up for your account, and you can begin building your Racquetball website within a few minutes. We have helped more than 5 million sports teams and leagues since 1998, and you're invited to make us your online home!
Create your free Racquetball website now
RACQUETBALL WEBSITE FEATURES

Features included with EVERY LeagueLineUp site
SEE ALL FEATURES