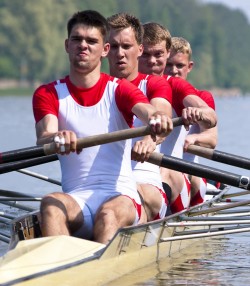 If you are currently trying to manage a Rowing team, league, or association without the use of a website, it is probably very time consuming to organize events and keep everyone on the same page.
The good news is, you've just found a completely free to use Rowing Website Builder that requires absolutely no web development knowledge or experience. It might sound too good to be true, but since it is completely free to sign up; you've got nothing to lose!
After registering your Rowing team or league's website, you can choose some basic theme colors, and then start adding other pages to your website. You can load up a pre-built Event Calendar to post upcoming practices and events, set up a page where people can download registration forms, and add Directions to different locations where events are held. All of this is done with just a few clicks of the mouse, and as we mentioned before, no coding required. Our websites even allow you to add a Fan Shop to sell team merchandise and apparel.
Sign up today and you can get started created your website in just a few minutes. Say goodbye to manual organization, and hello to your new Rowing website!
Create your free Rowing website now
ROWING WEBSITE FEATURES

Features included with EVERY LeagueLineUp site
SEE ALL FEATURES