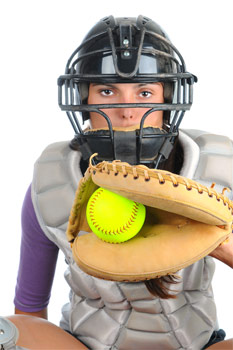 Fastpitch softball lives on LeagueLineup. Regardless whether you are looking for fastpitch softball teams or leagues, or clubs and associations, we can assure you that you can find thousands of them on our site. We've built top notch tools so that sports teams and leagues can benefit from our technology.
When you sign up with us, you will use a fast and powerful site builder to design your very own website for your team or league. Everything is 100% customizable so you can have total control on how you want your site to look like. Features you can easily add include Calendars, Team Statistics and even a Fan Shop. The best thing is we are giving this to you FREE!
If you want to know what it feels like to create a high quality website without paying a dollar, check us out today. Let us help you manage your team or league effectively so that you can focus your energy on the home plate!
Create your free Softball Fastpitch website now
SOFTBALL FASTPITCH WEBSITE FEATURES

Features included with EVERY LeagueLineUp site
SEE ALL FEATURES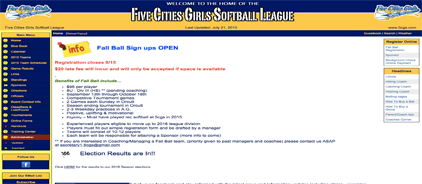 Five Cities Girls Softball League
This is a softball league that has been developed to encourage girls to take part in softball. Most of the teams taking part in the league are usually amateur or semi-pro teams. The league administrators have decided to use LeagueLineup's online tools to create a high quality website that can help disseminate information to all the players, coaches and their fans. From what we can see, they have succeeded well!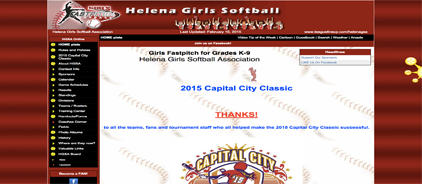 Helena Girls Softball Association
Helena Girls Softball Association is a softball association that promotes fastpitch softball for girls in Grade K9. LeagueLineup has been chosen for their online home, and we have helped them to build an easy to use website loaded with plenty of nifty features.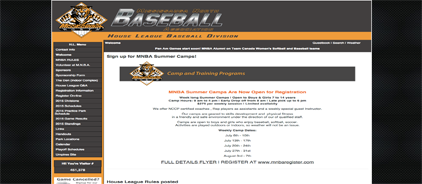 Mississauga North Baseball Association
Based in Ontario, the Mississauga North Baseball Association's fastpitch softball division has decided to use LeagueLineup to build their website. You can find lots of information on their sidebar as well as perform Online Registration directly on their website.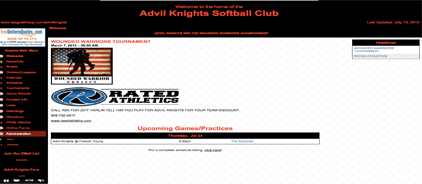 Advil Knights Softball Club
The Advil Knights Softball Club used our tools to create a simple but highly functional website that helps to communicate team events, activities and news. LeagueLineup has delivered a perfect solution for them and we are proud of it!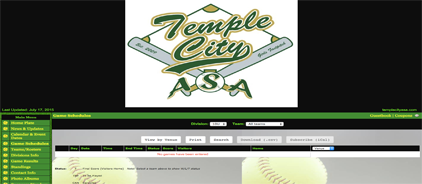 Temple City ASA
This California-based team features 5 divisions, covering 6U to 14U. They relies on LeagueLineup to not only run their team management but keep players, coaches, parents and their fans updated on team news, leaders, sponsorship, and activities.