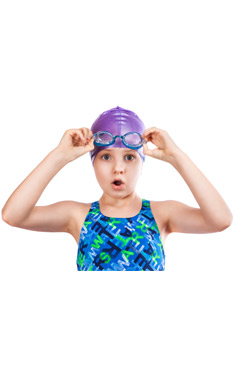 LeagueLineup is a completely free to use website builder designed specifically to accommodate teams, clubs, and associations across a wide variety of different sports – including swimming. For those seeking a quick and painless service to assist in the creation of a professional webpage for your team or league, you're in the right place.
You don't have to be an experienced web designer in order to take advantage of our services at LeagueLineup. Our platform is extremely intuitive to use, and offers plenty of useful pre-built features that will make statistics tracking and league scheduling much easier with just a few clicks of the mouse. A basic website can be set up within a matter of minutes, and will save a lot of time when it comes to relaying information about to the individuals in your team or league.
Our websites offer functionality beyond organization as well; you can even set up Online Polls, Shops, Photo Galleries, and much more. We've been assisting a plethora of sports teams and leagues since 1998, and we'd love to assist you too!
Create your free Swimming website now
SWIMMING WEBSITE FEATURES

Features included with EVERY LeagueLineUp site
SEE ALL FEATURES
Swimming Team Websites

See What Our Customers Have Built!
Paso Aquatic Club
Based out of California, the Paso Aquatic Club is a great example of what a LeagueLineup website can do for your swimming team. The site features a sleek black and red design, with plenty of pictures that show off the size of the club. All of the information anyone on the team might need, as well as anyone who is interested in joining, can be easily found on the side-bar to the right.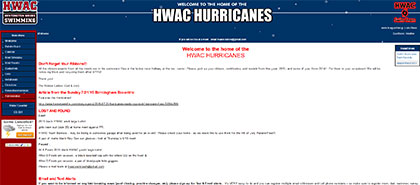 HWAC HURRICANES
The HWAC HURRICANES website greets you with some floating bubbles to help set a swimming vibe from the get-go. You'll find their Meet Schedules page and Results page easily accessible on the side, as well as a Bulletin Board for announcements, and a Calendar for upcoming events. They've also utilized the front page to relay some very useful information, such as the Lost & Found and E-Mail/Text Alert sign-up paragraphs.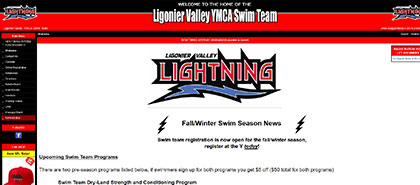 Ligonier Valley YMCA Swim Team
Another black and red layout is found on the page of the Ligonier Valley Lightning from Pennsylvania. The main page boasts their team logo, and gives a quick glance at upcoming Calendar Events. To the side, you can find a Fan Shop where team apparel can be purchased, as well as Handouts, Training Videos, Meet Results, and a password protected Message Board. They even have Online Registration available through the website.
Ponte Vedra Sharks Swim Team
A short video is shown on the front page of the Ponte Vedra Sharks Swim Team website, showing footage of some of the team's meets. Their site is absolutely loaded with information, photos, links, and more. Meet Results, Team Records, Registration and Apparel Forms, Handouts, and even Team Captain Requirements/Responsibilities are pages readily available via the side-bar.
Northwest Suburban Swim League
The Northwest Suburban Swim League sports a blue theme and a very straightforward format that gives all the league information without a lot of fluff. Calendar Events, Packets, Directions, and a handful of other resources are available. We love that a small icon below the side-bar menu can give people the option to sign-up for Text/E-Mail Alerts with a few clicks and keystrokes.