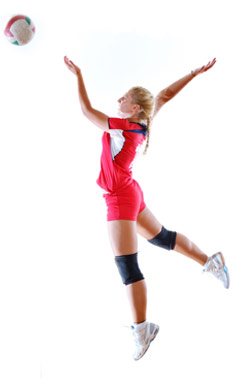 From competitive volleyball academies amateur leagues to blossoming school teams, LeagueLineup have been serving many different volleyball teams and leagues across the chart. We believe that sports teams should be focusing on the gameplay and not on the team or league administration. That is why we have been delivering solid sports team and league management solutions to ease the pains of team and league managers.
At LeagueLineup, you can sign up for a FREE website which comes with many features targeted to make sports management easy and hassle free. You do not need technical expertise to get started as our site builder comes with many inbuilt tools that you can utilize easily.
Thousands of volleyball teams, leagues, academies, clubs and associations have made LeagueLineup their home. It's time you do the same too!
Create your free Volleyball website now
VOLLEYBALL WEBSITE FEATURES

Features included with EVERY LeagueLineUp site
SEE ALL FEATURES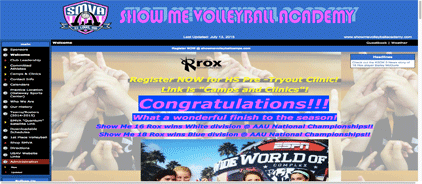 Show Me Volleyball Academy
Based in the St. Louis area, Show Me Volleyball Academy is fully committed to developing volleyball skills in their athletes. It was established in 2011 and had won many regional leagues and tournaments. With the help of LeagueLineup, they have set up a website so that they can communicate club news, events, activities, and competition results with their players, parents, and fans among others.
Powers Volleyball Club
Powers Volleyball Club is a highly featured member of the LeagueLineup's community. This club has a colorful website that is well designed and will easily grab your attention. Their pages are very informative and you can easily see how they have smartly customized our automated tools to suit their website design concept. Check out their Fan Shop for some cool merchandise!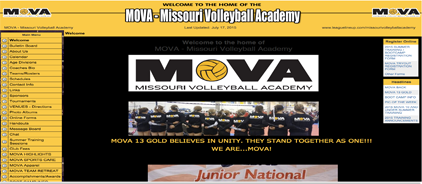 MOVA - Missouri Volleyball Academy
Action-packed is probably the best word to describe the website of the Missouri Volleyball Academy. You get to see lots of exciting pictures, inspiring content, and well organized information throughout the entire site. We are honored that MOVA has chosen LeagueLineup as their home!
Newport Volleyball
Newport Volleyball Team used LeagueLineup's tools to create a website that serves multiple purposes. This includes providing updates about the team's activities, as well as making it easier to follow up on the team's progress. Some of the commonly used tools on the site include the Message Board, Team Schedules, Calendar and Online Forms.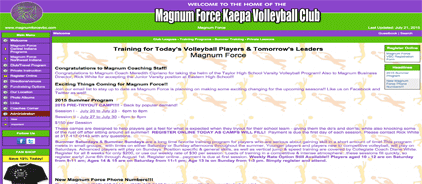 Magnum Force Kaepa Volleyball Club
Magnum Force provides quality volleyball training in Central Indiana through their various club programs. The website of Magnum Force features striking colors and you will find it a delight to browse through the pages. With the help of LeagueLineup, they are able to feature informative pages that can answer many questions players and parents might have about the club programs