If you're in charge of a Wiffleball league, or managing a Wiffleball team, club or association, LeagueLineup can help you set up a FREE website today! We offer a variety of different features you can implement into your pages, and our Wiffleball Website Builder is very easy to use – you can have your site up and running within just a few minutes.
Scheduling can be an issue with any sport team management, and you want to make sure everyone on your team is on the same page. With a LeagueLineup website, you can easily set up and manage a schedule for your entire league or team. You can also implement Statistic Tracking for your team and players, Online Polls, a Fan Shop, and so much more.
Teams and leagues across a variety of different sports have been utilizing the free services offered by LeagueLineup since 1998, and now it's your turn to get in on the action!
Create your free Wiffleball website now
WIFFLEBALL WEBSITE FEATURES

Features included with EVERY LeagueLineUp site
SEE ALL FEATURES
Wiffleball Team Websites

See What Our Customers Have Built!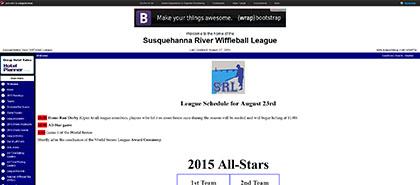 Susquehanna River Wiffleball
The Susquehanna River Wiffleball League is one of the most well-rounded Wiffleball sites on LeagueLineup. Split between 9 teams in three divisions, this league consists of many long-time Wiffleball players. Their site has current season and all-time stats for batting and pitching, as well as full scheduling, weekly highlights, and a few other goodies as well.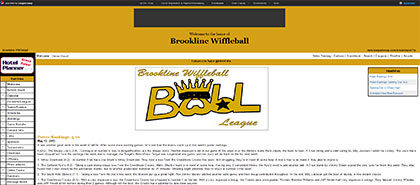 Brookline Wiffleball
Brookline is a one-division league consisting of five teams, but they are still competitive as any other league. Utilizing a simple two-color web design theme, their LeagueLineup website offers players a Calendar for upcoming events and games, previous Game Results, and Team Standings for the division.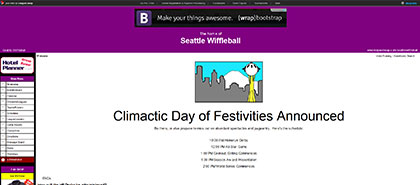 Seattle Wiffleball
When you visit the LeagueLineup website for Seattle Wiffleball, you're greeted with scores and summaries from the most recent games. The league itself consists of eight different teams in one division, and the website shows the current standings, as well as detailed player stats. We especially love the way this website features the scoop on weekly actions!
NLWiffle Wiffle Ball
One of the bigger Wiffleball leagues on LeagueLineup, is the NLWiffle Wiffle Ball League. This league boasts 12 individual teams, and they just recently finished up their league's world series. On their website, you can find league rules, batting average leaders, and current league standings.
Wyndham Wiffle Ball
Wyndham Wiffle Ball is a new league this year, consisting of four teams in one division. Since they are just getting underway with their first season, there aren't any stats to show just yet – but they'll have no trouble getting them uploaded with LeagueLineup after those first sets of games get wrapped up!