The 7U Erie Outlaws continued their recent hot streak by winning the 8U Summer Freeze Tournament in Union City.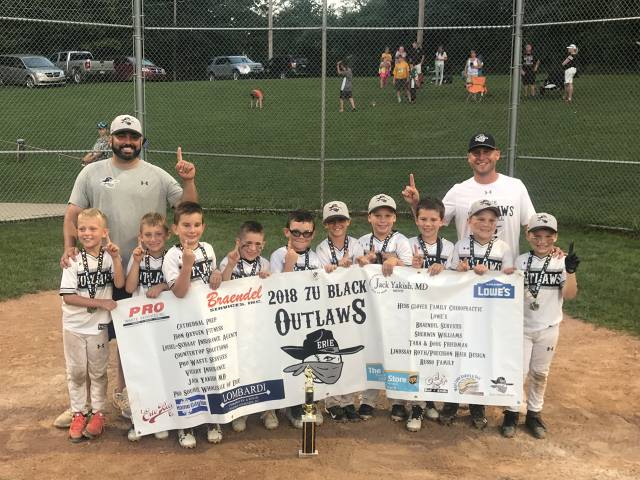 They went 2-0 in pool play outscoring their opponents by a combined score of 42-13, earning a bye and the #1 seed.
In the semi-final they defeated Northwestern 15-4 in 4 innings.
In the final they defeated Corry 14-8 to claim the title. In the championship game the top five hitters in the lineup Landon Martin, Dennis Braendel, Ben Dougherty, Joey Russo, and Brycen Lucas combined to go 14-15. The aggressive base running and solid defense of Sam Dougherty, Cam Armbruster, Grant Gartrell, and Peyton Friedman was a key factor in the victory.
Tournament MVP Jacob"All Day" Cline lead the Outlaws with 10 RBI, two triples, and two doubles in the final two games of the tournament. They have won 8 of their last 9 games and will be back in action on August 18-19 at the Back to School Bash in Millcreek! 
The Final Out for their first championship for coach Dennis Braendel.