2021 PRIVATE Try-Outs: Contact Scott Baldi 882-5104
REGISTER ONLINE NOW!
14U Black stays hot and wins the No OFF Season tournament (Tarentum, PA).
Black went 5 & 0. They were  2-0 in pool play and 2 seed heading into the playoff round.
In the quarterfinals Redtails baseball gave EOB everything they could handle losing 1-0.,
Macho Quinones with complete game 1 hitter and 7ks. Kasen Neely had the game winning RBI single.
In The Semifinals:
Black won another nail biter 3-2 vs Hardcore Elite Red.
Luke Guth with complete game 4 hitter with 6ks. Ben Brzezinski had 2 RBIs Chris Ramos had 2 runs scored
In the Championship Black beat Sweet Swing 6-2.
Chris Ramos with complete game win scattering 8 hits. The defense turned 3 double plays to back him up.  Luke, Kasen and Macho with 2 hits apiece.
This was 14U Black 3rd Championship tit;e this season along with two runner-ups. 
---
The Erie Outlaws 7U Black won their first championship taking 1st place at the Iroquois 8U Tournament this weekend. They went 6-0 outscoring their opponents by a combined score of 97-24.
In the semi-final they defeated Ft. LeBoeuf by a score of 17-5 and then continued to dominate in the championship game against the MYAA Riptide 8U with a final score of 13-3.  Drew Marsh finished the tournament going 18 for 21 with two inside the park homeruns, while Matt Jones went 18 for 20 including an inside the park homerun. The entire team continued to improve their aggressive base running and solid defense with short-stop Matt Jones and First Baseman Lucas Bardwell making several key plays.
Game 1 – Iroquois, Score 15-0 (three innings). Ryder Wilczynski was MVP of the game. Drew Marsh went 3 for 3 with a triple and inside the park homerun.
Game 2 – FLAG, Score 16-10 (five innings). Landon Waite was MPV of the game. Matt Jones went 3 for 4 with three doubles.
Game 3 – ERIE, Score 16-6 (five innings). Lucas Bardwell was MVP of the game. Micah Steves went 3 for 3 with a double and Peyton Friedman also went 3 for 3.
Game 4 – Northwestern, Score 20-0 (four innings). Peyton Friedman was MVP of the game going 3 for 3 with a double. Landon Waite was 2 for 2 and Drew Marsh was 3 for 3 with two triples.
Game 5 – Ft. LeBoeuf, Score 17-5 (four innings). Matt Jones was MVP of the game. Cameron Folmar went 3 for 3 and Ryan Robie went 2 for 2 with a base-clearing double.
Championship Game – MYAA Ripetide, Score 13-3 (six innings). Matt Jones was MVP of the game with an inside the park homerun and game ending catch. Landon Shrader was 3 for 3 with a base-clearing double. Porter Mitchell was also 3 for 3 with (2) two-out doubles.
---
Hello Parents,
We have designed a new Erie Outlaws Team Shop through Squadlocker.
We feel that Squadlocker is an excellent solution to the issues we had last year. All of the orders will be placed online through squadlocker and printed through squadlocker. Every order is guaranteed to ship within 3 weeks. If there are any order issues whatsoever, you are to contact squadlocker customer service directly. We have ordered items and tested customer service and they are fantastic.  We feel you will be very happy with our new team shop.
 We are opening these websites now so you can get items ordered to be here for Christmas.  There are two websites, one for Lady Outlaws Softball, and one for Erie Outlaws.  We have attached a link to both of the websites.  There are also coupon codes (ex: 10% off) periodically sent out by squadlocker, when we have these we will load the coupon codes on the website and on our Erie Outlaws website. 
Erie Outlaws Main Team Shop
https://teamlocker.squadlocker.com/#/lockers/erie-outlaws-team-store
Erie Lady Outlaws Softball Team Shop
https://teamlocker.squadlocker.com/#/lockers/lady-outlaws-softball-team
---
The 7U Erie Outlaws continued their recent hot streak by winning the 8U Summer Freeze Tournament in Union City.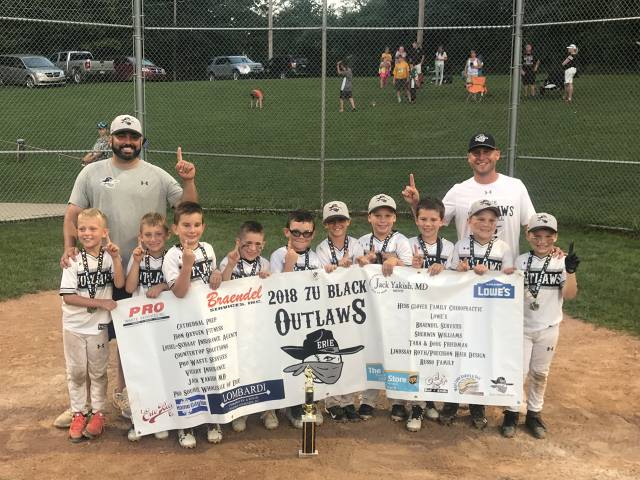 They went 2-0 in pool play outscoring their opponents by a combined score of 42-13, earning a bye and the #1 seed.
In the semi-final they defeated Northwestern 15-4 in 4 innings.
In the final they defeated Corry 14-8 to claim the title. In the championship game the top five hitters in the lineup Landon Martin, Dennis Braendel, Ben Dougherty, Joey Russo, and Brycen Lucas combined to go 14-15. The aggressive base running and solid defense of Sam Dougherty, Cam Armbruster, Grant Gartrell, and Peyton Friedman was a key factor in the victory.
Tournament MVP Jacob"All Day" Cline lead the Outlaws with 10 RBI, two triples, and two doubles in the final two games of the tournament. They have won 8 of their last 9 games and will be back in action on August 18-19 at the Back to School Bash in Millcreek! 
The Final Out for their first championship for coach Dennis Braendel.
---
11U Black Win Victory Park 12U Tournament of Champions:
 2018 Erie Outlaws 11U Black finished up the season 35-9-1 overall winning 4 out of their last 5 tournaments. 

The ended their hot season buy closing out another 12U tournament winning the Victory Park Tournament of Champions 12U Division in North Ridgefield, OH. 
They won the championship over 11U BCI out of Youngstown OH 10-0. Great team effort, solid defense, no errors, everyone had a hit in the lineup, Kam Kramer threw a shutout and Brady Kramer hit a grand slam. 

Season Recap:

11U Erie Outlaws Black finished up the 2018 season winning 24 out of 26 tourney games, made it to five championship games, won four titles out of the seven tourneys they attended. Great group of kids who compete and play hard. 

 It was a solid year on the diamond for these boys playing an 11U/12U schedule in PA, OH, and NY. Playing tough competition definitely made a positive impact on their growth as a team. 

Victories over Beaver Valley Red, Michigan Elite, Stix Columbus,  Steel City Select and the 12U Steelheads twice were solid wins for our Outlaw family during some pressure situations. 

These kids proved to themselves and others that loyalty to one team and a team-first mentality can be difference makers when competing against bigger/older travel organizations. 

Most of the roster has played together since they have been 6/7 years old and their friendships on and off the field are what's most impressive. They are a true baseball family of brothers who have grown up together playing this great game. The life skills and experiences, both high and low, will be positive difference makers in their lives as they grow up and become young adults. 

The following boys have given up so much time and put in the work in order to compete at a high level ...


Kam Kramer P, CF, SS
Quentin Orlando LF, P, 1B 
Mason Mac SS, P, C 
Joe Himes CF, LF, C, P
Brady Kramer C, P, 3B
Tanner Ashton 2B, P 
Ethan Bechtold P, 3B, RF 
Brandon Cosme 1B, 3B, P 
Paul Porter 3B, RF, LF, P 
Marquis Lehr RF, 2B, P 

Great job 11U ... you have made your families, coaches and the Outlaw Organization very proud. Fantastic group of kids, families, and coaches.
Special thanks to the coaches Dave Ashton, Brian Kramer and Tim Maciulewicz on an outstanding job.
"It has been an honor to coach these young men and be part of their journeys in life". -Coach Dave Ashton
Outlaw Strong and Proud!
Special thanks to Kim Kramer for all her great photos this year!
---
14U Black Strikes again winning VFW Post 740 Girard HS Classic:
Erie Outlaw Black 14U  win Girard HS Classic 14U Championship held at the VFW Post 740 in Albion, Pa.

In game 1 of pool play, AJ Roach got it done on the mound and at the plate by going 4 strong innings and adding a double,triple and 2 RBI's against the Girard All Stars for 7-2 win. 
In game 2, after falling down 4-0 to the Franklin River Bandits after 3, they put up 2 in the 4th and 4 in the 5th and hung on for a 6-5 come from behind win lead by big hits from Patrick Sullivan, Alex Vahey and Tai Hopkins. 

In game 3 great pitching from Reece Colvin plus team defense lead to a 6-2 win over Erie Outlaws White.

They hooked up again against Franklin River Bandits  in the finals and again took them down 12-9 with a team effort lead by Stevie Lebron who had 2 hits including a 370 foot bomb and closing out the 7th inning with a save.
Erie Outlaws Black 14U finished the season 22-5 which included 3 championships. 
---
The 12U Silver Outlaws coached by Randy Powierza entered Sunday in the Silver Bracket at the Lancer Classic in Lewiston NY after a tough bracket in pool play.  The boys went 3-0 on Sunday and outscored their opponents 38-16 to win the Silver Bracket Championship.
In the first game Outlaws beat Hamburg Dawgs 12-2 behind great pitching from Ian Chylinski, timely hitting including a grand slam by Cooper Cousins. 
In the second game the Outlaws beat the Buffalo Wings 10-4 behind great pitching from Cooper Cousins, Klayton Komiarski and Andrew Disanza, timely hitting by all 11 players and great defense by all. 
In the Championship the Outlaws fell behind 3-0 to the Niagara Jr. Purple Eagles after two innings.  The boys rallied back to score 8 runs in the 3rd inning led by Charlie Swanson's grand slam and Ryan White's two run home run.  The Outlaws won 16-10 behind great pitching from Jake Schmidt and Connor Powierza and great hitting as all 11 players reached base.  In the tournament Cooper Cousins had 3 home runs, Ray Wasiella had two, Charlie Swanson and Ryan White 1.  The boys did the 3 things their coaches have been asking them to do all year: do their best, give 100% on every play and be coachable.  Because they did that they had a lot of fun.
---
10U Erie Outlaws White Take "The Battle for the Axe" from Barbarians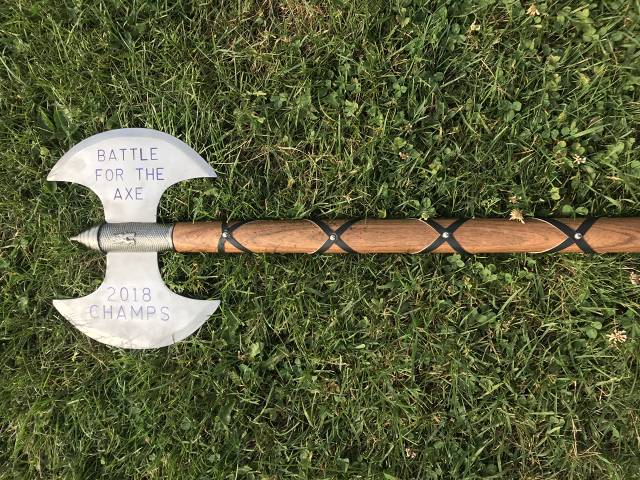 Erie Outlaws 10U White won the Battle for the Axe Tournament in Meadville, PA. In pool play they defeated the Conneaut Steel Rays 13-5 and the Greenville Diamond Dawgs 6-4. 

In the Semi Finals, they faced the Sharpsville Blue Devils. Justice Laird gave up 2 runs (1 earned) in 3 lights out innings. In the first inning Calvin Hiltabidel smashed a 2 run home run to give the Outlaws a 2-0 lead. In the 3rd inning with base runners on Parker Berk twice threw from deep center to home to save 2 different runs. In the bottom of the 3rd inning Calvin hit his second 2 run home run of the game giving the Outlaws a 3 run lead. In the 4th inning in a tight game Rocco Almonte caught a steaming line drive and tagged first to force an unassisted double play to save a run and end the inning. With the game tied 10-10 in the bottom of the 5th, Nolan Lackey knocked in Rocco Almonte for the go ahead run. In the top of the 6th inning with 2 outs DiamondDawgs stole home to tie the game. In the bottom of the 6th inning with the game tied 11-11 Jack Lewis leads off with a double. The next batter, Ethan Bliley, was hit by a pitch followed by a walk off double by Rob Watson to win the game. 

In the Championship game, they faced the Meadville Barbarians. Both teams came into the game as Pool #1 seeds and undefeated. Justice Laird again pitched 3 lights out innings giving up just 1 run. Between the semi finals and championship, Justice struck out 7 batters. Calvin Hiltabidel pitched the final 3 innings giving up only 3 more (only 1 earned). Logan Hammer had two amazing catches in the outfield and hit a 3-Run home run to seal the deal in the bottom of the 5th as the Outlaws rolled to a 10-4 win in the Championship game, claiming the AXE! 
---
17U Black Wins New Era Cap Classic:
Buffalo, NY-
The 17U Erie Outlaws Black came back to the Cap Classic after an absence in the 2017 tournament to get their crown back they claimed in 2016.
 In the 2016 Championship held at Coca-Cola ballpark home of the Toronto Blue Jays Triple-A affiliate Buffalo Bison the Outlaws were lead by Rockne Seidel who threw a seven-inning complete game earning the win verse hometown New Era Prospects 6-4. Erie was lead on offense by Alex Baldi who was 3-3, had three RBI's and Seidel who went 2-3 at the plate in the title game. 
Baldi finished the 2016 tournament 11-15 with a staggering .733 avg and adding 7 walks for OB % of .818 earning MVP honors. Seidel was 9-22 .409 AVG and earning a win in the decisive game. Teammates Jimmy Colvin and Jaydin Vavreck both batted .412 going 7-17 at the Classic.
2016 New Era Cap Classic Champions (Above)
The 2018 High School division tournament started off with a battle of heavyweights between the Americans and the Outlaws at Niagara Stadium. In a low scoring game which only had 6 combined hits, Erie won 3-1. Behind winning pitcher, Colvin who threw 5 innings picking up the win on the hill. Baldi lead the offense with two base hits.
Erie then pounded the Seneca Stars12-1. The Black squad was lead by Nick Rinella who was 3 for 3 and scoring two runs. Seidel and Dylan Proctor both chipped in two hits apiece and scoring twice. The Colin brothers handled the pitching duties with Kelly picking up the victory and Watts closing out the last three innings.
Erie then earned a forfeit victory against Team Valle from Rochester, NY.
 In
 the trap game of the day, Erie Outlaws tied the Bulletproof Prospects from Niagara Falls, Canada 4-4. Paul "Fats" Causgrove lead the offense with three hits and two RBI's. Colvin added two base knocks. Despite the tie  Erie earned the number two seed in the 23 team event.
Sunday the single elimination tournament began with another big win vs the Seneca Stars, who were the #7 Seed going 3 & 1 in pool play. The Stars were trying to avenge their only loss of the tournament by the hands of the Outlaws but once again the bats of the Outlaws were too much mercy ruling the Stars 10-1. Colin Watts earned the complete game win. Seidel blasted a three-run home run. Baldi had two singles scoring two runs. 
At St. Joe's field the Outlaw fans were treated to the best game of the day. After The West Toronto Elite took the lead 6-5 in the top of the 6th inning on a bases-loaded clearing double. Kelly came in relief to strand two runners but needed an outstanding play from catcher Brock Conn who threw out an attempted bunt to end the rally. In the bottom of that frame Erie wasn't phased by giving up a four run lead and answered the bell with two singles by Causgrove and Proctor with two outs. Then Luke Moon clutched up and tied the game at six with a line drive single to center field and turned the lineup over to the top were Baldi delivered a ground rule double plating Proctor for the winning run. Kelly shut down the 7th inning in order to advance the Outlaws to the Championship game. Baldi was 3-3, Causgrove, Proctor, and Moon all had two hits apiece to power Erie.
The Championship game played at beautiful DI Canisius College was between the Academy Stars Showcase team and the Erie Outlaws 17U Black. 
DEJA VA happened just like in 2016 for the Outlaws because Seidel and Baldi lead the way for the champs. Seidel was shut down on the mound only allowing 3 hits, adding three hits of his own and two RBI's. Baldi continued his hot stick going 2-2 scoring three runs. The final big blow was from Kelly who hit a bases-loaded clearing double for a walk-off 9-1 win to capture the 2018 New Era Cap Classic Title. 
Alex Baldi was 12-20  with three walks batting .600 scoring 9 runs. Rockne Seidel batted .412 going 7-17, Dylan Proctor was 7-14 going .500. Also adding seven hits were Paul Causgrove and Nick Rinella. 
Erie Outlaws 17U Black finished its season with a 17-1-1 record. 
---
New Era Cap Classic 9U in Buffalo, NY
New Era Cap Classic 9U Runner-Up: Erie Outlaws Silver
Game 1
:  Erie Outlaws Silver got caught off guard early Friday morning and lost 13-1 to a tough Mars Blue team.
Game 2
:  Erie and coach Dave Austin bounced back with a come from behind win 6-5 against the Twin Tiers Pride.  In the bottom of the 6th, with the game tied Colton Wittman started the inning with lead off double follow by a walk off double by C.O. (Colton Owens) to win the game.  Hayden Spencer, Lukas Kuffer and J.J. Wittman all pitched 2 great innings each.
The Outlaws dropped the mercy rule on both opponents Saturday.  Defeating the Niagara Falls Falcons 13-3 and the WNY Inferno 12-1.  Spencer and J.J. Wittman each hit home runs and over all the Outlaws bats were on fire.  The EO Silver went into championship Sunday as the #2 Seed with a 3-1 record.  Once again Hayden, Lukas and J.J. all pitched shutdown innings, giving up only 4 runs all day.
Semi-final game
:  Erie Outlaws 9U Silver continued with the hot bats and defeated a tough Twin Tiers Pride team 15-12 to move onto the championship game.  Porter Austin was 4-4 with 3 Singles and 1 Double.  J.J. Wittman was 4-4 with 3 singles and 1 Triple.  Lukas Kuffer was 3-3 with 1 Single and 2 Doubles.
Championship game
:  The Outlaws battled but fell to a very talented Mars Blue team 8-0.  The bats quieted down and the Mars Blue fielders made some amazing plays.  Outlaws finished 4-2 to bring home 2nd place.
Erie Outlaws Silver 9U Batting leaders from the weekend:
Porter Austin .785 avg,  9 Singles, 2 Doubles
J.J. Wittman  .714 avg,  7 Singles,1 Double, 1 Triple, 1 HR
Colton Wittman  .666 avg,  6 Singles, 2 Doubles
---
2018 Lancer Classic 9U Champions:
9U Black 2018 Lancer Classic "Championship Bracket" Champions: 20 Team Tournament
Game #1 vs NTNLL Nighthawks  (WIN 11-1)
                Blake Burchill started the tournament off by striking out 4 of his first 6 batters faced.  Landon Marsh led the team in hits with 3 in this game (1 Double/2 Singles) while Blake Burchill and Nate Buerk each added a Double and Single of their own.  This game only went 4 innings, ending in a double play at 3rd base with Nik Malec.
Game #2 vs Lakeview Lightning  (WIN 9-2)
                After giving up 2 runs in the first inning, Pitching and Defense was on display the rest of the way.  Landon Marsh, our Hard-Throwing Lefty, threw smoke to close the game out with 3 strikeouts in the final inning.  Landon (who may run faster than he pitches!) added another 3 hit (1 Double, 2 Singles) game while Mateo Kennelley and James DiSanza added 2 hits apiece!
Game #3 vs Cayuga Heat  (WIN 11-1)
                Will Herron led the charge in this one, taking advantage of his "leadoff batter" opportunity.  He started the game off with a double to the fence and added 2 more hits in this evening matchup.  James DiSanza, Blake Burchill and Frank (AKA "Big Hurt") Thomas all had multi-hit games.  On the hill, we rested our Clydesdales and threw 4 different pitchers one inning apiece.
Game #4 vs MMB Bandits Black  Semi-Finals Game (WIN 9-0)
                With 5 Undefeated teams going into Sunday, this was our first game in "Championship Bracket" play.  We could not have dreamed of better pitching, allowing only 1 hit all 6 innings.  Blake Burchill started the game by striking out the first 5 batters he faced.  Jackson Herr looked like a Ninja throwing his occasional nasty "Cutter" and mowing down 4 of the 6 batters he faced.  Several kids had multi-hit games, but Nate Buerk and Nik Malec took the cake smashing the seams on the ball in this one.  Lucas Schmidt got in on the action playing "small ball" and laying down bunts left and right.
Game #5 vs Orchard Park Spirit  CHAMPIONSHIP GAME (WIN 11-2)
                We didn't allow a run until the 4th inning in this one, snapping our streak of 13 scoreless innings out in the field!  Our shining star in this one was our silky smooth Shortstop, Blake Leslie, who made the crowd cheer with multiple "Web Gems" and laser throws to First Base.  Offensively, we came out HOT scoring 5 in the 1st inning and never looking back…THE OUTLAW WAY
EVERY YOUNG MAN ON THIS TEAM MADE MULTIPLE CONTRIBUTIONS IN DEFENDING OUR TITLE FROM 2017 AND BRINGING HOME ANOTHER CHAMPIONSHIP.
---
11U Silver Claim the 2018 Chuck Schafer Scholarship Tournament Title in Boardman, OH
Erie Outlaws 11u Silver Win
2018 Chuck Schafer Scholarship Tournament
           At Boardman, Ohio
Sunday The 11U White coached by Marc Kindle got on an Outlaw roll beating Boardman 10-0 in the 1st Round of the playoffs.      Shawn Chludzinski, Sheffield Grasso, Tino Musone all had triples. Musone & Josue Rosario both had 2 hits each.
Next up was Austintown Travel who the Silver beat 16-3. Musone again had three hits. While teammates Sheffield Grasso, Eli Nicklas, Shawn Chludzinski all 2 hits.
In the Championship Game vs Canfield Erie outlasted them 19-16 for the Tournament crown.    Josh Majczyk lead the way on offense with four base hits.  Clay Wojtecki, Shawn Cludzinski, Tino Musone all had three base knocks.  Eli Nicklas, Mason Kindle, Kody Bukoski contributed to the championship be adding two hits each. 

---
11U Black Capture The Stars and Stripes Tournament
11U Black Capture The Stars and Stripes Tournament in Twinsburg, Oh going 5 & 0 over the weekend.
After going 3 & 0 in pool play and scoring 51 runs Erie earned the #1 Seed in the Stripes Division.
In a Semifinal win, the black got solid pitching from Quentin Orlando, Karson Chamberlain, and Brady Kramer Kramer. Tied 6-6 in the 4th Tanner Ashton had a big two-run single to left to go up 8-6. The offense was lead by Kam Kramer, Joe Himes, Mason Maciulewicz and Brady Kramer with multiple hits. The final was 15-7 and the Outlaws 11U Black advanced to the title game vs

The Championship game was a heavyweight tilt with the #1 Seed and hometown Twinsburg Tigers facing off verse our Outlaws. 
Big pitching performance and hitting display by Kam Kramer. A total team effort with all players getting at least one hit and playing solid defense the entire game. Gave the 11U Black a winning score 13-3 in five innings. Coach Ashton's team is on a current 12 game win streak and it is their THIRD Tournament Championship this season. 
For the complete tournament, recap click on the link below:
https://www.tourneymachine.com/Public/Results/Tournament.aspx?IDTournament=h2018031017120629096b6256d00f347
---
Erie Outlaws Get Black Triple Crown at Cedar Point 11U, 14U & 17U
The Erie Outlaws conquered The Sports Force Parks in Cedar Point by winning three titles at the 4th of July Fireworks Classic.
The 11U Black coached by Dave Ashton went 7-0. They outscoring opponents 51 to 11 in pool play. They continued to play good baseball in the payoff round beating IVL Baseball 7-3, then beating Beaver Valley Red 3-2 behind Quentin Orlando's complete game win, Brady Kramer who hit a two run homerun and Kam Kramer game winning hit to advance to the Championship. In the title game the Outlaws beat Steel City Select 6-5 to claim the Title. 
Under new leadership due to coach Wegelin moving, the 14U Black didn't miss a beat going 3 & 1 in pool play. In the Championship bracket Erie beat the Michigan Warriors 8-4 to advance. In the semi's they got revenge on the only loss they had by beating the Ohio Prospects 4-2 behind the complete game pitching from Reece Colvin to advance to the title game. In the Championship game AJ Roach powered his way on the mound getting the victory 8-5 for the Outlaws.
The 17U playing up in the 18U division finished the tournament with a 6 & 1 record for coach Jim Colvin with it's only loss coming to the hands of the Ohio Stingrays 6-5. Erie relied on great pitching from Nick Rinella, Rock Seidel, Alex Baldi, Corey Shields and Ryan Smerkar who all earned wins on the mound. In the Championship bracket Erie beat the number one seed the Stingrays 8-2 behind Shields to advance to play Pride Baseball in the finals. The finals lived up to the hype with the Outlaws claiming victory 2-1 behind the pitching of Smerkar. Paul Causgrove saved the day for Erie making a great catch and doubling up a runner at 2nd base to end the game. Causgrove and Jaydin Vavreck were named Tournament MVP's.  
---
13U White beat Silver in the all Erie Outlaws VFW Summer Invitational Final 6-4.
The 13U White team coached by Patrick Bulger start out the season with capturing the 2018 VFW Post 740 Summer Invitational 13U Championship. The 13U White competed in the 54/80 division going 4 & 0. They opened up verses Girard winning 12-1.
They then beat Saegertown Travel 5-1 to finish pool play 2 & 0.
The White came right back and beat Saegertown Travel 5-4 again to advance to the title game against friendly foe  Erie Outlaws Silver.
In the all Erie Outlaws Finals White outlasted Silver 6-4 to get the upset victory in the title game. 
---
12U Black Gearing up for Cooperstown Dreams Park!