GMFCA FAMILY!!!!
THIS WEEK'S GAME IS AGAINST KISKI VALLEY AT HOME SATURDAY SEPTEMBER 15TH
CONTACTS FOR GMFCA ARE AS FOLLOWS: 
VP of Cheer - Brooke Rawls - 412-592-2841
AVP of Cheer - Erica Gans - 412-334-1003
Flag Head Coach (5&6 year olds) Jocelyn - 412-377-9027 
Termite Head Coach (7&8 Year olds) April - 724-388-0339
Mite Head Coach (9&10 year olds) Brooke or Erica (Please see above)
Midget Head Coach (11&12 Year olds) Ingrid - 412-398-3578
VP of Football - Mark Rawls - 412-606-0452
Primary Big East League Rep - Dev Woods - 412-607-7718
Flag Head Coach (5&6 year olds) Jerrel - 412-477-2500
Termite Head Coach (7&8 Year olds) Matt - 732-690-7587
Mite Head Coach (9&10 year olds) Roland - 412-770-8683
Midget Head Coach (11&12 Year olds) Russ - 412-951-4085
Equipment Manager - Theodore Mitchell 412-350-8653
IF YOU HAVE ANY QUESTIONS REGARDING CONCESSIONS OR FUNDRAISING PLEASE CONTACT THE BELOW BOARD MEMBERS FOR ASSISTANCE! 
Tanya Howard - Concessions Director - 412-889-3275
Yvette Wade - Fundraising Director - 412-606-5803
For Any Administrative questions please contact our Secretaries and Treasure 
Tiffany Haten  - Secretary - 412 - 680-2501
Cheryl Smith  - Assistant Secretary - 412-586-8489
Angela Jones - Treasurer - 412-916-3931
PLEASE NOTE THAT THE BIG EAST YOUTH FOOTBALL LEAGUE WILL FACE OFF AGAINST THE PARKWAY YOUTH FOOTBALL LEAGUE IN NOVEMBER IN AN ALL-STAR GAME AT THE MITE AND MIDGET LEVEL!!! DETAILS WILL BE FORTHCOMING!!! A GREAT OPPORTUNITY AND ACHIEVEMENT FOR EACH FOOTBALL PLAYER IN OUR ORGANIZATION AT THESE LEVELS TO STRIVE FOR!! 
The age group classifications are as follows:
Flag - 5 and 6 year olds
Termites - 7 and 8 year olds
Mites - 9 and 10 year olds
Midgets- 11 and 12 Year olds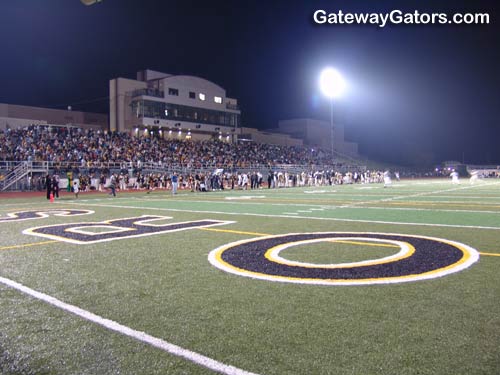 Gateway's Anitmarino Stadium Home of the Gateway Gators
Please take the time to check out our new customized Football Jerseys for tackle and flag as well as our New Customized Cheer shirts!!
GMFCA is a part of the Big East Youth Football League and we are proud to be USA football Certified!!! USA is football is what is widely discussed and categorized as the safest techniques for playing the game of football. USA Football is endorsed by the NFL!
The Big East consist of the below teams:
Gateway

Plum
Penn Trafford
Woodland Hills
Mckeesport
Kiski Valley
Franklin Regional
Jeanette
Hempfield
East Allegheny
Schedule to be provided soon!!!
We aim each year to be able to provide our children and their families with a fantastic experience!! Please note there is a link to a Flipagram we would like for you to watch that we believe captures a glimpse of the "GMFCA Experience".
Once again we would like to thank you in advance for partnering with us and contributing to the success of another exciting season!!
DICKS Sporting Goods is offering special team coupons to ALL MEMBERS of GMFCA. Please visit our "Links Page" for special offers..... 
Gateway is a Founding Member of BEYFL!
Click on the link below for news on our new league!
http://www.bigeastfootball.org/
 GATEWAY MIDGET
FOOTBALL & CHEER 2018
Signup for Alerts
Get important messages from Gateway Midget Football and Cheerleading Association by Text & Email