WELCOME TO THE 2018 BASEBALL SEASON!!!
FIELD CONDITIONS SATURDAY, AUG 18th - ALL FIELDS CLOSED FOR TONIGHT
SATURDAY AUGUST 18TH   -  all fields closed for tonight
PLEASE CALL RAIN LINE 865-5586 CHECK BACK AT LEAST 1 HOUR BEFORE YOUR GAME TIME IN CASE OF OTHER CANCELLATIONS DUE TO FIELD CONDITIONS
Sackville/Bedford - Click Here
---
Hi coaches, today we put together and brought down to the back room of WJCC a brand new TWO WHEELED PITCHING MACHINE.   I have taken the green one out temporarily to repair so there are still two machines there, if you are running a practice on the Small Field and want a machine please use the older blue one.
The new two wheel is heavy and we do not want it carried down to the small field, it is only to be used in the batting cage, there are a fair number of moving parts so car is to be taken, a few rules/info to follow:
1) Under no circumstances is a player allowed to use the machine to make pitches, only coaches or adults can "feed" the machine
2) the instructions on how to set the machine are on the actual machine, for example it tells you there to throw a fastball at 40 MPH you set the top wheel at 7 and the bottom wheel at 3.   There are different settings for 50 mph etc etc, the machine will also throw cures etc but we dopn't encourage a lot of that in the cage, the instructions on it show the configuration of the two wheels etc.
3) there are dials to set the wheels higher or lower and also to move them to the side etc
PLEASE REMEMBER TO USE CAUTION AS THERE ARE TWO WHEELS SPINNING - IF YOU LOOK CLOSELY IT DOES HAVE PROPER HANDLES WHERE YOU CAN PLACE YOUR HANDS WHEN MOVING WHEELS, SET UP ETC.   YOU CAN BOOK THE USE OF THE CAGE THRU OUR WEBSITE HERE.
Enjoy, Barry
---
LWF - Tri-County 2018 Season Success
Congratulations 15U LWF Miners on winning GOLD in Summerside, PEI !!!
Congratulations 13U LWF Miners on winning GOLD in Summerside, PEI !!!
Congratulations Tri-County Rangers 11U-AAA GOLD in the 2018 Mosquito AAA James 'Fiddler' MacDonald Tournament!
Congratulations Tri-County 13U-A on following up your SILVER in Fredericton, NB with another SILVER in Moncton, NB!!!
Congratulations Tri-County 13U-Preewee A winning SILVER in Fredericton!
Congratulations LWF Miners winning SILVER in the Bob Legere Tournament!
Congratulations Tri-County 11U-AA winning GOLD in PEI
Congratulations Tri-County 18U-AA winning GOLD in the Eastern Passage Tournament!
Congratulations to host Tri-County 15U-AAA winning GOLD in the 2018 Bedford Days Tournament!
Congratulations Tri-County 11U-AAA kick-starting the 2018 season winning GOLD in Dartmouth!
Congratulations Tri-County 15U-AAA on winning GOLD in Dartmouth!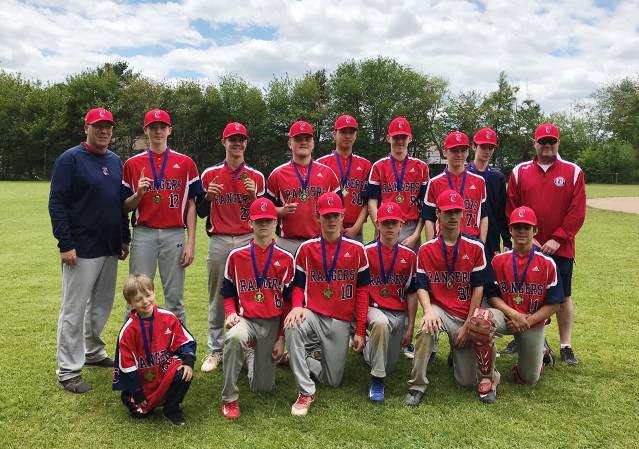 ---
LWF SWAG IS BACK!
GREAT GIFT IDEA! LOOK COOL OUT ON THE FIELD OR SIMPLY SHOW YOUR LWF PRIDE!
PLACE YOUR ORDER TODAY! CLICK HERE FOR ORDER FLYER
---
COMPETITIVE AND RECREATIONAL BASEBALL FOR ALL AGES
We welcome you to the LWF (Fall River & District) Minor Baseball Website. Our Association has over 400 players ranging from Novice (4/5 yrs old) right through to Intermediate (19 and up) with both rep and rec teams in all divisions. We will be adding information all year so please feel free to browse through and if you have any questions call Barry at 902-861-1171. LWF Minor Baseball Association is also a partner with Sackville & Bedford to form the Tri-County Rangers Rep baseball teams that play in the N.S Bluenose League around the Province. Our Association is for both girls and boys and offers a recreational league for ages 7 through 18. If you are 12 yrs and older we also offer a supervised Umpires Program where you can earn some money and learn the game from a totally different perspective. We cover mainly the areas of Fall River, Windsor Jct, Lakeview, Waverley, Wellington, Grand lake and Enfield. Our teams play out of fields in Windsor Jct, Waverley, Grand Lake, Sackville, Bedford, Hammonds Plains and Enfield.

If you have any questions or concerns about the upcoming season please send all inquiries to: lwfbaseball@hotmail.com
---
LWF BASEBALL E-MAIL NEWSLETTER
If you would like to receive the LWF Baseball newsletter please send an email to kent.pietracupa@bellaliant.net with subject: NEWSLETTER
The newsletter will keep you up to date and informed on all the upcoming baseball events and news as well as some great community events.
This is only a distribution email so please do not send your questions to this email.
---
To Coach OR Not To Coach!
"Nobody would step up and volunteer, so finally I said I would do it. The parents were thrilled when I said I would do it and now those same parents are unhappy with the way I'm handling the team. I told them I hadn't coached before and now it seems like everyone has an opinion about what I'm doing wrong."
Sound familiar? Why should you coach? For many reasons!
Read on.....
To truly enjoy coaching at any level you need to expand on your reasons for coaching to include items that provide a personal sense of happiness and reward. Put aside all of the community service reasons and think about aspects of coaching that can give you a feeling of satisfaction and personal joy. This way you will find greater motivation to be the best coach you can without worrying about negative criticism.
1. Enjoy being part of a team - The interaction with the players that takes place on the field is something that can't be duplicated when you sit in the stands.
2. Enjoy teaching youth - It's a thrill to see the happiness that occurs when a player has learned something new and is able to perform that skill..
3. Enjoy acting like a kid - Kids don't understand the concept of working or practicing hard, nor should they be expected to. What they do understand is the concept of playing hard and having fun, so have fun with them....Act like a kid, they love it and respond to it!!!
4. Coaching is a challenge - Love the challenge of trying to continually improve and get better. For both players and coaches that concept is really one of the main lessons that sports can teach us. The added bonus is it can be used in every part of your life.
5. Spending time with the kids - saved this for last, but it's really first on the list. Being out on the field with the kids is an awesome opportunity to spend quality time that they will hopefully always remember.
It's important to realize that to be good at coaching you have to
be doing it for reasons other than "they needed someone". Almost anyone can become a very good youth coach, but it's like anything else you're good at, it takes a desire to become good at it. Put aside your fears of coaching by realizing that we ask our kids to put aside their fears every time they step up to the plate, take a spot in the field or pitch their first pitch. Fear should never become an obstacle. 
So, don't be afraid to check that volunteer coach box on your registration form this season. You might just end up with a new rewarding addiction!!!
---
TEAM PHOTO OPPORTUNITY