WELCOME TO THE 2018 BASEBALL SEASON!!!
Uniform Return Night
October 4, 2018 – 06:30 PM
LWF & Tri-County Uniform Return Night!
DATE: Thursday, October 4th, 2018
PLACE: LWF Community Hall (843 Fall River Road) out in the Bays.
Later than normal however we would greatly appreciate your assistance in returning all uniforms and gear bags so we can begin our Winter inventory and uniforms in and washed.
---
ALL SEASONS BASEBALL CAMP (FALL 2018)
SACKVILLE HEIGHTS JUNIOR HIGH SCHOOL
KENT PIETRACUPA – 902-252-1641
E-mail:  kent.pietracupa@bellaliant.net
410 – 35 Legacy Court, Lower Sackville, NS, B4C 0A5
www.leaguelineup.com/asbcamp

Kent will be holding a Fall Baseball camp for those going to and those in Rookie /Mosquito (7,8,9,10 Year olds) and those in Mosquito / Pee Wee (10 – 13 year olds) at the Sackville Heights Junior High School on Friday nights.
The purpose of the camp is to provide the fundamentals of the game and more importantly having fun. Each session is 1.5 hours long and we will do 1 skill set, agility and cardio exercises and we always end the session with a fun wiffle ball game.
Please forward players name, group, parents names and phone numbers.

The cost is $100.00 for 6 sessions (20 players) and the camps have been filling up quicker every year. Due to problems in the past, your child is not registered until payment is received. I just want to ensure all kids have a chance to participate in the camp. You can send an Interac E-transfer to: kent.pietracupa@bellaliant.net / Cash drop off to the address above.

The sessions are as follows:

Rookie / Mosquito – Oct.19, Nov 2, 9, 16, 23, 30 - 6:00 pm to 7:30 pm – first 20 paid are registered
Mosquito / Pee Wee – Oct.19, Nov 2, 9, 16, 23, 30 - 7:30 pm to 9:00 pm – first 20 paid are registered

NOTE:  If the school is closed due to storms or other reasons then the gym session is also canceled. If there is an in service the gym is still open. Visit the camp website for updates on sessions in case of closures.

MAKE UP DATES:  The following dates are for make up dates due to cancellation
Dec 7, 14 and 21st

If you have any questions or concerns please feel free to contact us any time and we look forward to this years camps.

Kent Pietracupa
kent.pietracupa@bellaliant.net
Home: 902-252-1641                                    
---
NOVICE / RALLY CAP UNIFORM RETURN
Barry will be at the LWF Hall tonight (Thursday Sept 6th) between 6-7pm for uniform drop off and medals!
---
2018 ROOKIE PLAY OFFS - GAME SCORES & SCHEDULE
*Congratulations to LWF Miners - Winners of  "A" Div Championship
*Congratulations LWF Rangers - Winners of "B" Div Championship
*Congratulations East Hants Red - Winners of "C" Div Championship
2018 ROOKIE Play off results:
Aug 19th   LWF Miners  7  LWF Pirates  0
Aug 20th   LWF Blue Jays  7  EH Blue  3
Aug 20th  EH Red  7  LWF Buccaneers  0
Aug 21st  LWF Braves  9  LWF  Pirates  3
Aug 21st  LWF Rangers  11 -  LWF Mets  0

Thurs Aug 23rd  LWF Buccaneers 0 -  LWF Blue Jays 0

Fri, Aug 24th  LWF Miners 8 -  LWF Braves 3

Fri, Aug 24th  LWF Mets  4 -  LWF Raiders  0

Sun, Aug 26th   EH Blue 0 -  Buccaneers  4

Sun Aug 26th   LWF Rangers 4 -  LWF Raiders 7

Sun, Aug 26th   LWF Pirates 2 -  LWF Miners 12

Sun, Aug 26th  LWF Blue Jays 6 -  EH Red  9

Mon Aug 27th   EH Red 10 -  EH Blue  5

Mon Aug 27th   LWF Braves 6 -  LWF Pirates  1

Tues Aug 28th  5:45  WJCC  LWF Raiders 3 vs  LWF Rangers 5

Wed Aug 29th   LWF Braves 1 -  LWF Miners 0

Thurs Aug 30th 5:45 Small  LWF Buccaneers 3 vs  EH Red 7

---
LOOKING FOR GREAT BASEBALL - LABOR DAY WEEK-END
    With most of our Rec Divisionzs winding up their seasons this week there is still lots of great baseball to go watch this week-end.
Our Bantam AAA team which went 33 - 9 overall this season and won tournaments in Moncton, Dartmouth, Summerside & Bedford and just got back from a National Tournament in Oshaway, Ont where they went 3 - 3 are hosting NS Provincials this week-end at Lenihan Fields in Bedford.   Schedule for our Tri-County teams game is as follows:
FRIDAY, Aug 31st:
9:00 am  Tri-County vs Hammonds Plains
3:00 pm  Tri-County vs Kentville
SATURDAY, Sept 1st
9:00 am  Tri-County vs Halifax
3:00 pm Tri-County vs Dartmouth
ALSO GOING ON THIS LABOR DAY WEEK-END OUR TRI-COUNTY PEE WEE AA team is hosting ND Provincials at our main field in Windsor Jct.   Schedule there for TC games is:
FRIDAY 
2:30 pm  Tri-County vs Hammonds Plains
4:30 pm Opening Ceremonies
Saturday
9:00 am Tri-County vs Halifax  
2:00 pm  Tri-County vs Halifax
Good luck!
---
Our last Rally Cap sessions of the season will both take place at their normal times this coming Wednesday, Aug 29th at WJCC.   At these sessions we will do our final hat test, play a short parent vs kids games, hold year end medal presentations and do a uniform jersey return (bring an extra shirt or jacket).
Hope to see you there.
---
LWF - Tri-County 2018 Season Success
2018 Bantam League Champions - LWF MINERS!!!
2018 Peewee League Division 1 Champions - LWF MINERS!!!
2018 Rookie League 'A' Division Champions - LWF MINERS!!!
Congratulations 15U LWF Miners on winning GOLD in Summerside, PEI !!!
Congratulations 13U LWF Miners on winning GOLD in Summerside, PEI !!!
Congratulations Tri-County Rangers 11U-AAA GOLD in the 2018 Mosquito AAA James 'Fiddler' MacDonald Tournament!
Congratulations Tri-County 13U-A on following up your SILVER in Fredericton, NB with another SILVER in Moncton, NB!!!
Congratulations Tri-County 13U-Preewee A winning SILVER in Fredericton!
Congratulations LWF Miners winning SILVER in the Bob Legere Tournament!
Congratulations Tri-County 11U-AA winning GOLD in PEI
Congratulations Tri-County 18U-AA winning GOLD in the Eastern Passage Tournament!
Congratulations to host Tri-County 15U-AAA winning GOLD in the 2018 Bedford Days Tournament!
Congratulations Tri-County 11U-AAA kick-starting the 2018 season winning GOLD in Dartmouth!
Congratulations Tri-County 15U-AAA on winning GOLD in Dartmouth!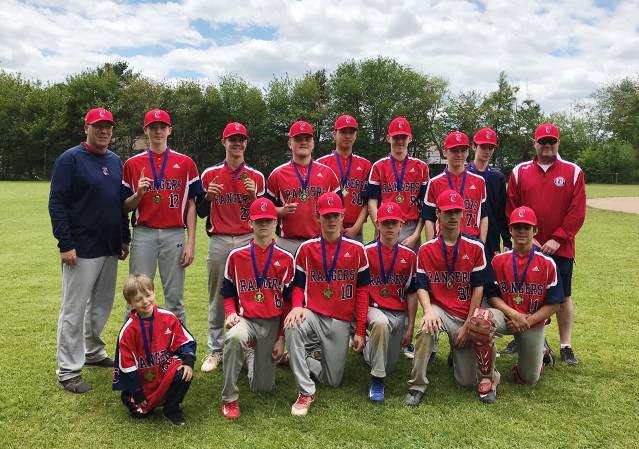 ---
LWF SWAG IS BACK!
GREAT GIFT IDEA! LOOK COOL OUT ON THE FIELD OR SIMPLY SHOW YOUR LWF PRIDE!
PLACE YOUR ORDER TODAY! CLICK HERE FOR ORDER FLYER
---
COMPETITIVE AND RECREATIONAL BASEBALL FOR ALL AGES
We welcome you to the LWF (Fall River & District) Minor Baseball Website. Our Association has over 400 players ranging from Novice (4/5 yrs old) right through to Intermediate (19 and up) with both rep and rec teams in all divisions. We will be adding information all year so please feel free to browse through and if you have any questions call Barry at 902-861-1171. LWF Minor Baseball Association is also a partner with Sackville & Bedford to form the Tri-County Rangers Rep baseball teams that play in the N.S Bluenose League around the Province. Our Association is for both girls and boys and offers a recreational league for ages 7 through 18. If you are 12 yrs and older we also offer a supervised Umpires Program where you can earn some money and learn the game from a totally different perspective. We cover mainly the areas of Fall River, Windsor Jct, Lakeview, Waverley, Wellington, Grand lake and Enfield. Our teams play out of fields in Windsor Jct, Waverley, Grand Lake, Sackville, Bedford, Hammonds Plains and Enfield.

If you have any questions or concerns about the upcoming season please send all inquiries to: lwfbaseball@hotmail.com
---
LWF BASEBALL E-MAIL NEWSLETTER
If you would like to receive the LWF Baseball newsletter please send an email to kent.pietracupa@bellaliant.net with subject: NEWSLETTER
The newsletter will keep you up to date and informed on all the upcoming baseball events and news as well as some great community events.
This is only a distribution email so please do not send your questions to this email.
---
To Coach OR Not To Coach!
"Nobody would step up and volunteer, so finally I said I would do it. The parents were thrilled when I said I would do it and now those same parents are unhappy with the way I'm handling the team. I told them I hadn't coached before and now it seems like everyone has an opinion about what I'm doing wrong."
Sound familiar? Why should you coach? For many reasons!
Read on.....
To truly enjoy coaching at any level you need to expand on your reasons for coaching to include items that provide a personal sense of happiness and reward. Put aside all of the community service reasons and think about aspects of coaching that can give you a feeling of satisfaction and personal joy. This way you will find greater motivation to be the best coach you can without worrying about negative criticism.
1. Enjoy being part of a team - The interaction with the players that takes place on the field is something that can't be duplicated when you sit in the stands.
2. Enjoy teaching youth - It's a thrill to see the happiness that occurs when a player has learned something new and is able to perform that skill..
3. Enjoy acting like a kid - Kids don't understand the concept of working or practicing hard, nor should they be expected to. What they do understand is the concept of playing hard and having fun, so have fun with them....Act like a kid, they love it and respond to it!!!
4. Coaching is a challenge - Love the challenge of trying to continually improve and get better. For both players and coaches that concept is really one of the main lessons that sports can teach us. The added bonus is it can be used in every part of your life.
5. Spending time with the kids - saved this for last, but it's really first on the list. Being out on the field with the kids is an awesome opportunity to spend quality time that they will hopefully always remember.
It's important to realize that to be good at coaching you have to
be doing it for reasons other than "they needed someone". Almost anyone can become a very good youth coach, but it's like anything else you're good at, it takes a desire to become good at it. Put aside your fears of coaching by realizing that we ask our kids to put aside their fears every time they step up to the plate, take a spot in the field or pitch their first pitch. Fear should never become an obstacle. 
So, don't be afraid to check that volunteer coach box on your registration form this season. You might just end up with a new rewarding addiction!!!
---
TEAM PHOTO OPPORTUNITY