VIRTUAL YOUTH CHEER CLINIC - NOVEMBER 11TH
ARE YOU PROUD TO BE A LION - YES WE ARE!
Welcome to Penncrest Cheerleading!
Lion Pride shines brightly at Penncrest High School!
It shall be our purpose to promote and uphold the traditions of excellence set before us by uniting the student body, alumni and community at athletic events and cheer competitions.  Hard work and spirit are the foundation of the Penncrest Cheerleaders who consistently carry with them a sense of enthusiasm, pride, teamwork, and integrity.


---
SOCIAL MEDIA SPOTLIGHT
NCA Cheer's #PURSUE GREATNESS

Varsity Spirit Fashion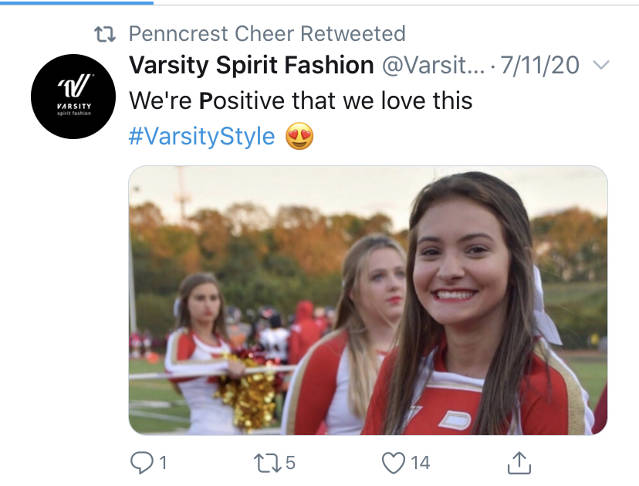 ---
2020 NCA HIGH SCHOOL NATIONAL CHAMPIONSHIPS
The Penncrest Cheerleading Team earned a bid to the NCA High School National Championships in Dallas, Texas on February 1-2, 2020. The team advanced to finals in two divisions:  Performance and Game Day and made it to the "Winner's Circle" during finals in the Performance division.  Our team brought home bronze medals with an impressive third place finish among the nation's top teams in the medium varsity division. Additionally, Penncrest was chosen as one of only 10 finalists in the "Go Be Great" category which is solely based on community service and their work outside of cheerleading. The "Go Be Great" finalists were chosen from over 150 applications for the award.  
 American Cheerleader Magazine/Website article
Go Be Great: NCA High School Nationals (click here to read article)
---
PENNCREST AND SPRINGTON LAKE CHEERLEADERS
TEAM UP FOR PEP RALLY
It was nice for the Penncrest Cheerleaders to "come back home" to Springton Lake Middle School for the Winter Pep Rally and to cheer with the Spartan Cheerleaders! Great job Springton Lake Cheerleaders... the future is bright for Penncrest Cheer!
---
PENNCREST CHEERLEADING UNIFORM REVEAL
---
This website is maintained by Penncrest High School Cheerleading and its Booster Club.  The Rose Tree Media School District, Penncrest High School and its Athletic Department are not responsible for the content or opinions expressed on this site.
Welcome to the home of
Penncrest Cheerleading