Looking for Coaches for all age groups
Hello everyone,
This spring season we are looking for coaches for all ages.  It's important to find coaches.  The season will not happen unless we find a coach.  Please if you have any interest, please contact me.  You do have an assistant who can help you out through the season.  
Thanks,
Jonathan Ashbrook
jonashbrook@gmail.com 
---
All surrounding communities are welcome!  No out of district fees!
---
2020 SPRING REGISTRATIONS
Spring soccer sign-ups will be held on 2/15 and 2/22 at Heritage Grade School in the west wing, use west doors.  Forms will be laid out at school registrations as well.  You can also mail the forms.  They are online at www.prairiefiresoccer.org. Please make sure you choose the correct form for your child's age group.  If some reason you're not able to make it, please contact us to avoid late charges.   Also check us out on Facebook.  NO SIGN-UPS ACCEPTED ONCE PRACTICES BEGIN.
Registration forms:
K-4TH GRADE (click on K-4th)
5TH-8TH GRADE (click on 5th-8th)
HIGH SCHOOL  (click on HIGH SCHOOL)
---
---
---
Please donate old cleats and shinguards during sign-ups.  
---
Looking for coaches or assistant coaches of all ages
The Prairie Fire Soccer Club is looking for a volunteer to serve as a head coach or assistant coach for age groups Pre K to 6th grade.  We are looking for a candidate who is willing to work with our system, someone who can interact well with kids at this age level, is able to communicate with parents, and who has some  or very little basic soccer skills .  If you have some basic skills but don't think your're qualified, don't worry, we will gladly help train you.  It is also not a requirement to have a child in our soccer program.  We provide all the equipment and accessories needed for this position.  If interested, please contact Charles Montgomery at 217-377-9569 to set up a meeting.
---
SPRING 2016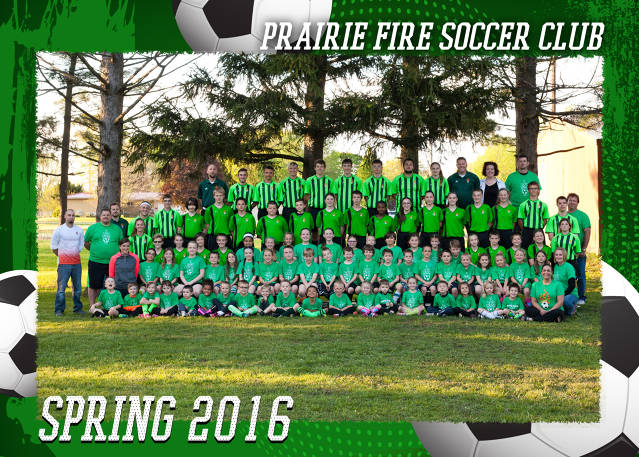 ---
Frequently Asked Questions
Have a question about Prairie Fire Soccer Club?  Take a look at our Frequently Asked Questions to get the answers to common questions.  Of course, never hesitate to contact Jonathan or Charles directly to answer any question you might have.
---
The club follows FIFA rules
Click Here To Download
We amended the rules for K-2nd to allow extra throw-ins & kicks if needed to teach the younger players the fundamentals.
---
Soccer ball sizes for grades
K-2nd grade size #3
3rd-4th grade size #4
5th-8th grade size #5
---
Please donate your old soccer cleats, shin guards or soccer ball!
If anyone needs soccer cleats or shin guards please get with Jonathan or Charles and we hope to help you out.                                                                                                                                              
---
Prairie Fire Soccer Proposal
Prairie Fire Soccer Proposal
Here is our official proposal for the Prairie Fire Soccer Club. Just click on the link above. This explains our motivations and goals. It also explains the details about teams, game formats, finances, and fundraising.