Looking for U12/U14 Coach
Hello everyone,
This spring season we are looking for a U12/U14 coach.  I (Charles) can help out with giving you practice workouts and some guidance for the season.  The season will not happen unless we find a coach.  Please if you have any interest, please contact me.  You do have an assistant who can help you out through the season.  
Thanks,
Charles Montgomery
mont1230@gmail.com
---
2019 Fall REGISTRATIONS
Spring soccer sign-ups will be held on July 24th 6:00-7:00pm at Heritage Grade School in the west wing, use west doors.  Forms will be laid out at school registrations as well.  You can also mail the forms.  They are online at www.prairiefiresoccer.org. Please make sure you choose the correct form for your child's age group.  If some reason you're not able to make it, please contact me to avoid late charges.   Also check us out on Facebook.  NO SIGN-UPS ACCEPTED ONCE PRACTICES BEGIN.
Registration forms:
K-4TH GRADE (click on K-4th)
5TH-8TH GRADE (click on 5th-8th)
---
---
---
Please donate old cleats and shinguards during sign-ups.  
---
Looking for coaches or assistant coaches of all ages
The Prairie Fire Soccer Club is looking for a volunteer to serve as a head coach or assistant coach for age groups Pre K to 6th grade.  We are looking for a candidate who is willing to work with our system, someone who can interact well with kids at this age level, is able to communicate with parents, and who has some  or very little basic soccer skills .  If you have some basic skills but don't think your're qualified, don't worry, we will gladly help train you.  It is also not a requirement to have a child in our soccer program.  We provide all the equipment and accessories needed for this position.  If interested, please contact Charles Montgomery at 217-377-9569 to set up a meeting.
---
All surrounding communities are welcome!  No out of district fees!
---
SPRING 2016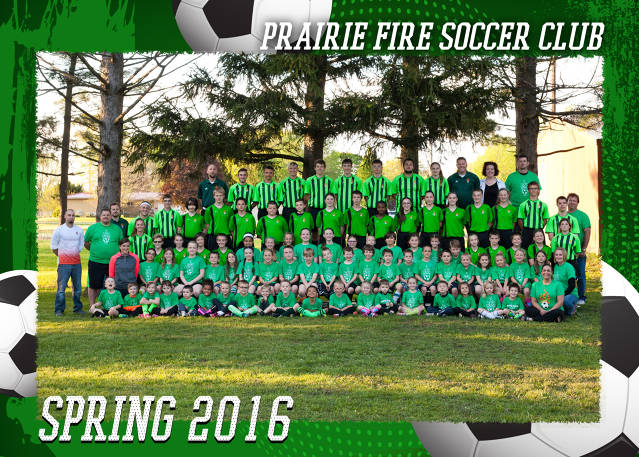 ---
Frequently Asked Questions
Have a question about Prairie Fire Soccer Club?  Take a look at our Frequently Asked Questions to get the answers to common questions.  Of course, never hesitate to contact Jonathan or Charles directly to answer any question you might have.
---
The club follows FIFA rules
Click Here To Download
We amended the rules for K-2nd to allow extra throw-ins & kicks if needed to teach the younger players the fundamentals.
---
Soccer ball sizes for grades
K-2nd grade size #3
3rd-4th grade size #4
5th-8th grade size #5
---
Please donate your old soccer cleats, shin guards or soccer ball!
If anyone needs soccer cleats or shin guards please get with Jonathan or Charles and we hope to help you out.                                                                                                                                              
---
Prairie Fire Soccer Proposal
Prairie Fire Soccer Proposal
Here is our official proposal for the Prairie Fire Soccer Club. Just click on the link above. This explains our motivations and goals. It also explains the details about teams, game formats, finances, and fundraising.
---
INDOOR SESSION

 

Parents/Players,

 

Prairie Fire Soccer Club will be putting on small 1-hour soccer sessions indoors at the Heritage Grade School in Homer.  These will begin on November 8th.  Ages 8-12 will practice 5:30-6:30pm. and ages 13-18 will practice 6:30-7:30pm.  If you are wanting to participate, please have the form and payment ready at the first session.  Doors on the first day will open at 

5:00

 so I can get registrations started.  We are not accepting late registrations.  This is an open gym style.  It's not mandatory.  While we'd love to see everyone participate, it will be focused and somewhat rigorous.  And while we want it to be fun (and it will be), our focus will be work, not socialization or goofing around.   There will be rules set forth at the beginning and the kids are expected to abide by those rules.   We will be working on foot skill, trapping, small touches, etc. and will play small-sided games.  Todd 

Rentschler

 and I will be coaching the kids during these sessions.  This will keep the players ready for the spring and also will serve as a way to improve their skills. 
We will charge a $15 fee to offset the costs of equipment (weighted balls for indoor use).  This is a very inexpensive alternative to Soccer Planet and will be much more in-depth.  It's a good way to keep playing without traveling into

Urbana

 each week.  Depending how many we get, Todd and I discussed renting the Soccer Planet at least one time this year and for those who would be interested, we would ask that you chip in $5 to $10 when the times comes. 
We welcome all current members of 

PFSC

 or those who would like to become a 

PFSC

 members.  Hope to see a lot of you out.

 

 

 

 

 

 
---
INDOOR SOCCER REGISTRATIONS
Indoor will start the week on November 7th at 5:45p.m. and will depend on the numbers how many days it will run per week.  If interested, please fill out the form below and get it to me as soon as possible.  Please use west doors to Heritage Grade School.
---
---
---
Laundry Detergent Fundraiser - Orders due on 3/29/18
Form "click here"
---
APPAREL 
Due on March 9th. Make checks out to HSC.
Click here "Apparel catalog" or order directly online at https://shop.fancloth.com/61849/361856