Redhawks bounce back with 6-3 win vs. Bombers as Bies clobbers titanic homer
Up next: Colorado Cubs (12:30 p.m., Sunday, Denver North)
2018 HR: Bies (3) Johnson (1), Gillem (1), Baum (1)
Redhawks record: 15-4 overall, 9-1 Triple-A
2018 pitching records: Rodriquez 5-1, Willis 3-0, Smith 3-2, Weber 1-1 (2 Sv), Jark 1-0
BIES' BOMB BUOYS HAWKS PAST BOMBERS
Slugger has registered three homers in past two games
LITTLETON – With five Redhawks currently engaged, the word single isn't floated around much. Yet for power hitter Adam Bies, much of the first half of the season consisted of the one-bagger.
That has changed in the past two weeks, however.
Bies is back to his bomb-hitting self, as evidenced by his mammoth shot to center Sunday in the Redhawks' 6-3 win against the Bombers. It was Bies' third homer in the last two games, and he later added a double to give him 14 total bases in his last seven at-bats.
"Could be worse," said Bies, one of the five planning nuptials.
Bies' round-tripper, a first-inning blast on an elevated two-strike pitch, landed on the bike track far beyond the center-field fence at Littleton High. After ripping a double later, the Bombers passed on Bies in his final at-bat.
The Redhawks (15-4, 9-1) had clobbered the Bombers 15-1 in the initial meeting and jumped ahead 6-0 after three innings in this one. But the offense went dormant and the Bombers chipped away to make it a close ballgame down the stretch.
Pitcher Dylan Smith earned the win for the Redhawks, whiffing seven over six quality innings. Kyle Jark finished up with three dominant innings, permitting only a single while striking out three.
Smith added an RBI single for the Hawks, who managed only six hits. Edison Rodriquez went 2-for-4 with a double and Derek Johnson added a hustle double in the first.
The Redhawks will take on the surging Colorado Cubs (10-1) next week. The Redhawks defeated the Cubs 9-4 on May 6. 
Notes: The Redhawks were a bit light, playing without first baseman Tommy Cowan, catcher Chuck Gillem, second baseman Sam Makovsky and utility man Justin Baum. . . . Jark hasn't issued a walk in 12 innings this season, joining several teammates with low walk numbers: Kenneth Weber (two in 23 innings), Paul Willis (four in 31 innings) and Smith (10 in 41). . . . The Redhawks's team vote determined the squad's three all-stars: Outfielder Casey Hill, Bies and Johnson. Smith and Jark are the first alternates. . . . By virtue of playing one less game than the Browns and Cubs, the Redhawks were excluded from managing one of the teams for Saturday's game (8:30, Golden). All three teams have one loss.
Bombers . . . . . . . . . . . . . . . . . . . .000 012 000 – 3  8  4
Redhawks . . . . . . . . . . . . . . . . . . 411 000 00X – 6  6  3
Redhawks hitting (ab-r-h-rbi) Hill lf 4-0-0-0, Smith p-cf 4-0-1-1, Jark cf-p 3-1-0-0, Bies 1b 3-2-2-2, Johnson 3b 3-1-1-0, Davis c 3-1-0-0, Rodriquez ss 4-0-2-0, Weber 2b 4-0-0-0, Willis dh 2-1-0-0, Qiu rf 2-0-0-0. Totals 32-6-6-3.
Pitching (ip-h-r-er-bb-k) – Smith (W 3-2) 6-7-3-3-2-7, Jark (Sv 1) 3-1-0-0-0-3.
E – Johnson 2, Rodriquez. 2B – Johnson (7), Bies (4), Rodriquez (4). HR – Bies (3). SB – Rodriquez (10), Weber (6).
---
BROWNS ISSUE REDHAWKS FIRST LEAGUE LOSS
Hawks fall to third place, ERAs elevate in 12-run loss

LITTLETON – July 9 – When the Redhawks were thumped by the Browns in tournament play a few weeks back, there were plenty of rationalizations. The Redhawks were shorthanded for the tourney. The Browns had beefed up. The Hawks made a crosstown commute to play their fourth game in 28 hours.
On Sunday, none of those pretexts came into play.
Rested and with a full squad, the Redhawks were clobbered again. This time it was a 17-5 decision at Heritage High, an emphatic first league loss that dropped the Hawks to from first to third place in the Triple-A standings.
In actuality, the Redhawks (14-4, 8-1) are essentially in a three-way tie for first with the Browns and Cubs, but the Redhawks have played one fewer game so they sit a half-game back.
But there was no reason to split hairs after the Hawks surrendered their most runs ever in a Triple-A regular-season game. In fact, they had only yielded 18 total runs in their first eight regular-season games, and the Browns nearly matched that. As such, the Hawks' team ERA climbed from 2.61 to 3.36.
On the bright side, Adam Bies collected his first two home runs of the season. But after the Hawks staff had permitted only three homers all season, they yielded five to the Browns.
Things began inauspiciously when the Browns got to starter Edison Rodriquez for five runs in the first. The right-hander battled through five innings, but departed trailing 8-4. The Hawks' two relievers then also saw their ERAs elevate, Kenneth Weber's from 0.87 to 3.04 and Paul Willis' from 2.15 to 2.84.
In addition, Kyle Jark was denied a sure home run when the home-plate umpire ruled his blast to left foul. The ball clearly left the yard in fair territory, but the hooking shot eventually landed foul in the parking lot area. The Hawks had another inning short-circuited by another egregious umpire error, when the field ump claimed a Browns infielder dropped the ball "on the transfer" when it actually hit the heel of his glove.
To be clear, the bad calls weren't responsible for a 12-run loss, but each of them had something of a deflating quality. Jark, now in a 1-for-13 slump, would have cut the deficit to 8-6 had his ball been correctly ruled.
But the hard reality is the Redhawks were outscored 27-5 in back-to-back losses to the Browns. They'll look to get back on track Sunday against the fourth-place Bombers.
Notes: The Triple-A standings are top-heavy, with only the Browns, Cubs and Redhawks over .500. Those teams are a combined 26-3 and have accounted for the only losses against one another. . . . Weber hit his first triple of the season in the second inning and only the fourth for the Redhawks overall. . . . Rodriquez departed early with an injured pinky area of his throwing hand. . . . The Redhawks have hit 14 sacrifice flies this season. Justin Baum added one Sunday.
Denver Browns. . . . . . . . . . . . . .501 200 333 – 17 16  1
Redhawks . . . . . . . . . . . . . . . . . . 300 100 100 –   5   8   2
Redhawks hitting (ab-r-h-rbi) Smith lf 3-1-0-0, Hill rf 4-1-2-0, Jark cf 4-0-0-0, Bies dh 4-2-2-4, Johnson 3b 3-0-2-0, Cowan 1b 3-1-0-0, Gillem c 3-0-1-0, Davis dh 2-0-0-0, Baum ph-rf 0-0-0-1, Weber ss-p 2-0-1-0, Makovsky 2b 1-0-0-0, Rodriquez p 2-0-0-0, Willis ph-p 1-0-0-0, Qiu 2b-ss 1-0-0-0. Totals 33-5-8-5.
Pitching (ip-h-r-er-bb-k) – Rodriquez (L 5-1) 5-6-8-7-5-2, Weber 3-6-6-6-0-1, Willis 1-4-3-2-0-1.  
E – Johnson, Smith. 3B – Weber (1). HR – Bies 2 (2). SB – Gillem (8), Cowan (2). CS – Hill. SF – Baum. 
---
REDHAWKS GO 2-2 IN MILE HIGH CLASSIC
Hawks escape pool play but lose to Browns in semis
GOLDEN – July 1 – Like trying to get through a 20-minute D-Mac segment on The Fan, putting together a tournament team in less than 10 days is a challenging task.
Judged through the prism of roving personnel and varying lineups, the Redhawks' performance in the Mile High Classic wasn't too bad. But overall, the Hawks' 2-2 record and elimination in the semifinals wasn't something for the scrapbooks.
"It wasn't too bad considering there were only a few days to plan it," said catcher Pat Davis, who went 5-for-12 with two RBIs in the tourney.
The Redhawks (14-3 overall) reached double digits in both their wins. They also were shut out in both their losses, including a 10-0 defeat to the Triple-A-rival Denver Browns, which was mostly responsible for the Hawks' "meh" feelings about the tournament. The Hawks, though, did have some standout performances:
·      Edison Rodriquez went 6-for-11 with a double, triple and five RBIs. The effort elevated his season average from .265 to .333.
·      Catcher/outfielder Chuck Gillem reached base seven times in the first three games before going 0-for-2 against the Browns.
·      Pitcher Paul Willis threw 9 2/3 innings of three-hit relief over two games, picking up a save and a win. He and Kenneth Weber, who absorbed a tough loss, combined to allow two runs (one earned) in nearly 19 innings, and the metal-head tandem has permitted only 11 runs in 51 innings this season.
The Hawks added four players from outside the regular-season roster, all who have previously played with the team in varying capacities: utility man Billy Lyons (Wolfpack) and outfielders Dylan DeSpain (Hops), Marcellus Briscoe (Predators) and Zacc Ivy (Bison). Pitcher Jeff Spira made his first appearance of the season and picked up a win in the opener.
Here's a quick look at each game:
Redhawks 10, Omaha Storm 1 (Golden – box score in link)
Facing a gigantic, hard-throwing lefty, the Hawks struggled to get going. But a double by Gillem and RBI single by Derek Johnson in the fourth broke the seal and got the Hawks started. Casey Hill later added an RBI double and Rodriquez a two-run double on the first pitch from a reliever.
Spira pitched a workmanlike 5 1/3 innings and earned the win after departing with a 4-1 lead. Willis retired 11 of the 12 hitters he faced to finish up.
Las Vegas Knights 1, Redhawks 0 (Golden)
Weber was beastly, allowing six hits in a complete-game performance. The effort dropped his ERA to 0.87, but the Redhawks couldn't get him off the hook for the lone run he allowed in the fourth.
The Hawks registered eight hits and had runners on second and third with no outs in the sixth, but couldn't push one across. Davis and Kyle Jark had two hits apiece for the Hawks, who were shut out despite striking out only five times.
Redhawks 11, WYCO 5 (Englewood)
Needing to win to escape pool play, the Hawks' bats rediscovered their stroke. Gillem, Rodriguez and Tommy Cowan drove in two runs apiece and Lyons knocked in three with a two-run double and a sacrifice fly.
Rodriquez slept awkwardly on his arm and didn't possess his normal zest on the hill, leading the Hawks to make a change in the fourth. Willis responded by allowing two singles over the final six innings, allowing an unearned run in the seventh.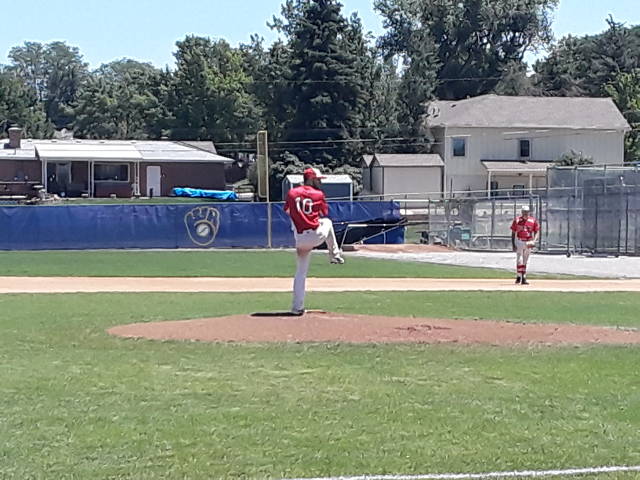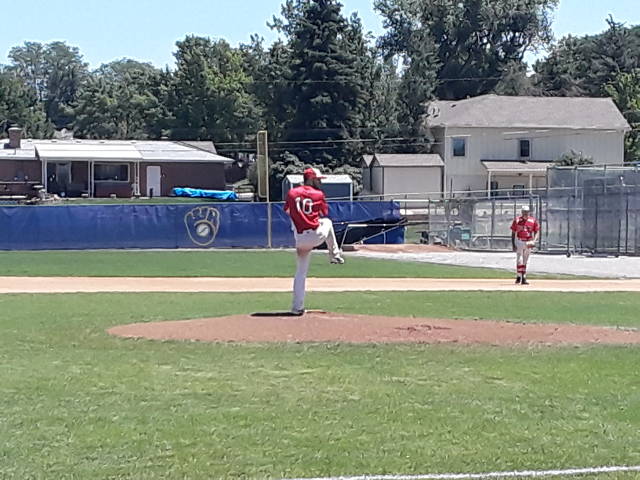 Browns 10, Redhawks 0 (Wheat Ridge)
The league rivals typically play close games, but this one was all Browns. Pitcher Jeff Blitstein got ground ball after ground ball and limited the Hawks to three hits, two by Rodriquez.
Dylan Smith started for the Redhawks, who got behind the 8-ball early after a passed ball and ensuing error gifted the Browns a 2-0 lead in the second. The Browns then hit well throughout, racking up 13 total hits including three doubles and a homer. The Browns fell 8-7 to the Kansas City Monarchs in the title game on Monday.
---
REDHAWKS RACK UP 20 HITS IN RETURN TO DIAMOND
Rodriquez pitches eight crisp innings as Hawks roll vs. Night Train

LAKEWOOD – Postponements had become so frequent that Redhawks players were starting to wonder if the season was still active. A rain/hailstorm that whipped through the Denver area Sunday made it appear that another game was going to be wiped out.
But somehow, Bear Creek was mostly immune to the barrage and the Hawks were able to play. Despite some rustiness and an alarming strikeout count, the Redhawks remained hot in an 11-1 win against Night Train that kept them perfect in Triple-A.
The Hawks, who recorded 20 hits, exploded for five runs in the first and led 8-0 after four against a Night Train squad they needed extra innings to defeat in April. Edison Rodriquez cruised through eight innings allowing a mere five hits, including a solo homer to lead of the sixth. Rodriquez struck out five in improving to 5-0.
Dylan Smith, making a rare appearance at first base, doubled on the game's first pitch to kick-start the five-run rally. Kyle Jark and Derek Johnson produced RBI singles to make it 2-0, Pat Davis sneaked a two-run single through the hole and Chuck Gillem added a blooper to right to drive home the fifth run.
Johnson, Adam Bies and Casey Hill had three hits apiece for the Hawks. Johnson drove in a team-best three, including two in the second when his opposite-field blooper was misplayed into a double.
The only downer for the Redhawks was the strikeout total of 17, which continued an odd season-long trend. Despite striking out 29 more times than their opponents, the Redhawks have a plus-55 run differential.
The Hawks defense made several sterling plays, including second baseman Sam Makovsky's double play to end it. He veered to his left and speared a sharply hit one-hopper then made a jump throw to shortstop Kenneth Weber, whose relay narrowly beat the runner.
The Redhawks (12-1 overall, 8-0 league) will play in the Mile High Classic this weekend but will be shorthanded for much of the tournament.
Notes: Jeff Spira, a primary starter for the Redhawks over the past two seasons, has not pitched this season but will start the tournament opener Saturday. Spira has a career 15-3 record with the Redhawks. . . . Smith and Bies will be out of town for the tourney, although Bies will be available Monday if the Redhawks advance to the tourney title game. . . .  The Redhawks played without first baseman Tommy Cowan. All 13 players in attendance had at least two plate appearances.
Redhawks . . . . . . . . . . . . . . 520 100 012 – 11 20 2
Night Train. . . . . . . . . . . . . .000 001 000 –  1   6   2
Redhawks hitting (ab-r-h-rbi) – Smith 1b-p 4-3-2-0, Hill lf-cf 5-1-3-0, Jark cf-1b 3-2-2-2, Bies dh 5-2-3-1, Johnson 3b 5-1-3-3, Rodriquez p 5-2-2-0, Davis dh 4-0-2-2, Gillem c 4-0-2-2, Baum dh-lf 2-0-0-0, Willis dh-rf 2-0-0-0, Makovsky 2b 4-0-0-0, Qiu rf 1-0-0-0, Weber ss 2-0-1-0. Totals 46-11-20-10.
Pitching (ip-h-r-er-bb-k) – Rodriquez (W 5-0) 8-5-1-1-2-5, Smith 1-1-0-0-0-0.
E – Makovsky, Weber. 2B – Johnson (6), Smith (2), Rodriquez (2), Hill (2). SB – Gillem (7), Hill (3). SF – Jark. 
---
REDHAWKS TOP SOX BEHIND JOHNSON, JARK
In borrowed gear, Johnson manages to stay hot with the lumber
DENVER – June 3 – Derek Johnson sat in the Redhawks dugout Sunday, ready for his uniform and glove to arrive. But due to a miscommunication among teammates after returning from a tournament in Las Vegas, Johnson's items remained safely stored at the house of Chuck Gillem.
"My bad," Gillem said. "For some reason, I thought you weren't going to be here this week."
At that moment, Johnson hardly seemed the prime candidate to be the hitting star in a budding Redhawks' 10-4 win against the Red Sox. But that's precisely what occurred on the Machebeuf diamond, as the third baseman went 3-for-4 with a double and two RBI.
Wearing the cleats of teammate Sam Makovsky, the No. 5 jersey of Tommy Cowan, the pants of Pat Davis and a Versace belt, Johnson mashed away like usual.
"He actually looked better," deadpanned teammate Dylan Smith, who preferred the long pants look over Johnson's usual stirrups.
When a teammate suggested that Johnson might want to hold onto Cowan's jersey, Johnson quickly deflected. There's no way Cowan, who missed the game due to the birth of his second child, is going to relinquish No. 5.
"The magic was in the belt," Johnson said of the black leather model.
While Johnson and Gillem (2-for-4, double, two runs) starred at the plate, Kyle Jark shined in his first start of the season. With Redhawks pitchers having racked up 44 innings over five games in Vegas, only one belonging to Jark, the right-hander made his first start. His fastball was popping, his slider was sharp and he struck out eight over seven walk-free innings.
Jark allowed three runs (two earned) and departed with his squad leading 9-3 entering the eighth. The Redhawks led 7-2 after three innings, an early burst that including RBI doubles by Johnson, Makovsky and Adam Bies.
The win allowed the Redhawks (10-1 overall) to keep pace with the Denver Browns. The teams each carry a 6-0 league record.
Notes: In addition to Cowan, the Redhawks played without outfielder Justin Baum and pitcher/infielder Edison Rodriquez. . . . Slow-footed the past two seasons, the Redhawks have ramped up their running game in 2018. After managing less than 35 steals in each of the past two seasons, the squad has amassed 24 through the first 11 games. Gillem and Rodriquez have swiped six apiece. . . . An odd stat for a 10-1 team: The Redhawks have whiffed more than their opponents. The Hawks have struck out 98 times compared to 81 for their opponents. But the free-swinging Hawks have outscored foes 90-45, including a 58-17 margin in league play.
Red Sox. . . . . . . . . . . . .002 010 010 – 4 10 3
Redhawks . . . . . . . . . 124 020 10X – 10 12 2
Redhawks hitting (ab-r-h-rbi) – Smith cf 4-0-1-1, Hill lf 3-1-1-0, Jark p-1b 4-1-1-0, Bies 1b-rf 4-1-1-1, Johnson 3b 4-2-3-2, Gillem rf-cf-c 4-2-2-0, Davis c 2-1-0-0, Weber ss 2-1-0-0, Willis dh-rf-p 3-0-1-1, Makovsky 2b 3-1-2-1, Qiu 2b-ss-3b 3-0-0-0. Totals 35-10-12-6.
Pitching (ip-h-r-er-bb-k) – Jark (W 1-0) 7-9-3-2-0-8, Willis 2-2-1-1-1-2.
E – Gillem, Qiu. 2B – Johnson (5), Bies (3), Gillem (3), Makovsky (1). SB – Weber (4). CS – Smith. HBP – Jark, Weber. SF – Willis.

---
HAWKS FALL TO SONORA IN VEGAS TITLE GAME
Hawks win first four in Sin City to push winning streak to 19
LAS VEGAS – May 28 – If you can break even in Vegas, it's generally considered a good thing. The Redhawks did much better than that over Memorial Day Weekend.
But they came up just shy of the jackpot.
The Denver-based squad won their first four games in Sin City – coming back in three of them – and pushed their overall winning streak to 19 in the process. But the good fortune finally expired Monday when the Hawks fell to Sonora 7-3 in the championship game at Las Vegas High School.
"This team never loses," NABA president Shane Fujita said of Sonora. "And the Redhawks are getting close to that level. They play the game the right way."
Third baseman Derek Johnson earned Gold Glove honors despite the loss in the title game, adding to his team-anointed award from last season. But while the Redhawks earned tournament credit toward the World Series in Phoenix in October if they choose to go, the loss to Sonora was a disappointing end to a stellar weekend that included a trio of one-run wins.
The storylines were abundant, from Dylan Smith's mastery on the mound, Justin Baum's unforeseen mash attack, Adam Bies' work-related early exit and Sam Makovsky falling victim to the hidden-ball trick.
Here's a quick recap of each of the five games:
Redhawks 5, Dallas Titans 4 (box score in link)
Edison Rodriquez pitched eight solid innings, but the Redhawks trailed 4-3 entering the bottom of the eighth. Successive RBI doubles by Derek Johnson and Chuck Gillem ensured the Redhawks wouldn't lose the tourney opener for the second straight season.
Rodriquez (4-0) earned the win and Kenneth Weber finished up for his second save of the season. Center fielder Kyle Jark went 2-for-3 with two runs scored, one RBI and a stolen base.
The left-handed Smith was devastating in this one, whiffing 16 batters in a complete-game performance. The lone run he allowed was unearned in the sixth. Smith also went 2-for-2 with two walks, two runs and an RBI from the leadoff spot.
The Hawks jumped out to a 3-0 lead on the first on the strength of a two-run single by Bies and a run-scoring base hit by Tommy Cowan. In the ninth, Makovsky beat out an infield single for an RBI but was out moments later. The first baseman never got rid of the ball and tagged out Makovsky when he led off.
"It was just as much everybody else's fault as mine," Makovsky said. 
Justin Baum had settled into a reserve role this season, but the veteran turned some heads with a three-run homer that ignited the slumbering Redhawks in the final pool-play contest. The blast to left tied things 4-4 in the fifth and propelled the Hawks to an eventual 10-4 lead.
Paul Willis threw eight innings to earn the win, but not before the Hawks survived a shaky ninth. The Toros rallied against Bies, making his first pitching appearance for the Hawks, before tourney addition Dylan DeSpain came on to earn the save.
Jark and Johnson each went 2-for-3 with an RBI for the Hawks.
Redhawks 8, New York Titans 7 (semifinals)
This one will go down as an instant classic in Redhawks lore. Trailing 7-5 in the bottom of the eighth, Baum, Rodriquez and Casey Hill came through with the bats – and Weber again locked it down.
Baum delivered his fourth hit of the game to score Chuck Gillem and cut it to 7-6. Rodriquez followed with a double to left-center that scored pinch runner Danny Qiu from first and tied things up. Then Hill, the Hawks' most consistent on-base threat throughout the tourney, blooped in an RBI single to put the Redhawks up by one.
Weber pitched a scoreless ninth to cap a hitless 4 2/3-inning relief performance that sent the Hawks to the tourney title game.
Sonora 7, Redhawks 3 (championship game)
Scoreless into the sixth, Sonora grinded out two runs against Smith, who was making his second start in three days. A mistake-aided rally against reliever Rodriquez in the seventh allowed the Mexico-based squad to push the lead to 6-0.
The Redhawks, who had numerous chances to break through early, finally punched back in the ninth. Pat Davis delivered an RBI single and Rodriquez clobbered a two-run triple.
The loss snapped the Hawks' 19-game winning streak and marked the first pitching loss for Smith in a Redhawks uniform. Smith (2-1, 1.29 ERA this season) had won his previous nine decisions, including the Triple-A title game last season.
Notes: Bies was summoned by work and had to leave after the pool play rounds. The Hawks missed the presence of their top power threat in the playoff rounds. . . . Hill finished the tourney 6-for-13 with seven walks and a hit-by-pitch. That equates to a .667 on-base percentage. . . . Jark reached base 11 times in the five games and drove in four runs. . . . Weber reduced his ERA to 0.77 (one run allowed in 11 2/3 innings this season).
---
SMITH ESCAPES SHAKY FIRST, CRUISES TO WIN
Left-hander strikes out nine as Redhawks push streak to 15
DENVER – May 13 – With the Royals producing singles at the rate of Match.com, Dylan Smith had a situation on his hands Sunday.
The Royals produced five base hits in the opening inning and were threatening to explode early. But Smith coaxed a double play and registered a gutsy bases-loaded strikeout to limit the damage to one run. That was the Royals' best shot to get to the left-hander, and the Redhawks went on to win 9-1 on a cloudy day at Machebeuf.
While it might sound like a runaway, the Hawks led only 3-1 entering the eighth before erupting for six runs to put it out of reach. Smith went on to strike out nine over eight innings of work in registering his first win of the young season.
"Dylan's ability to escape that first was the game," teammate Paul Willis said. "If they hit one to the gap there, we're looking at a big early deficit. But he got the big strikeout and was able to settle in after that."
In an odd statistical quirk, Smith allowed 11 hits and only one run. But that total was inflated by the five-hit first, and Smith's innings were relatively quick the rest of the way. The former Northern Colorado athlete improved to 8-0 in his Redhawks career, including a win in last season's Triple-A title game.
Catcher Pat Davis equalized things 1-1 in the second with an RBI single, and the Hawks added two in the fifth on a misplayed groundball and an RBI single by Kyle Jark. Clinging to the 3-1 lead in the eighth, the Redhawks rallied against the Royals bullpen to ensure a 5-0 start to the season.
Derek Johnson lined an RBI single to left to start the rally, Kenneth Weber and Danny Qiu drew bases-loaded walks and pinch hitter Willis lined a two-run single to center. It was Willis' first hit of the season in four at-bats.
The victory marked 15 straight for the Redhawks, who are scheduled to take on the Denver Greens next week before heading to Las Vegas for a Memorial Day Tournament.
Notes: The Royals dropped to 0-5 but had lost their first four games by a combined five runs, including three consecutive one-run losses. . . . Weber had an RBI double overturned in the sixth when he missed first base and was out on appeal. It marked the second time in team history that situation has occurred, joining a similar occurrence by former outfielder Brian Kosnar in 2003. . . . Casey Hill struck out in the ninth, marking his first whiff in 22 plate appearances this season. . . . Jark tweaked a hamstring in the eighth while moving up on a wild pitch.
Redhawks . . . . . . . . . 010 020 060 – 9  9  0
Royals . . . . . . . . . . . . .100 000 000 – 1 13 1
Redhawks hitting (ab-r-h-rbi) – Hill lf 4-1-1-0, Rodriquez ss-2b 5-0-0-0, Jark cf 4-1-1-1, Bies rf 4-1-2-0, Cowan 1b 3-1-1-0, Johnson 3b 4-1-2-1, Davis c 3-1-1-1, Weber 2b 3-1-0-1, Qiu dh-ss 3-1-0-1, Smith p 3-1-0-0, Willis lf-p 1-0-1-2. Totals 37-9-9-7.
Pitching (ip-h-r-er-bb-k) – Smith (W 1-0) 8-11-1-1-1-9, Willis 1-2-0-0-0-2.
E – None. SB – Weber (3).
---
RODRIQUEZ SHARP AS REDHAWKS DEFEAT CUBS
Hawks improve to 4-0 in rematch of 2017 Triple-A semifinals
DENVER – May 6 – In a rematch of one of the classic games in Redhawks' history, the Redhawks were able to sneak past the Cubs again.
This one didn't quite have the drama of the last one.
Both teams entered Sunday unscathed in the early-season battle, but neither played to peak form on the Machebeuf diamond. The Redhawks rode a three-run first to a 9-4 win, but future matchups against the Cubs when the standings start to take form are sure to get more intense.
The last time the teams met was last season in the Triple-A semifinals, when Adam Bies' two-run homer in the top of the 10th propelled the Redhawks to a 7-5 win. The Hawks (4-0) still haven't lost since then, a span of 14 games.
Starters Edison Rodriquez of the Redhawks and JD Heredia of the Cubs were both sharp in this one, but the normally reliable defenses weren't as the teams combined for nine errors. The first of which, a misplayed fly ball by the Cubs in the first, paved the way to the early rally for the Redhawks (4-0).
That inning included an RBI single by Kyle Jark and sacrifice flies by Tommy Cowan and Derek Johnson. The pitchers settled in from there, as Heredia retired 17 straight Redhawks batters after the first, including 10 via strikeout. All the while Rodriquez was putting together a stretch of 14 straight outs.
The Redhawks led 5-1 in the seventh, but committed two errors in the bottom of the inning to help the Cubs trim the deficit to 5-4. But Jark and Adam Bies produced RBI singles in the top of the eighth to push the lead to three, and Kenneth Weber came on for a two-inning save.
Rodriquez (3-0) allowed one earned run over seven innings, helping reduce the Redhawks' team ERA to 1.50.
Notes: The Redhawks registered three sacrifice flies in a game for the second time this season. Weber added one in the ninth to join the first-inning pair. . . . The Redhawks have won three straight in the series after dropping the first two to the Cubs last season. . . . The Redhawks again played without utility man Justin Baum, who recently had bone chips removed from his throwing elbow.
Redhawks . . . . . . . . . 300 000 222 – 9  8  4
Cubs . . . . . . . . . . . . . . .000 001 300 – 4  7  5
Redhawks hitting (ab-r-h-rbi) – Smith lf 4-1-1-0, Gillem c 4-1-0-0, Jark cf 4-2-2-2, Bies dh 3-0-1-1, Cowan 1b-3b 3-0-0-1, Johnson 3b-1b 2-2-1-1, Rodriquez p 3-1-1-0, Davis 3-1-1-0, Weber ss-2b-p 3-0-0-1, Hill rf 3-1-1-0, Qiu ss 1-0-0-0, Makovsky 2b 1-0-0-0. Totals 34-9-8-6.
Pitching (ip-h-r-er-bb-k) – Rodriquez (W 3-0) 7-5-4-1-1-5, Weber (Sv 1) 2-2-0-0-0-2.
E – Johnson, Qiu, Makovsky, Rodriquez. 2B – Johnson. SB – Weber (3). SF – Cowan, Johnson, Weber.
---
BATS ERUPT AS HAWKS BLAST BOMBERS
Johnson rips homer, five hits; Gillem also leaves the yard

LITTLETON – April 29 – The Redhawks have built their identity in Triple-A on pitching and defense. If this early-season trend keeps up, they might be more regarded for the their lumber.  
The Hawks blasted their way to a 15-1 win Sunday against the Bombers, taking command early on the Littleton diamond behind a relentless hitting attack that harked back to their days in previous divisions.
Third baseman Derek Johnson went 5-for-5 with a homer and four RBI, catcher Pat Davis went 4-for-4 and four others collected three hits as the Hawks erupted to 24 overall. Included in that fray was Chuck Gillem, who contributed a single, double and two-run homer.
"It's been awhile since I hit one," Gillem said.
Pitcher Paul Willis, meanwhile, cruised through eight innings en route to his first win of the season and 140th as a member of the Redhawks. He allowed four hits, struck out four and permitted a solo homer in the sixth.
The bats were the story, though, as the Redhawks (3-0) exploded for nine runs in the first two innings. Kyle Jark, Adam Bies and Tommy Cowan added three hits apiece and combined for four of the Redhawks' five doubles.
The Bombers moved up to Triple-A from the 18 Wood Division, where they went 14-1-1 in the regular season last year. They had racked up 24 runs in splitting their first two games, but fell into a big hole early in this one.
The Redhawks take on the Cubs next week in a matchup of unbeaten squads and a rematch of last season's semifinals, which the Redhawks won 7-5 on Bies' two-run homer in the 10th.
Notes: Left fielder Casey Hill led off and went 1-for-3 with two walks and three runs scored. He's gone 7-for-10 in the first three games. . . . The Hawks played without Edison Rodriquez, Dylan Smith and Justin Baum. . . . The Redhawks are batting .388 through three games and have team ERA of 1.67.
Redhawks . . . . . . . . . 540 100 05 – 15 24 4
Bombers . . . . . . . . . . .000 001 00 –  1  4  3
Redhawks hitting (ab-r-h-rbi) – Hill lf 3-3-1-0, Gillem rf 5-3-3-2, Jark cf-1b 5-2-3-2, Bies dh-cf 5-3-3-1, Cowan 1b-ss 5-2-3-3, Johnson 3b 5-2-5-4, Weber ss-2b-1b 4-0-0-1, Davis c 4-0-4-1, Qiu ss-3b-2b 4-0-0-0, Makovsky 2b 4-0-2-0, Willis p 3-0-0-0. Totals 47-15-24-14.
Pitching (ip-h-r-er-bb-k) – Willis (W 1-0) 8-4-1-1-1-4.
E – Johnson, Willis, Qiu, Weber. 2B – Jark 2 (3), Cowan (2), Gillem (1), Bies (1). HR – Johnson (1), Gillem (1). SB – Weber (2).
---
GILLEM'S PLUNKING RESULTS IN HAWKS WIN
Catcher beaned in helmet to force in winning run in 10th

LAKEWOOD – April 15 – The situation was how Chuck Gillem would have drawn it up. Bases loaded, tie game in the bottom of the 10th with his parents in attendance visiting from Oregon.
Plenty of ways existed to get it done – and Gillem indeed came through. It just wasn't the way he envisioned.
The Redhawks veteran catcher was plunked on the helmet to force in the winning run in a 5-4 decision over Night Train. The Redhawks dugout was ready to erupt on the Bear Creek diamond, but the situation was more awkward than jubilant.
"Chuck got two RBIs without having to swing the bat," said Redhawks pitcher-infielder Kenneth Weber, referring also to a bases-loaded walk drawn by Gillem to put the Redhawks ahead 4-3 in the eighth.
Gillem was OK after the peculiar walk-off, as the pitch wasn't a direct hit to the temple area of the helmet.  As a result, the Redhawks improved to 2-0 against a solid new Triple-A opponent. Three Night Train pitchers combined to whiff 15 Redhawks batters, and the squad registered an RBI double off Weber in the ninth to tie things 4-4.
Left fielder Casey Hill was the lone Redhawks player not to strike out of the 11 who had a plate appearance. Hill went 4-for-4 and has recorded six hits in the Hawks' first two games. Edison Rodriquez, Adam Bies and Tommy Cowan added two hits apiece, the latter two contributing singles in the 10th to set up the winner.
Rodriquez, who pitched seven strong innings in an opening win against the Hops, earned another win by pitching a scoreless top of the 10th.  Starter Dylan Smith pitched five innings (three runs, one earned) and Weber allowed only the ninth-inning run in his four innings of relief.
Notes: Rodriquez stole three bases to give him four in the first two games. The Redhawks, who averaged about one steal a game the past two seasons, have seven swipes in the first two. . . . Cowan and Weber produced doubles in the second to plate the Redhawks' first run. . . . Center fielder Kyle Jark made a splendid catch on the track with his back facing the infield. . . . Outfielders Justin Baum and Paul Willis were available but didn't make an appearance. . . . The Redhawks have won 12 straight games overall dating to last season.
Night Train . . . . . . . . 100 110 001 0 –  4  9  3
Redhawks . . . . . . . . . 012 000 010 1 –  5 13 2
Redhawks hitting (ab-r-h-rbi) – Smith p 4-1-1-0, Rodriquez ss-2b-p 4-0-2-0, Jark cf 3-1-1-1, Bies rf 5-1-2-1, Cowan 1b 5-1-2-0, Johnson 3b 3-0-0-0, Gillem c 3-0-0-2, Weber 3b-ss-p 4-0-1-1, Qiu ss 2-0-0-0, Makovsky 2b 2-0-0-0, Hill lf 4-1-4-0. Totals 39-5-13-5.
Pitching (ip-h-r-er-bb-k) – Smith 5-5-3-1-2-3, Weber 4-3-1-1-1-2, Rodriquez (W 2-0) 1-1-0-0-0-1.
E – Rodriquez, Weber. 2B – Cowan (1), Weber (1). SB – Rodriquez 3 (4). CS – Rodriquez. SF – Jark. HBP – Gillem.
---
REDHAWKS OPEN 2018 WITH WIN VS. HOPS
Rodriquez earns win against former squad
ENGLEWOOD – April 8 – If it were up to Edison Rodriquez, he'd pitch every inning of every game. And make no mistake – he wanted to on Opening Day against his former Hops squad.
But with arms still rounding into shape, seven was plenty for the right-hander in an opening 10-3 win at Englewood. Rodriquez, beginning his first full season with the Redhawks, allowed two runs (one earned) and struck out five.
"I have about 12 starts in me," Rodriquez said, referring only to the 18-game regular-season schedule.
The Redhawks took command in the first on a sacrifice fly by Rodriquez and run-scoring single by Chuck Gillem and never trailed. Kyle Jark, Casey Hill and Derek Johnson each produced an RBI double in the victory, which ascended the Redhawks to 14-3 all-time in openers. They've won nine of their last 10 openers.
The defense was on point for an early-season matchup, as the Hawks committed only error. The highlight was center fielder Kyle Jark's catch-and-throw double play in which he nailed a runner at third by about 20 feet.
Hill and Dylan Smith each registered two hits for the Redhawks, both of Smith's of the infield variety, including a bunt single.
Rodriquez played for the Hops in the spring of 2016 and the regular season last season, but also joined the Redhawks for the Las Vegas Memorial Day Tournament and in the fall. He decided he wanted to remain part of the squad and the Redhawks welcomed him aboard. 
Notes: All 14 fulltime Redhawks were in attendance and all got into the game. . . . Pitcher Jeff Spira will be a part-time member this season but will join the Redhawks in Vegas. . . . Paul Willis pitched the final two innings, permitting a run in the ninth. . . . The Redhawks stole four bases and produced three sacrifice flies.
Redhawks . . . . . . . . . 201 101 320 – 10 10 1
Hops . . . . . . . . . . . . . . 010 010 001 –  3  10  4
Redhawks hitting (ab-r-h-rbi) – Smith lf 5-2-2-0, Rodriquez p 4-1-1-2, Jark cf 3-0-1-1, Bies dh 2-1-0-1, Cowan 1b 4-1-1-0, Gillem c 3-1-1-1, Johnson 3b 4-0-1-1, Weber 2b-ss-1b-3b 3-2-1-0, Davis dh 2-0-0-0, Hill rf 3-1-2-2, Makovsky 2b 0-1-0-1, Qiu ss-3b 1-0-0-0, Baum ph 1-0-0-0. Totals 35-10-10-9.
Pitching (ip-h-r-er-bb-k) – Rodriquez (W 1-0) 7-7-2-1-3-5, Willis 2-3-1-1-0-2.
E – Cowan. 2B – Jark (1), Johnson (1), Hill (1). SB – Smith (1), Rodriquez (1), Gillem (1), Weber (1). SF – Rodriquez, Bies, Makovsky. HBP – Jark, Bies, Weber.
---
DOUBLE DIP: HAWKS WIN TWO TITLES IN '17
Redhawks add fall championship to go with prestigious summer title

ENGLEWOOD – Oct. 29, 2017 – Champs! Make that Champs! Champs!
The Redhawks accomplished their ambition of capping their Triple-A championship season with a second consecutive Fall League title, this time with a 9-0 win against the Wise Guys.
On another pristine October Sunday at Brent Mayne Field, the Redhawks (25-8) continued to wield their lights-out pitching staff and stingy defense, limiting the Wise Guys to a mere two hits. Starter Jeff Spira stifled the opposing attack and the Redhawks took immediate command by virtue of a six-run first.
"Fall doesn't invoke the same passion as summer season, but it always feels good to be the best at anything you do," Redhawks first baseman Tommy Cowan said. "Plus, the numbers we put up in fall were pretty remarkable."
Those numbers included a 66-5 scoring advantage in an eight-game ambush through the fall, although the Redhawks did play two one-run games and were solidly challenged in a 4-2 victory against the A's in the semifinals. Dating back to the summer postseason, the Redhawks allowed 10 runs in their final 10 games – all wins.
The Wise Guys were something of an unexpected title-game participant, having avoided the Triple-A Hops on their side of the bracket. Perhaps playing a little tight as the underdog, the Wise Guys made a bevy of first-inning mistakes that allowed the Redhawks to take command.
First, Dylan Smith's fly ball to lead off the bottom of the first turned into a double when the fierce morning sun prevented the center fielder from making a play. After Smith stole third, Edison Rodriquez drove him home with a grounder to second. But the second baseman overthrew first and Rodriquez was on second. He then stole third and scored when the throw went into left field.
The Hawks had a quick 2-0 lead, then Adam Bies blasted an opposite-field homer and the Redhawks were cruising 3-0 three batters in.
With Spira (6-1) in control, that was already more than enough. The angular right-hander struck out five and permitted two singles in five innings, and finished the season 4-0 with a save in his final five appearances. More impressive, he allowed zero earned runs (four total) and only nine hits in that 28-inning span.
Paul Willis and Rodriquez finished the shutout by pitching an inning apiece, putting the finishing touches on a magnificent season that started a little rough. After opening 2017 a pedestrian 5-5, the Redhawks went 20-3 down the stretch. This marked the second time in which the Hawks won summer and fall titles, but the previous time (in 2013) the summer title was in 18 Wood.
Catcher Pat Davis finished with three RBIs, recording a sacrifice fly in the fourth and a two-run double in the sixth – the latter batting right-handed. Davis has experimented with batting right-handed against lefties this season, and this was his signature moment from the right side. Casey Hill also produced an RBI double for the Hawks.
The Redhawks have appeared in all six Fall League championship games and have won three.
Notes: The Redhawks played without center fielder Kyle Jark, who was vacationing in Europe. All 14 players in attendance got at least one at-bat and played at least two innings in the field. . . . The Redhawks will not consider adding players on a fulltime basis next season. Everyone is expected back and Rodriquez confirmed Sunday that he will officially join the squad for 2018. . . . The Redhawks reduced their team ERA to 2.93 for the season. They allowed only 3.9 runs per game overall. . . . Bies (nine homers, 46 RBIs) came one homer and three RBIs shy of tying single-season team benchmarks. . . . Left fielder Casey Hill spent the most innings in the field (233) and had the most plate appearances (125) of any player. He and fellow corner outfielder Chuck Gillem each ran down balls deep into the gap Sunday. . . . Willis closed the season with 15 scoreless innings. After battling UCL issues last season, the team's eldest player went 4-2 with one save and a 3.00 ERA this season over 48 innings. . . . Utility player Justin Baum hosted the postgame party, which included yard games and was nearly unanimously attended.
Wise Guys . . . . . . . . . . . . . . . . 000 000 0 –  0  2  4
Redhawks . . . . . . . . . . . . . . . . 600 102 X –  9  7  0 
Redhawks hitting (ab-r-h-rbi) – Smith cf 3-2-2-0, Rodriquez ss-p 2-2-0-1, Bies dh-lf 3-1-1-1, Johnson 3b 2-2-1-0, Cowan 1b 3-1-1-0, Davis c 2-0-1-3, Hill lf 2-1-1-1, Weber 2b-3b 2-0-0-0, Willis p-lf 2-0-0-0, Qiu ss 1-0-0-0, Gillem rf 1-0-0-0, Makovsky 2b 1-0-0-0, Baum rf 1-0-0-0, Spira p 1-0-0-0. Totals 29-9-7-6.
Pitching (ip-h-r-er-bb-k) – Spira (W 6-1) 5-2-0-0-1-5, Willis 1-0-0-0-0-1, Rodriquez 1-0-0-0-1-1.
E – None. 2B – Hill (5), Davis (5), Smith (3). HR – Bies (9). SB – Rodriquez 2 (7), Smith (8). SF – Davis. HBP – Rodriquez.
---
TRIPLE-A CHAMPS: REDHAWKS CLAIM THE CROWN
Smith and Hill key dramatic shutout win over four-time champion Browns
LAKEWOOD – Sept. 10, 2017 – When approached about starting arguably the most important game in the history of the Redhawks, Dylan Smith was fairly concise about the prospects.
"I feel like I'll give us a chance," he said.
The left-hander did a lot more than that. In a historic Sunday at All-Star Park, Smith pitched into the ninth inning of the Redhawks' 2-0 Triple-A title-clinching win over the perennial-power Denver Browns.
The Redhawks, who broke open a scoreless game in the seventh on a two-run single by Casey Hill, now can firmly be considered among Colorado's elite after corralling their first championship in NABA's highest division. That's despite a few dicey moments in the ninth.
"Defeating the Browns for the crowning achievement of Triple-A champs is only fitting, because they have been our biggest adversaries since we joined the division," said Kenneth Weber, who earned the save in dramatic fashion. "But more important to me is that I'm proud to have won with the group we have."
After Smith's magnificent performance – he yielded five singles and struck out seven in 8 1/3 innings against the Browns' top-flight lineup – Weber induced a game-ending double play against cleanup hitter Matt Jerebker. One of NABA's best ever players, Jerebker hit a sharp groundball that third baseman Derek Johnson speared moving to his left. He threw to second baseman Sam Makovsky, who stepped on the bag and relayed to first baseman Tommy Cowan for the clinching out.
"I didn't realize it was hit that hard until I saw the replay," Johnson said.
The ending proved to be a reprieve for Makovsky, who committed the game's lone error on the previous play. The Browns' Jason Fobes hit what appeared to be a game-ending double-play ball, but the ball five-holed Makovsky and the Browns instead had runners on first and third with one out. That chased Smith, who was making only his fifth career start for the squad. On Weber's third pitch, the Redhawks got another chance for two and made it happen.
"I would have had to disappear if we ended up losing," deadpanned Makovsky, who joined the squad in 2012. "It would have been my last game as a Redhawk."
The Browns pitching was of the high-level variety as well. Starter Nate Barnes didn't allow a hit until Paul Willis' single to center in the fifth. The big lefty carried a shutout into the seventh, when Hill's two-out drive to shallow center narrowly avoided the grasp of diving center fielder Chris Dennis. That scored Chuck Gillem, who had walked, and Weber, who had beaten out a bunt single, with what turned out to be the only runs.
"After getting behind in the count 1-2, I was just looking to for something to put in play," Hill said. "The pitcher got me in on the hands a little bit, but I was able to muscle the ball over the shortstop and in front of the center fielder. Happy I was able to produce for the tea
m and Dylan, who was pitching a gem."
The Redhawks had won three previous summer titles, but were 0-1 in Triple-A championship games since joining the division in 2014. The Browns defeated the Redhawks 15-9 in the 2015 final despite a first-inning grand slam by Danny Qiu. This one was the antithesis of 2015, as the teams combined for only one extra-base hit, a double by the Browns' Trent Kutler in the third.
Smith (5-0) helped keep the bats silent while primarily using only two pitches – a fastball and a slider that possessed devastating downward motion. Smith defeated the Browns for the second time this season, as he also went seven innings in a 9-4 regular-season win. The Browns abundance of talented left-handed hitters struggled with the southpaw, as lefties were 0-for-9 in the contest.
The win capped a remarkable postseason in which the Redhawks narrowly escaped the Cubs in the semifinals. Hill factored prominently in that one as well, having produced a game-tying double with two outs in the ninth. That set the stage for Adam Bies' two-run homer in the 10th, which propelled the Hawks to a 7-5 win. Smith struck out 11 in that game before Weber earned the win with a dominant relief outing.
A title of any sort appeared unlikely considering the way the Redhawks began the season. Although they were decent in Las Vegas over Memorial Day, they started 5-5 overall. They endured injuries to team leaders Cowan (facial fractures) and Gillem (foul ball off throwing hand) and never really caught a sustained groove until July. But if anything, the season had character and tested the Redhawks' resolve.
Then they got hot at the right time.
"It means the world, but it means even more to do it with these guys," Cowan said. "It was a really tough year with injuries, but we persevered and played for each other. There's a lot to say about playing as a team and I'm proud to be a teammate of everyone on the Redhawks."
Notes: The Redhawks will dive directly into Fall League play on Sunday against the Warriors (2:30 p.m.,
Brent Mayne Field). The Hawks will aim to repeat the feat of 2013, when they captured summer and fall championships. The Hawks also won fall last season. . . . Redhawks right-hander Jeff Spira (12-3 in two seasons with the team) was available but didn't pitch due to Smith's lengthy outing. Spira remains prominently in the Redhawks plans, but the team went with the hot arm for the postseason. . . . Pat Davis served as the Redhawks' primary catcher down the stretch, embracing the role when Gillem was sidelined. . . . Teammates indicated that Willis, who has been with Redhawks since 2002, might have been a little misty-eyed during the celebration. That assertion hasn't been confirmed, however. . . . Center fielder Kyle Jark took partial credit for the Redhawks' rally because he was coaching third at the time. "Sixty percent of the time it works every time," Jark said of his base-coaching success. . . . Lost in the madness is that Weber has put together a nine-game hitting streak with six multi-hit efforts. His .395 average leads the team, and with his pitching numbers factored in (4-1, 2.89 ERA), he is making a case for team MVP. Added Weber of the win: "Whether it's the teammates I've befriended over the past few years or guys I've been playing with since I was a kid, I'm proud of this group and this is easily my favorite team to have ever played on."
Redhawks . . . . . . . . . . . . . . 000 000 200 – 2  6  2
Browns  . . . . . . . . . . . . . . . . 000 000 000 – 0  5  0
Redhawks hitting (ab-r-h-rbi) – Smith p 2-0-0-0, Jark cf 4-0-0-0, Cowan 1b 4-0-1-0, Bies dh 3-0-1-0, Johnson 3b 3-0-0-0, Davis c 3-0-0-0, Gillem rf 3-1-0-0, Weber ss-2b-p 4-1-2-0, Willis dh 3-0-1-0, Qiu ss 0-0-0-0, Hill lf 3-0-1-2, Makovsky 0-0-0-0. Totals 32-2-6-2.
Browns hitting – Bruns ss 4-0-0-0, Kutler 2b 4-0-2-0, Fobes dh 3-0-0-0, Jerebker 3b 4-0-0-0, Huggins dh-1b 3-0-0-0, Neumann c 3-0-1-0, Gunnell 1b 3-0-1-0, Gray dh 2-0-0-0, Dennis cf 1-0-0-0, Barker rf 2-0-0-0, Marsden lf 3-0-1-0. Totals 32-0-5-0.
Redhawks pitching (ip-h-r-er-bb-k) – Smith (W 5-0) 8.1-5-0-0-2-7, Weber (Sv 2) 0.2-0-0-0-0-0.
Browns pitching – Barnes (L 6-2) 7-4-2-2-7-6, Busto 2-2-0-0-1-3.
E – Makovsky. 2B – Kutler (3). SB – Weber 2 (6), Marsden (2). 
---
12 QUESTIONS WITH CASEY HILL
By Kenneth Weber
Redhawks Infielder
Regardless of whether you consider it one of the greatest baseball movies of all time, Bull Durham certainly has some memorable lines. Whether it's wild accusations of lollygagging or hitting the shit out of the bull, the film has – and will continue to – influence generations of baseball fanatics. One quote in particular seems to stand out:
"Your shower shoes have fungus on them," Crash Davis said. "You'll never make it to the bigs with fungus on your shower shoes. Think classy, you'll be classy. If you win 20 in the show, you can let the fungus grow back and the press'll think you're colorful. Until you win 20 in the show, however, it means you are a slob."
Shouldering an environmentally friendly baseball/obnoxious organic-market tote bag, a pair of little league imitation stirrups and greased into a pair of pants so tight it would make Billy Lyons blush, less than a year ago Casey Hill strutted on to the diamond for the first time in a decade.
"He looked like absolute hell. I'm surprised we didn't cut him after the game,"second baseman Sam Makovsky reminisced. 
Hill has refused to subdue the trademark charisma as he and his trademark ECObag have totaled the third-most knocks to date this season while providing dazzling defense in the outfield for the 'Hawks (6-1).  
For better or worse, Hill has been exposed to the dirty dozen in an attempt to break the enigma once and for all.
1. It's been a few years since you last played organized baseball. Can you tell us how long it's been and what finally made you get back in to the game?
Hill: I haven't played organized baseball since my senior year of high school. So, it's been about 10 years. The only thing that was preventing me from playing was my work schedule. I finally got myself a real job with actual weekends and here I am.
2. How would you grade the level of competition you've faced so far? How has it differed from your expectations?
Hill: I was nervous coming back to baseball after so many years, but I don't feel like the competition has overwhelmed me, thankfully. I expected the pitchers to all throw in the 90s consistently and totally overpower me as a hitter. I'm happy to report that has not been the case. The defense is a lot better than I've ever faced, especially the outfielders and catchers. 
3. We've seen you shine in the outfield, but you've yet to grace us with the presence elsewhere. Where else on the field do you think you could hold your own and provide the same spark for the team?
Hill: You know that doofus that runs the jackets out from the bullpen? Yeah, I could do that.
4. "Reek and Ramsey" has been thrown around to describe the relationship you have with your longtime friend and teammate Sam Makovsky. Do you feel it is as tyrannical as that analogy suggests?
Hill: Well, the joke's on you! I have never seen Game of Thrones and the nicknames mean absolutely nothing to me. To better answer your question, I'd compare me and Sam's relationship to Britney Spears and Christina Aguilera. We started out in a similar fashion. Only, I'm still relevant. Burn.
5. Give us an ETA of your first home run in a Redhawks uniform.
Hill: You know, I've always dreamed of hitting a walk-off home run. So, it will probably happen at a totally meaningless time and against a terrible team. No one will say anything and I'll die a little inside.
6. The Redhawks have had an unusual wealth of arms on the mound this season. Of all your teammates who have yet to toe the rubber, who do you think would have the most success and what would be his most dominant pitch?
Hill: I've watched Tommy toss the ball around the infield and he has some pretty good zip on it. I think he could fare pretty well on the mound if he could locate his pitches. I'd guess his best pitch would be a neck-high beanball. He'd probably laugh about it, too.
7. Although not well known, you've expressed a taste for the horror movie genre off the field. What movie, aside from the Human Centipede, has been most compelling to you and why?  Feel free to be as graphical as necessary in your response.
Hill: I was introduced to the first Texas Chainsaw Massacre as a wee child. I watched it with my dad when I was about 12 or so. That movie has always stuck with me because of how the violence is shown. They added no background music at all. It's just some maniac running around with a chainsaw, in dead silence, and murdering people. It's quite disturbing and haunting.
On a side note: Sam totally brought a girl on a first date to see The Last House On The Left. There's practically the worst rape scene ever in that movie and Sam started to sweat so bad she had to blow his hands dry. I guarantee that's the only thing she blew. 
8. Which pro player, active or retired, best reflects your skills on the field?
Hill: The answer is clearly a mixture of Bengie Molina, Quinton McCracken and Juan Pierre. I have Molina's speed, McCracken's power and Pierre's arm. I'm like, the full package.
9. You've created an admirable career for yourself in the nonprofit industry working at establishments such as the Botanic Gardens and the Denver Zoo.  Of your teammates, who is most likely to be the following animal or plant?  Silver Back Gorilla, Peacock, Corpse Flower and Wandering Jew?
Hill: I'm going to call Chuck the gorilla. Mostly because I recently saw the video of that child fall into the gorilla exhibit in Cincinnati. That same behavior exhibited by the gorilla can be seen in Chuck whenever an umpire makes a bad call. Additionally, I shared the same fear as that child when Chuck was ejected from that Bears game.
Pat has to be the peacock. Mostly because those things don't look like they can fly at all. Yet, somehow, they get their fat little bodies into the air. Similarly, Pat is fat. . . . If that was mean, I'm sorry – sorry for all those sausages Pat slaughters every night. Pat, I'm so sorry.
A few fun facts about the Corpse Flower: It is one of the tallest flowers in the world and can grow up to 10 feet tall. It smells like a dead mammal corpse to attract pollinators. The first Corpse Flower to bloom in the rocky mountain region happened last year at Denver Botanic Gardens. Jeff is kind of like the Corpse Flower. He's tall, new to the team and he might smell like garbage. I don't know, I haven't been close enough to find out. Again, I'm sorry.
The Wandering Jew plant got its name because it can grow anywhere and eventually gets everywhere. Kind of like Billy's handlebar mustache. Does that thing even end? Or does it just attach to his chest hair? 
There you have it, four enemies. I have made four enemies.
10. When the time finally comes, what do you choose for your walkup song?
Hill: Smash Mouth - All Star. Next question.
11. The presidential election is coming up and you're surely chomping at the bit to cast your vote. Who's your choice for the next leader of the free world?
Hill: Dutch from Predator. Not to be mistaken with the actor who played him, Arnold Schwarzenegger. I'm literally talking about the fictional character. He out-muscled the biggest alien Earth has ever seen. He is the GD leader we deserve.
12. Which is least likely to happen?  The Rockies win the World Series; we discover extraterrestrial life or you get married? 
Hill: I'll list these in the order of most likelihood.
1: Aliens
2: Rockies win the World Series
3: …
Game 20 vs. Cubs
Sunday, July 22, 2018 12:30 PM