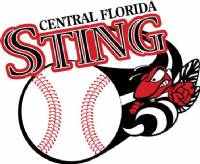 Georiga ISA World Series Info
July 14, 2008
CONGRATULATIONS STING 16'S 1ST PLACE ISA World Series
CONGRATULATIONS STING 18'S Dave - 2nd PLACE ISA World Series
ISA Photo's
ISA World Series
Champions
Cheerleader Wanna Be's
Quackers
Strategy Session
Kissimmee KIassic Softball Tournament
April 2, 2009
College World Series Bracket
ASA States - DiamondPlex Winter Haven
Sting 10/12/14U Tryouts on Dec. 20th @ Azalea Park LL (1 Carol Avenue, Orlando, FL 32807)
Looking to make a change in 2010?

The Central Florida Sting will be conducting tryouts on December 20th at 1:00PM at Azeala Park Little League.

Player registration is from 12:30PM-1:15PM. Tryouts will commence promptly at 1:30PM. Registration & Liability Waiver forms can be filled out ahead of time by clicking on the "Forms" button to the left. Please bring the signed forms with you.

The Sting Organization has been in existence since 1993 and has assisted in the placement of several girls into college softball programs with athletic and academic scholarships. Expansion of the Central Florida Sting Organization is driving the need for additional talented players of all capabilities/positions that can make an immediate and postive impact to our 10, 12U, 14U teams within the organization.

Two new teams will be created for 2010. A new 10U team will be formed and a second 14U (97/96) team will be formed in addition to growing our existing & talented 14U (96/95) team.

The Sting's network of college coach relationships rivals any travel ball team in the area. Please join us on December 20th.
Sting 14's Spooktackular in Altamonte Springs
October 31, 2007
IRON WOMEN
May 18, 2008
CONGRATULATIONS STING 16'S - 2nd PLACE - IRON WOMEN
May 19, 2008
MORGAN LEAVES THE YARD OTF HR. WTG!! HAPPY FATHERS DAY
June 14, 2008
CONGRATULATIONS STING 14'S 1ST PLACE OCOEE
June 15, 2008
CONGRATULATIONS STING 16'S 3rd PLACE JUNE JAM
June 15, 2008
CONGRATULATIONS STING 18'S BLACK 2ND PLACE JUNE JAM
June 15, 2008
CONGRATULATIONS STING 18'S RED 1ST PLACE JUNE JAM
June 15, 2008
CONGRATULATIONS STING 12'S - COCOA BEACH FALL RUMBLE-1ST Place Gold
September 23, 2007
Fall Rumble Champions - Kenny
September 9, 2008
September 9, 2009
Game Break
June 30, 2007
Hula
July 16, 2007
Mixing it up
July 16, 2007
July 16, 2007
What a view
July 16, 2007
Directors Meeting
July 17, 2007
How About That
September 11, 2007
HAWAII 2007
July 16, 2007
WHO ARE THESE GIRLS
July 16, 2007
HAWAII 2007
July 16, 2007
September 9, 2007