LACROSSE EQUIPMENT FOR SALE
If you have any lacrosse equipment that is in good or great condition and you would like to offer it for sale to other players in the program, we can post it here.  Email a photo(s) to Krystal Cook-Matson at kcookm984@gmail.com with a description of the equipment, pricing, and your contact information and we will get it posted.  If you have multiple items, we can put them all in one posting, you don't have to make a posting for each item.  Please inform us when an item sells so that we may remove the posting.  Thanks.
**Please contact David Pierce at 720-560-5637 or Nicki Pierce at 720-560-5793 and they can work you a deal!
What David and Nicki have:
1. Three midi/attack short poles..$50 a piece
2.  Three fiddle sticks which could not be used in games but are just to goof around with.. $10.00 a piece (Orange Stick has been claimed)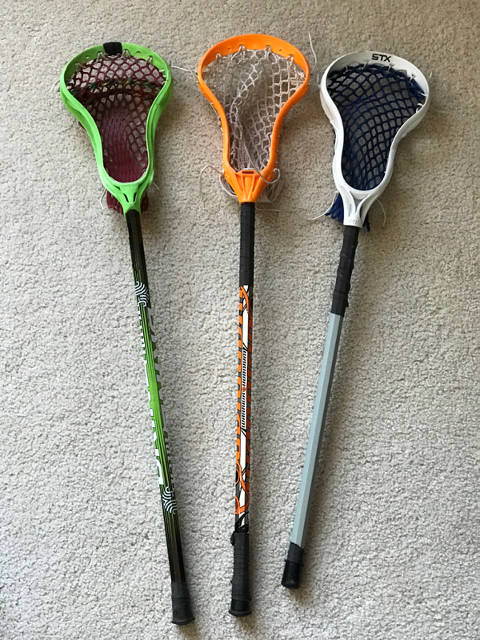 3. Pair of cleats. The grey pair were worn once and are size 12.. $70
                            The black pair of cleats size 10.5 or 11.. $40
 4. Lacrosse Bag..$30
 5.  An extra head..$30
**Please contact Jill Insalaco 303-995-0492
Men's size 11 White and Grey New Balance Cleats worn one season.. $20.00
**Please Contact Joyce Conrow 720.891.0401 via text or phone
Men's pullover fleece.  Nike, size XXL. Worn once by my 6'4", solidly built husband - it does fit, but is too snug for comfort, he says.  Fits more like an XL. Bigger than a Large, because it doesn't fit my lacrosse playing son...$20.00
Chatfield 2019-2020 Player Gear
Ruth Wilken - 303-668-6583
Sweatpants Player Gear Size Large - $58.00