SAINTS FIELD
August 10, 2019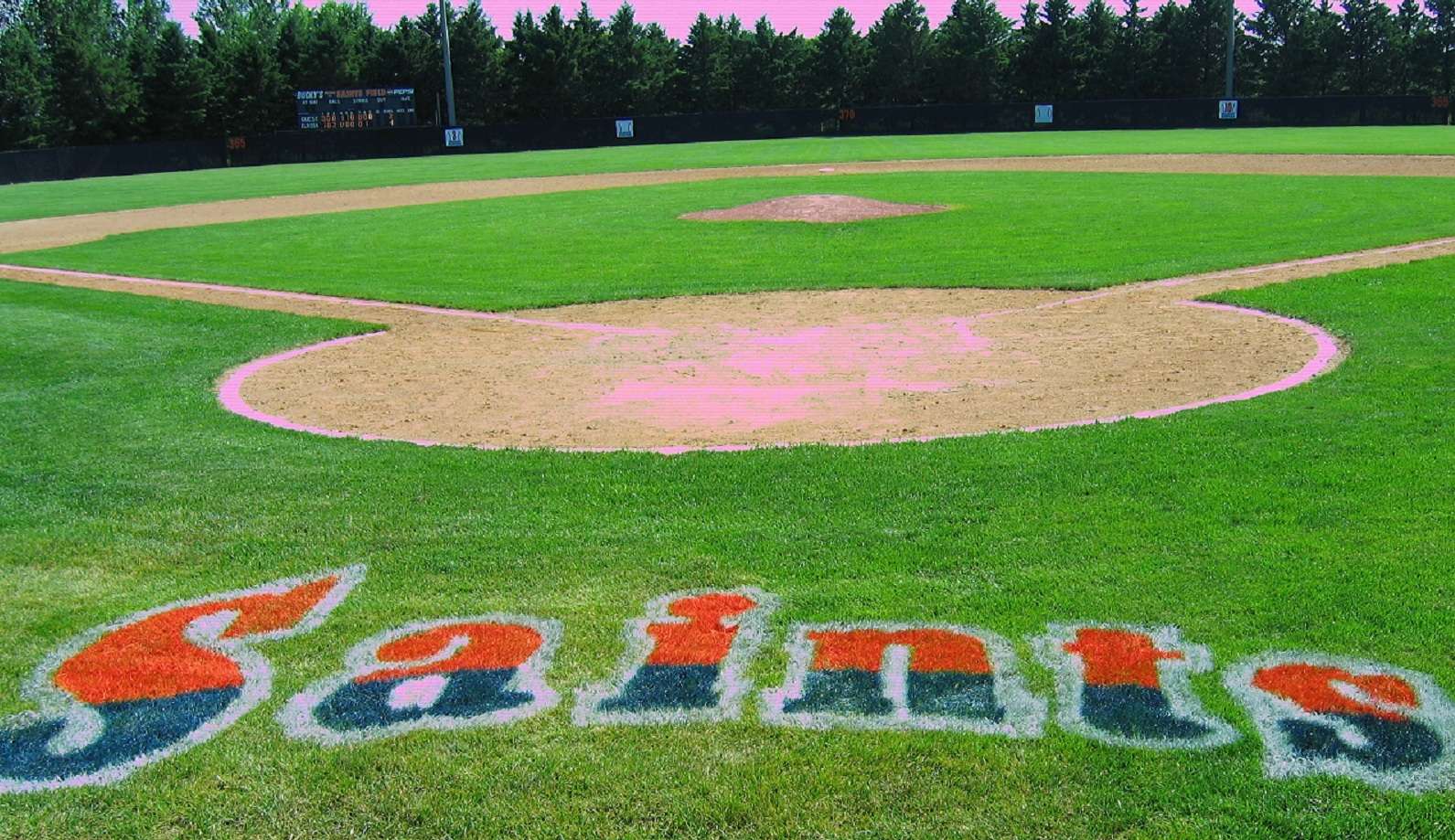 VIEW FROM HOME PLATE TO CENTERFIELD
-2015
July 13, 2003 

Amateur baseball: Fields of Dreams 
Tom Elliott Staff Writer, St. Cloud Times

Central Minnesota's prairie is dotted with baseball parks, cathedrals of community pride, usually nestled right next to the cathedral of that town's church. Each is similar, yet unique. They all have four bases, a pitcher's mound and foul lines. Cold Spring, Elrosa, Eden Valley, Paynesville, Pierz, St. Cloud and Watkins have lights. Almost all have fences, except for the ballpark in Marty where Pearl Lake plays. There, hit it into the road on the fly and it's a home run. Bounce it into the road and it's a ground-rule double. Whether its the aroma of grilling onions and burgers wafting into the press box at Richmond, or the panoramic view of mature deciduous trees outside the fence in St. Stephen, each park seems to have something that gives it an identity. St. Cloud has its mirror beauties in Dick Putz and Joe Faber Fields. The challenge: Find two as nice side-by-side anywhere (near impossible). With amateur baseball's playoffs nearly in full swing today, the Times takes a look at a handful of ballparks worth a visit before the season fades. 

ALL-STAR GAME LOGO-2018
Elrosa-Shining star on the prairie 

Everyone in the Stearns County League takes pride in their ballpark. Richmond, New Munich and St. Martin, to name a few, all have classy diamonds. The only town in the league with a lighted field, however, is Elrosa. Drive through rural Stearns County at dusk and the lights beckon several miles before you actually arrive in Elrosa. The lure is an old baseball park with numerous new features. While baseball in Elrosa goes back 100 years or more, just about everything at Saints Field is new or nearly so. The lights are 10 years old, one of the older projects at the continually evolving park. This year, there are new dugouts, a new press box and a new, tiled grass field. The scoreboard and covered grandstand are added amenities. There's a concession stand and restrooms. "We've gotten a lot of help from the community, area businesses," said Pat Illies, player/manager of the Elrosa Saints. "It's shaping up." While most of the league plays Sunday afternoons, the Saints schedule a handful of home games on Friday nights. There's an 8:15 p.m. start, a little later than most places. That's so those working at dairy farms can finish their evening milking and not miss a pitch. Missing anything is difficult for fans these days. Elrosa is coming off its first state tournament appearance since 1988 and won the North Division title, earning the Saints a No. 1 seed in the playoffs that begin today.



UPDATED SHACK-2017
UPDATED DUGOUTS-2015
UPDATED DUGOUTS-2015
PADDED BACKSTOP-2012
B
UPDATED BATHROOMS-2014
BATTING CAGE WITH TURF-2013
FOUL POLES WITH LOGO-2014
GRANDSTAND-2019
NEW TIN FENCE WITH LOWERED SCOREBOARD-2018
UPDATED SCOREBOARD-2018 
OUTFIELD & SCOREBOARD-2015
SCL VS. COUNTY LINE ALL-STAR GAME-2017
PADDED BACKSTOP ADDED-2012
SCOREBOARD CONSTRUCTED-1998
HOME RUN DERBY-2017
REGIONS-2014 
CONCESSION STAND aka SHACK-2000
ALL-STAR GAME-2015
ALL-STAR GAME-2015
BEER CAN TOSS @ ALL-STAR GAME-2016
DUGOUTS BUILT-2002
TICKET TAKER DONNY LENARZ-2017
NEW DUGOUTS & PRESS BOX-2002
AUSTIN IMDIEKE IN FRONT OF THE ORANGE FENCE PIPING-2014
GRANDSTAND BUILT-1990
LOWERED FENCES TO IMPROVE SIGHTLINES-2013
FLEX-A-CLAY MOUND ADDED-2008
HELMET RACKS & PAINTED DUGOUTS-2011
MITCH GORDON & UNLEADED BAND PLAY ALL-STAR GAME-2018
LIGHT TOWERS ADDED-1988
OLD TIMERS GAME-ELROSA CENTENNIAL-2008