Little League Bat Resource Page (***UPDATED 07/26/17***)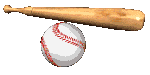 VERY IMPORTANT INFORMATION regarding bats - do NOT purchase a bat for your child until you have researched carefully.  Please note that as of January 1, 2018, the new USA Baseball Bat Standard will be implemented.
Little League-approved baseball bats that were approved for use for the 2017 season will no longer be acceptable for use in any Little League game or activity starting on January 1, 2018.
Everything you ever needed to know about bats and Little League can be found HERE at the Little League Bat Resource Page. (*** This information is current as of 07/26/17)