Welcome to the Mount Pearl Mens's Slo-Pitch Softball League
"Sometimes the only thing fair in life is a ball hit between 1st & 3rd base"
"Run hard.... Turn left"
"Enjoy playing with "C" players, cause if you play long enough, you will become one too"
"I'd run through hell in a gasoline suit to play softball!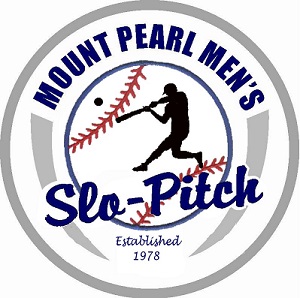 League "A" Champs!
Congratulations to North Atlantic on their big double!  After finishing first place in the regular season, North Atlantic followed up with an "A" division Championship over a very game Tibb's Auto Sales squad.  There was a lot of great ball played, but a strong North Atlantic team won the series 4 games to 1.
Accepting the K&D Cup from League President Stan Linstead and Vice President Ford Pollard are captains Darryl Palmer and Corey Blackwood.
Members of the Championship team are:
Back row left to right:  Dave Pretty, Brian Kieley, Randy Purcell, Chris Companion, Dwayne Burton,  Wade Abbott, Mike Murphy, Tom Hawkins, Travis Lewis
Front row left to right:  Val Nazarenko, Rick Gibbons, Darryl Palmer, Corey Blackwood, Steve Myers, Bobby Wood
---
"B" Champs !
Congratulations to team Pepsi for taking this years "B" division title after a hard fought series with the Carpet Factory.  Pepsi rode the timely hitting of "Stadler and Waldorf" (Jimmy Everard and Chris O'Keeefe) to a 4 games to 2 series win.
Accepting the trophy from League Director Willie Power are captains Steve "Cuddles" Moody and Cliff "Crunch" Brown.
Members of the "B" Championship winning team are:
Back row left to right:  Karl "Caw" St. Croix, Chris "Skipper" O'Keefe, Jimmy "Pumper" Everard, Barry "Bar" Butt, Greg "Battleship" Hogan, Wally "OLP" Haas, Chris "Marty Martin, Steve "Aorta" Harte
Front row left to right:  Trevor "Treasure" Kearsey, Steve "Coach Cuddles" Moody, Doug "Squeak" Furlong, Brian "Rog" Rogers, Cliff "Crunch" Brown, Paul "Breaky" Brake
Missing from photo: Steve "Sarge" Knight and Paul Doobs" Dube
---
2019 Most Spirited & Sportsmanlike Player (Team) Award Winners
On Sept 28, during our Appreciation Night each teams Most Spirited and Sportsmanlike Players were awarded with their certificates and a little "sometin sometin" for their enthusiasm and commitment to fair play.  On Oct 26, one of these fine gentlemen will receive the Leagues Most Spirited Player Award.  Congrats to all the winners (Not all pictured and there are some imposters): 
Avalon Mall – Billy Quinlan, Cal Legrow – Derm Casey, Carpet Factory – Shane Curnew, City Tire & Auto – Carl Noseworthy, Collision Clinic – Greg Vatcher,  Dave Peets Siding and Reno – Ray Nixon, In The Box Promotions – Steve Ducey, Larry's Tax Services – Jimmy Walsh, Leons  - Gary Crocker, North Atlantic – Bobby Wood, Pepsi – Steve Knight, Stack & Associates – Doug Whittle (Nice shirt & tie), The Bigs – Steve Barrett, The Rock Electrical – Brian Peddle, Tibbs Auto Sales – Dave Murphy, Twin Cities Imaging – Gary Bulger
---
Important Dates
October 26 - Annual Dinner & Dance
---
 Great Year for MPMSPSL Players
2019 was a great year for our league and it players.  There was no better way to prove this then to just show you how many teams, players, umpires and sponsors from our leagues were involved in National and Provincial tournaments this past summer.  90 - 100 players from our league were involved in these tournaments and all carried themselves very well.
 During the Nationals, which were held in and around St. John's and Mount Pearl from Aug 2-5, our league had 6 teams in 4 divisions, comprised of mostly MPMSPSL players, competing.  Congrats to The Rock Electrical for capturing 3rd place in the Mens 50 I division!
 National & Provincial Mens 60+  - Collision Clinic
Mens 50 I - The Rock Electrical
Men 50 I - Compusult
Mens 35 E - Rosie O'Grady's
Mens 35E - larry's Tax Services
Mens 35D - Saltwater Fog
During the Provincials, which were held in and around St. John's and Mount Pearl over several weekends, our league had 8 teams in 3 divisions, comprised of mostly MPMSPSL players, competing.  2 divisions showcased a final that involved both team being from our league.  In the Men's 50+, The Rock Electrical and Compusult met in the finals, while in the Mens 35+ D final Larry Tax Services played Saltwater Fog for the championship.
Men's 50+ - The Rock Electrical
Men's 50+ - Compusult
Men's 50+ - Larry's Tax Services  (No photo yet)
Men's 35+ - Rosie O'Grady's
Men's 35+ - Larry's Tax Services
Men's 35+ & Men's D - Saltwater fog
Men's 35+ - The Unknowns (No photo available)
As well as our SPN umpires Brian, Jerry, Stan, Rod, Dave, Harvey
If I missed anyone, please let me know.
---
North Atlantic Clinches 1st Place
Congratulation to the boys from North Atlantic for clinching 1st place in the regular season.  The guys had a great summer so far and were able to hold off a charge from Leon's to capture top spot heading into the playoffs.
Members of the 1st place team are:
Captains Corey Blackwood and Darryl Palmer, along with, Chris Companion, Wade Abbott, Dwayne Burton, Rick Gibbons, Tom Hawkins, Brian Kieley, Travis Lewis, Mike Murphy, Dave Pretty, Randy Purcell, Bobby Wood, Chris Elms, Steve Myers and perennial winner Val Nazarenko.
Captains Darryl Palmer an Corey Blackwood accepting the 1st Place trophy from league president Stan Linstead.
---
Scholarship Application
This is just a reminder that if you have a son, daughter, grand son or grand daughter graduating this spring and they are entering an application for one of the scholarships, don't forget to get the necessary documents from their high school contacts.
The list of requirements can be found under the "Forms" - "League Documents" tab on the league website.
Signup for Alerts
Get important messages from Mount Pearl Men's Slo-Pitch Softball League by Text & Email