Welcome to the Mount Pearl Mens's Slo-Pitch Softball League
"Sometimes the only thing fair in life is a ball hit between 1st & 3rd base"
"Run hard.... Turn left"
"Enjoy playing with "C" players, cause if you play long enough, you will become one too"
"I'd run through hell in a gasoline suit to play softball!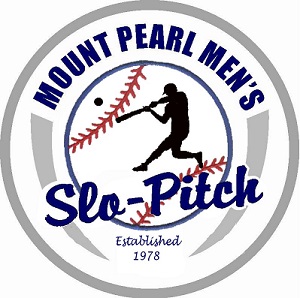 League Champions
Congratulations to City Tire and Auto for winning the 2017 Mount Pearl men's Slo-Pitch crown!  The boys had a great play-off, first knocking off the regular season champions, Larry's Tax Services, and then beating a very strong Pepsi team to take the title.  Going into the semi finals and finals, Las Vegas had City Tire the huge underdogs, but they played the role perfectly.  By playing solid defence and using timely hitting they were able to cap off a great play-off run.  Congrats guys.
Accepting the K&D Cup from league vice president Ford Pollard are captains Gary Beresford and Dave Cooney, along with team manager Bill Vincent
Members of the Championship team are:
Back row left to right:  Dave Conney, Mike "Hags" Hagerty, Morris Earle, Wayne Mercer, Nick Morrissey, Robert Vey, Jack Constantine, Jacques Lapierre, Gary Beresford
Front row left to right: Bob Bugden, Ray Decker, Dave Murphy, Ed Snow, Jim Mallard, Bill Vincent
Missing:  Dion Carew
B Champions
Congratulation also to the Champions of the "B" division play-offs, The Bigs.  The Bigs and their high powered offence were to much for a game Collision Clinic team, and that offence saw them take the final series 3 games to 1.  Congrats guys.
Accepting the trophy from league President Stan Linstead and new Mount Pearl Mayor, Dave Aker, are captains Jamie Neville and Karl Baker .
Members of the B championship winning team are:
Back row left to right: Norm Somerton, Bob Snow, Paul Joy, Steve Luff, Charles Chatman, Cory Truscott
Front row left to right: Karl Baker, Toby Crawley, Jason Pope, Jamie Neville, Peter Constantine, Wayne Peddle
Missing: Paul Blackwood, Roger Hounsel, Dave Squires
---
View From Above
(Thanks Ed Harris)
Here is a couple of pictures of our beautiful venue showing Richard Levandier Softball field and the surrounding Team Gushue Complex...... Enjoy
More have been posted under "Aerial photos" in the Photo Albums page.
Aug 19
MPMSPSL Regular Season 2018
Dave Peets Siding @ Cal LeGrow
5:45pm
Twin Cities Imaging @ Larry's Tax Services
7:00pm
Avalon Mall @ In The Box Promotions
8:15pm
Tibb's Auto Sales @ Collision Clinic
9:30pm
Aug 20
MPMSPSL Regular Season 2018
The Bigs @ Larry's Tax Services
5:45pm
Pepsi @ Collision Clinic
7:00pm
Carpet Factory @ Cal LeGrow
8:15pm
B&B Electrical @ In The Box Promotions
9:30pm
Aug 21
MPMSPSL Regular Season 2018
B&B Electrical @ Dave Peets Siding
TBA
Twin Cities Imaging @ Leon's
TBA
Pepsi @ Twin Cities Imaging
TBA
Tibb's Auto Sales @ Pepsi
TBA
View Full Schedule
Signup for Alerts
Get important messages from Mount Pearl Men's Slo-Pitch Softball League by Text & Email