WELCOME TO THE HOME OF THE
OAKVILLE MASTERS MEN'S SLO-PITCH LEAGUE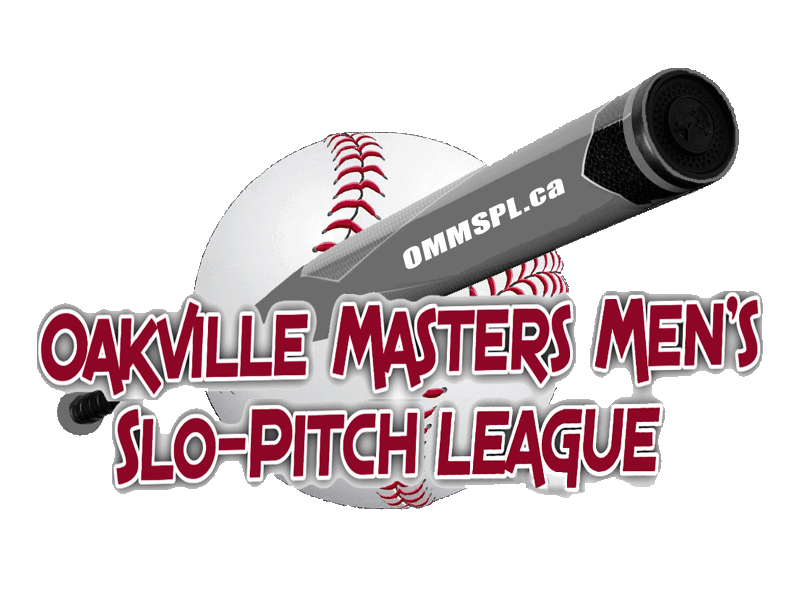 2018 ROUND ROBIN SCHEDULE

 
 
 

DATE

PARK

TIME

 

VISITOR

 

HOME

 
 
 
 
 
 
 
 
 
 
 
 
 

AUG  23

GA.E

9:30 AM

 

Fine Wines

 

Blue Pills

 
 
 

10:45 AM

 

Golden Years

 

Blue Pills

 

 

 

 

 

 

 
 

 

 
 
 

GA.W

9:30 AM

 

Golden Years

 

Rusty Royals

 
 
 

10:45 AM

 

Fine Wines

 

Rusty Royals

 

 

 

 

 

 

 

 

 

 
 
 

MB.E

9:30 AM

 

White Hairs

 

Red Faces

 
 
 

10:45 AM

 

Grey Beards

 

Red Faces

 
 
 

 

 

 

 

 

 

FINAL

 

MB.W

9:30 AM

 

Grey Beards

 

Green Gimps

STANDINGS

 

10:45 AM

 

White Hairs

 

Green Gimps

 

 

 
 
 
 
 
 
 
 

1

Blue Pills

 

AUG 30

GA.E

9:30 AM

 

Fine Wines

 

Red Faces

 

10:45 AM

 

Golden Years

 

Red Faces

 

 

 

 

 

 

 

 

 

2

Rusty Royals

 

GA.W

9:30 AM

 

Golden Years

 

Green Gimps

 

10:45 AM

 

Fine Wines

 

Green Gimps

 

 

 

 

 

 

 

 

 

3

Red Faces

 

MB.E

9:30 AM

 

White Hairs

 

Blue Pills

 

10:45 AM

 

Grey Beards

 

Blue Pills

 

 

 

 

 

 

 

 

 

4

Green Gimps

 

MB.W

9:30 AM

 

Grey Beards

 

Rusty Royals

 

10:45 AM

 

White Hairs

 

Rusty Royals

 

 

 
 

 

 

 

 
 
 

5

White Hairs

 

SEPT 06

GA.E

9:30 AM

 

Red Faces

 

Rusty Royals

 

10:45 AM

 

Green Gimps

 

Rusty Royals

 

 

 

 

 

 

 
 

 

6

Grey Beards

 

GA.W

9:30 AM

 

Green Gimps

 

Blue Pills

 

10:45 AM

 

Red Faces

 

Blue Pills

 

 

 

 

 

 

 

 

 

7

Golden Years

 

MB.E

9:30 AM

 

Fine Wines

 

Grey Beards

 

10:45 AM

 

Golden Years

 

Grey Beards

 

 

 

 

 

 

 

 

 

8

Fine Wines

 

MB.W

9:30 AM

 

Golden Years

 

White Hairs

 

10:45 AM

 

Fine Wines

 

White Hairs
---
 

AUGUST 9, 2018 GAME REPORTS

Green Gimps suffer Red face-washing

in season-ending sweep

 

| | | | | |
| --- | --- | --- | --- | --- |
| Red Faces | 17 |   | Red Faces | 21 |
| Green Gimps | 15 |   | Green Gimps | 12 |

There was plenty at stake when the Red Faces and Green Gimps squared off on Thursday.

The big prize was third place in the OMMSPL, an honour that allows the victors to boast, ``at least we didn't finish fourth."

And that's what the Reds were crowing at the Pipes and Taps after sweeping a doubleheader against the guys in green.

The sweep over the charging Green Gimps was all about offence for the Reds. While the defence continued to plague the mighty Faces, their bats were relentless and allowed them to overcome all defensive lapses. Contributions came from top to bottom in   Game 1 as both George Merrick (4-for-4) and Doug Auld (3-for-3) were both perfect at the plate.

The Gimps couldn't turn the tables, despite the fact that Steve Vitella, feigning injury, umpired both games. Contrary to instructions from manager Michael Kitchen, he did so without a hint of favouritism. Not surprisingly, he didn't show up the pub afterwards.

The Gimps didn't go down without a fight, though.

Down six entering the top of the seventh inning, the Gimps put four on the board and loaded the bases, but left themselves high and dry. 

It was a painful defeat in more ways that one. In the second inning, Steve Moses of the Gimps stretched a single into a double with a textbook slide into second base.  Unfortunately, Steve was wearing shorts, with predictable results – d  Let's hope he has a healthy supply of Polysporin. 

 Don Yaschyshyn (5-for-5) and Rick Bradley (4-for-4) led the offence as the Faces pounded the Gimps 21-9. Overall, every player on the Faces batted over .500 over the combined course of the two games, setting up things nicely for the start of the playoffs.

If Game 2 were a play it would have been "Waiting for Godot" as far as the Gimps were concerned. 

 The Greenies were held scoreless in four of the seven innings, while the Faces' shortened lineup revolved like a 78 (or maybe a 45).  The Gimps achieved a somewhat dubious moral victory by scoring four runs in the sixth inning to avoid a mercy and prolong the agony

  Peter Dovey made a rare pitching appearance for the Gimps during Game 2 with commendable results.

 

Doug Briscoe of the Gimps continued his torrid pace at the plate, going 7-for-7. Ron Linklater, Jim  Moriarty, Dovey and John Stillich were each 4-for-6.

 
 
 
 

Pills bounce back with vengeance after opening loss to Wines

 

| | | | | |
| --- | --- | --- | --- | --- |
| Fine Wines | 8 |   | Blue Pills | 17 |
| Blue Pills | 5 |   | Fine Wines | 5 |

 

The last-place Fine Wines sent a message in their final series of the season. The first was "We're not as bad as our record shows." The second was, "Maybe we are."

They looked impressive in the opener, reeling off four runs in the first and third innings while playing almost flawless defence to beat the first-place Blue Pills 8-5. They got strong pitching from Bill Stubbins and John Gow, as well.

The Pills were obviously suffering the after-effects of last week's pennant-clinching celebrations, which may or may not have involved several over-refreshed players swimming in a mall fountain. (Police reports aren't clear on the matter.)

Obviously, Phil Dechene was not part of that. He made the most of his two at-bats by going 2-for-2. John Good was one of five Blue guys to bat three times and he was a perfect 3-for-3.

Game 2 was a reminder of why the Wines clinched last place in early May (or so it seems.) Errors and a lack of hitting resulted in the Pills winning 17-5 in a game mercifully ended after five innings.

The Pills scored had a 9-0 lead heading into the bottom of the third inning and pretty much coasted from there.  Thirteen different Blue Pill players had at least one RBI. Seven Pills were perfect at the plate in Game 2: Jim Banyard, Mike Mozewsky and Greg Aubert were each 3-for-3 and Aarne Kartna, Jym Grimshaw and Graham Orr were 2-for-2. John Finley was 1-for-1 with a sac fly.

Paul Kretz wielded a big bat for the Wines, going 4-for-4 with three RBIs. (League officials are currently checking the exact size of his bat.)

Chris Zelkovich added four hits while Rick Cummings contributed three with three RBIs.

 
 
 
 

Golden Years offer final act of kindness to Rusty Royals

 

| | | | | |
| --- | --- | --- | --- | --- |
| Rusty Royals | 13 |   | Rusty Royals | 14 |
| Golden Years | 12 |   | Golden Years | 12 |

 

In an unprecedented display of good sportsmanship, feeling badly that Crocker's Crew couldn't advance higher than second place, the Golden guys decided to take it easy on the Rusty Ones, resulting in 13-12 and 14-12 wins for the blue clad runners-up.

 

 

 

The Rusty Royal motto this year seems to be: "Why win big when you can win in a nerve racking squeaker".  Going into the bottom of the sixth inning the Rusty Royals trailed the Golden Years by a score of 11-9.   Consecutive hits by McCauley, Schell, future coach Mike Horner and Doug Wingrove led to a four run outburst and a 13-11 lead.  In the top of the final frame the Rusty Royals showed some good defense and held on for a narrow victory. In this first game particular highlights were Mac McCauley, Max Crocker, Mike Horner and John Koopman who all scored two runs and had two RBIs.  Hits were evenly spread as 10 Rusty Royals had two hits.

 

Whenever the unlubricated ones made an error or brain fart, such as trying for a triple play when there was only a solitary runner at second, the Golds would endeavour to duplicate the faux pas or create their own misadvised adventure. They even got duped by the old fake throw to second trick with a veteran who should know better getting tossed out at home. Said a beaming Royals manager Max Crocker, "I've been doing that play for 25 years and that's the first time it's worked!"

 

 

 

The second game was more of the same. The Golden Years took themselves to an early 4-1 lead after the end of three frames. Mike Horner coaching for the first time at a professional level really shook things up when he moved Mac McCauley to second base and put Ian Schell on the mound. A few innings later he replaced Ian Schell with Don Brown. These changes wwere salutary in many ways.  Without Mac McCauley on the mound the Royals knew they needed to play great defense and they did. And Mac McCauley found out how hard it is to play great defense on ancient legs.  Acting coach Horner's proactive style shook up the Royals and in the fourth inning they exploded for five runs. Nearly everyone in the Rusty Royals order scored a run by the game's end.  Barney Henderson, Don Brown and Doug Wingrove all had three hits.  The Golden Years fought gamely however ultimately fell 12-9.  

 

In an effort to not be too obvious with their act of charity, the soon-to-be-retired (thank goodness, intoned the team) manager of the Golden boys was on base in all six of his at bats. Using his lack of speed and finesse, he was able to rumble into second for doubles on two occasions with what would have been triples for anyone else with two healthy legs.

 

Ron Berry and a hobbled Terry Ronnenberg  did yeoman service by splitting the pitching duties efficiently and also contributing with the lumber (metal?) with 4-for-5 and 5-for-6 hitting respectively.

 

John Manderson got his routine five hits on the day as did the speedy Jim Fenner.  Among his four solid strokes, Tom Gorman clubbed one to the base of the fence for a triple.

 

The Golds look forward to the return engagement in two weeks.

 

The Royals go into the playoffs on a roll, and knowing that they have two strong relief arms in the event that Mac McCauley tires.  

 

 

 
 
 
 

| | | | | |
| --- | --- | --- | --- | --- |
| Grey Beards | 15 |   | White Hairs | 16 |
| White Hairs | 3 |   | Grey Beards | 3 |

 

                       

There certainly was no lack of mercy when the Grey Beards and White Hairs met on Thursday with fifth place on the line.

 The first game was ended by the mercy rule with the Beards ahead by 12, while the second ended early for the same reason. Except it was the Hairs who came out on top in the closer.

With many of the Beards hurting, skipper Lloyd Johnston had a sleepless night trying to come up with a winning combination. "We really want to finish the season on a positive note," said the field boss.

What ever he came up with, seemed to be just what the doctor ordered (among other meds) as the "Grandfathers of Grey" belted their way around the bases 15 times to mercy the "White Wonders."

"It all came to me about 3 a.m. when I had a premonition of what to say in the pre-game huddle,
Johnston said in the post-game press conference.

And what was the message?

"I'll pay for the first two pitchers of beer if we win." "You're the best coach ever," said a thankful band of bearded bandits.

With a chance to move up a notch in the final standings, it was a bit bewildering to see these two teams demonstrate such little offence in the first four innings of Game 1. With the Beards leading 5-2 in the top of the fifth, they erupted for five runs and a 10-2 lead. Meanwhile the White Hairs bats continued to fire blanks (well...it is an over 60's league). The Beards cashed in five more in the top of the sixth to take a 15-2 lead.

Then, with two out, and the Beards nursing a 12-run lead in the bottom of the sixth, they intentionally walked Larry Weber to load the bases. This pivotal play was made in an attempt to move the Beards up to the highly coveted fifth spot in the standings -- an accomplishment that comes with a firm handshake from league commissioner George Picken, unless he decided to stay home that day.

A flyball out ended the inning and the game, moving the Beards into fifth ... for the time being.

Paul Hunter, Bill Ballagh and Roman Kryzaniwsky sparked the Beard offence in the opener, going 3-for-3 with Ballagh and Hunter also driving in a pair of runs.

Ev Lucenti revealed why his age is just a number, going 3-for-3 and scoring a run for the Hairs. Bert Therrien had two hits and also scored once.

 With revenge on their minds for Game 2, the White Hairs showed that karma is instant (as John Lennon so eloquently put it, "Instant Karma's gonna get you..."). The Hairs sent seven batters to the plate in the top of the first and took a 5-0 lead.

They never looked back, except when Weber took a peek at the bench to make sure no one had stolen his high-fibre energy bars.

The split bounced the Hairs back into fifth place and boomeranged the Beards back into sixth.

 

 The Hammerin' Hairs were Burt "The Hurt" Therrien, Ev Lucenti, Bill Johnson, and Cubby Hubert. This Fearsome Foursome combined for 13 hits, nine runs and a rack of ribbies.

Beards skipper Johnston was disconsolate afterwards.

 "I'm going to therapy," he said. "I think I'm going to try pyramid power for the playoffs. It has also crossed my mind to have speedster Awadh bat lead-off.

``Nothing is a bad idea. Well, maybe that one might be."

 Ray Grisold noted that, "We kept it close until the bottom of the first."

Teammate Klaus Kreutzberg added,"I really believe the guys wanted to end the season on a winning note and that was to be first back to the pub."

Mission accomplished.

Hunter and Kryzaniwsky both went 3-for-3 in the second game, completing perfect days at the plate.

 
 
 
---
FINAL SEASON STANDINGS - August 09, 2018

 
 

 

TEAM

G

W

L

T

PTS

PCT.

GB

RF

RA

DIFF

 

 

 

 

 
 
 
 
 
 
 
 

 

 

1

Blue Pills

28

19

8

1

39

696

 

385

322

63

 
 

2

Rusty Royals

28

18

10

0

36

643

1.5

339

310

29

 
 

3

Red Faces

28

15

13

0

30

536

4.5

372

341

31

 
 

4

Green Gimps

28

14

14

0

28

500

5.5

351

373

-22

 
 

5

White Hairs

28

13

14

1

27

482

6.0

380

345

35

 
 

6

Grey Beards

28

13

15

0

26

464

6.5

328

312

16

 
 

7

Golden Years

28

11

15

2

24

429

7.5

353

371

-18

 
 

8

Fine Wines

28

6

20

2

14

250

12.5

226

360

-134

 
 

 
 
 
SCORES - AUGUST 09, 2018

 
 
 
 
 

Fine Wines

8

 

Blue Pills

5

Blue Pills

17

 

Fine Wines

5

 
 
 
 
 

Rusty Royals

13

 

Rusty Royals

14

Golden Years

12

 

Golden Years

12

 
 
 
 
 

Grey Beards

15

 

White Hairs

16

White Hairs

3

 

Grey Beards

3

 
 
 
 
 

Red Faces

17

 

Red Faces

21

Green Gimps

15

 

Green Gimps

9
---
 

                                                                OMMSPL

                                                                2018

 

Golf Tournament

 

"Bill Carson Memorial"

 

 

    When:     Friday, Sept 14th, 2018 – Starting approx. 10:00

 

   Where:   Tyandaga Golf Course Burlington

 

   Format:   Scramble

 

    Cost:      $100 per person includes:

- Green Fees

- Electric Golf Cart (shared)

- Dinner (Steak or Chicken)

- Entry into Putting Contest

- Contribution to Prizes    

 

    Contact:

  

 

Doug Auld

      

dauld1@bell.net 905-337-3920

      

 

      

 

PLEASE BOOK ASAP – 8 REMAINING SPOTS

(PAYMENT DUE BY AUGUST 23)

 

 

Cash Prizes and Prize Table

 

                         

                                 

 

            

 

 

       LOCATION:                    TYANDAGA  GOLF COURSE BURLINGTON

 

       TIME:                               FRIDAY, SEPTEMBER 14th, 2018 – APPROXIMATELY 10:00 TEE TIME

 

       FORMAT:                        BEST BALL / SCRAMBLE

                                          NO GROUP HANDICAPS WILL BE ASSIGNED THIS YEAR

 

       COST:                             $100 PP INCLUDES GOLF / DINNER / PRIZES + ELECTRIC CART                                                                                                  

       DINNER:                         STEAK OR CHICKEN (NEED TO KNOW CHOICE BY AUGUST 23)

 

       PRIZES FOR:                 - WINNING TEAMS - LOW GROSS (Low Group Score)

 - LOW NET (Scheid Scramble Handicap System)

- LONGEST DRIVE

                                          - CLOSEST TO THE HOLE

                                          - PUTTING CONTEST 

 

       PRIZE TABLE:              IT IS OUR GOAL TO HAVE A PRIZE FOR ALL ATTENDING. IN ADDITION

TO PRIZES PURCHASED WITH FEE MONEY, ANY PRIZE DONATION FOR

THE TABLE WOULD BE APPRECIATED.  WE WOULD LIKE TO HAVE ALL

                                          PRIZE DONATIONS BY SEPTEMBER 6. PLEASE BRING THEM TO LUNCH  

ON THE 6TH.

 

       POKER RUN:                 $10.00 - PURCHASED THE MORNING OF THE TOURNAMENT

                                          (THIS INCLUDES ONE MULLIGAN PER PLAYER)

                                          EXPLANATION TO FOLLOW

 

       RULES:                           - 3 "TEE SHOTS" PER PLAYER MUST BE USED

- ALCOHOL IS NOT ALLOWED ON THE COURSE

- EVERYONE MUST HAVE FUN

                                                                             

       GROUPS:                       IF YOU WISH TO PLAY WITH SOMEONE IN PARTICULAR, LET ME KNOW.  OTHERWISE, YOU WILL BE ASSIGNED TO A FOURSOME.

 

                                         

       CONTACT:                     DOUG AULD-(905)-337-3920       Email:  dauld1@bell.net                          

 

Space is Limited – 8 REMAINING SPOTS!

 
 
 
---
---
---
OMMSPL MANAGERS FOR 2019
Blue Pills  Greg Aubert
  
Fine Wines  Mike Horner
  
Golden Years  John Manderson
  
Green Gimps  Michael Kitchen
  
Grey Beards  Phil Dechene
  
Red Faces  Mike Boyle
  
Rusty Royals  John Koopman
  
White Hairs  Bill Johnson

---
---