Sault Ste Marie, Ontario, Canada
MISSION STATEMENT
To provide an opportunity for adult females of any caliber to play hockey in a league
which emphasizes fun, friendship and respect for fellow participants.
---
COVID and the WHL
You may be wondering how Covid-19 will effect the WHL for the 2020-2021 season.  Although we don't have all the answers right now, we can tell you with certainty that it will be different from what we are all used to.  Trying to keep a hockey rink sanitary and respecting physical distancing in a sport as sociable as hockey, and even more so in the WHL, will be difficult.  We expect recommendations and guidelines will change as frequently (or infrequently) as the Covid-19 situation.  In the meantime, we are still accepting registrations as per normal. 

 

Our governing body, CARHA, has provided recommendations on how to return to the ice safely.  The City of SSM has met with us and assured us that they will be completing all the necessary changes to their facilities as per provincial guidelines to make them as safe as possible for everyone.  

Our goal is to get all of you back playing again as soon as possible, keeping in mind that health and safety are the main priorities.  Please take care of yourself and your families.  Hope to see you soon.
---
REGISTRATION FOR 2020-2021 SEASON
Happy Spring WHL Players!
We are ready to look ahead and prepare for next season. We are moving forward with registrations and planning as usual.  If our season is delayed or altered in any way, we will make adjustments accordingly.
2020-2021 Registration Fees
Early Registration (Before July 1st) $325.00
Regular Registration (July 1 - August 31) $375.00
Last Minute Registration (September 1 - September 5) $450.00
Goalies (Before September 1) $0.00 FREE!
Goalies (September 1-5) $200.00
**COVID-19 Consideration** 
We understand some of you may be financially affected by %$!@# COVID.  If you need to pay your registration fee in installments, we invite you to contact WHL Registrar, Lori Ballstadt, to make arrangements.
But how do I pay? What league should I play in? Can I sign up with a friend? When are games played? All of these questions and more can be found in this detailed information page. Click HERE!! 
REGISTRATION FORMS
If you have further questions please email our WHL Registrar, Lori Ballstadt. whlregister@gmail.com  But first - did you read the handy dandy INFO PAGE?
That's All Folks! Enjoy your summer. Take care of each other (virtually) and stay safe.
---
Richard Niro's Summer Hockey Camp
Missing hockey? Richard Niro is back to run another hockey camp this summer. 
Ice time starts Thursday, July 2nd. 
Please see the Camps/Clinic tab for full details! 
---
2019/2020 CHAMPIONS
For a detailed list, including rosters, please visit our WHL HISTORY & AWARDS page. 
FUN LEAGUE
Regular Season Champs - BDO Dunwoody
Playoff Champs - BDO Dunwoody
BEER LEAGUE
Regular Season Champs - Algoma Insurance
Playoff Champs - Lafarge
MIDDLE LEAGUE
Regular Season Champs - Winmar
Playoff Champs - Our Driving School
BIG LEAGUE
Regular Season Champs - 50/50
Playoff Champs - Ontario Concrete 
---
---
CONGRATULATIONS!!!
On behalf of all past and present players of the WHL, we are extremely proud to congratulate Lorie Springall and Sharon Buehner on their induction to the Sault Ste. Marie Hockey Hall of Fame.  Lorie and Sharon have made outstanding contributions to the hockey community, the city of Sault Ste Marie and most significantly, to us, the players.  We are thrilled to see their hard work, dedication and commitment recognized. 
A ceremony was held on February 23, 2020 to honour all inductees.  Lorie and Sharon, the only females in the Hockey Hall of Fame, were recognized in the Builder Category.  
In 2001 they had a dream and what they have built is incredible. Due to their love of the game, many friendships have been formed and lifelong memories have been made.  We have all developed and learned so much as a result of their leadership and guidance. They have the changed the lives of many women. 
Lorie, Sharon - Thank you for all you do.  We are grateful.
---
YOU CAN BE AN IMPORTANT ROLE MODEL TO GIRLS IN OUR COMMUNITY
If you're looking to share your love for the game, the SAULT FEMALE HOCKEY ASSOCIATION  would love to have you. Consider applying to coach next season!  Coaching applications are posted on https://saultgirlshockey.ca  Midget AA & Bantam AA close January 31st.  Midget A, Bantam A, PeeWee A and Atom B close February 29th.   Any coaching certification costs will be covered.  You can apply now and enroll in any courses needed over the summer.  
---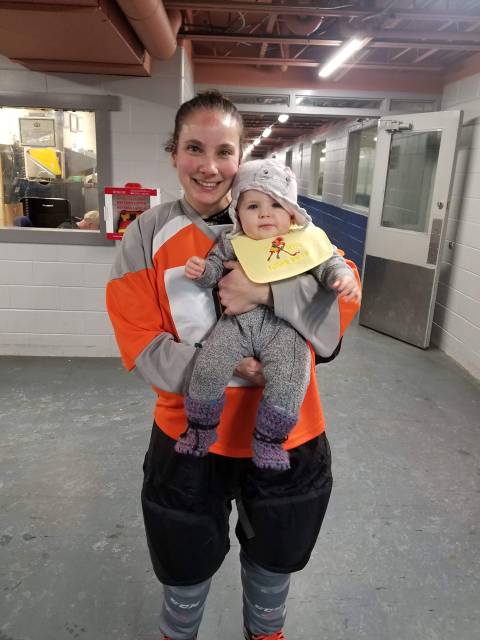 The WHL is excited to welcome some adorable players to our roster.  Please click HERE to see the newest additions.  Pictured above: Danielle Favaro with her daughter Linnea.  Allison, daughter of Jen Bibeau.  Eva Strom, daughter of Laura.