Sault Ste Marie, Ontario, Canada
MISSION STATEMENT
To provide an opportunity for adult females of any caliber to play hockey in a league
which emphasizes fun, friendship and respect for fellow participants.
---
HOCKEY SKILLS SESSIONS - Hosted by Lake Superior Figure Skating Club @ GFL Memorial Gardens
Registration is now open for Ladies CanPowerSkate Program. To register please visit our website at lsfsc.ca

 

Location: GFL Memorial Gardens 7:30-8:30 pm

 

Start Date: Tuesday, October 13,2020 (10 sessions)

Coached by: Tim Buchan and Todd Design

 

Registration fee: $195.00 for 10 sessions (you can pay in full or take advantage of our installment plan)

 

This program will run on the following dates:

October : 13, 20, 27

November: 3, 10,17,24

December: 1,8,15

CanPowerSkate is an action-packed, high energy instructional power skating program geared to hockey and ringette skaters that focuses on balance, power, agility, speed and endurance. Skills, techniques and conditioning drills are taught in a progressive format that emphasizes how the skills apply to game situations. CanPowerSkate provides an alternative to figure skating and is an excellent complement for those athletes playing on hockey or ringette teams. Its unique skill award program provides incentives and motivation for skaters to continue to achieve.

For safety reasons participants should wear full hockey/ringette equipment that is CSA approved. The coach to skater ratio is 1:10.

 

For further information please contact admin@lsfsc.ca or contact us by phone at (705) 542-6557

 

Zahida Croskery
---
WHL BABIES!!
Calling all Moms! If you've added a new baby to your life (or know another WHLer who has), send an email to
AMANDA McLACHLAN
and let her know.  
Even though we're not on the ice this year, we're still crazy happy to continue our tradition of delivering baby bibs to all future WHLers and future WHL Referees.
---
PICK UP HOCKEY!!
Victoria Olar is arranging pick up games
Facebook Page:  "Don't Trip Over The Blue Line"  FEMALE, CO-ED, MEN'S
Join the Group on Facebook and/or email, text or call Victoria directly to save your spot!
---
2020-2021 SEASON CANCELLED

Hello to all our WHL friends,
Due to the inevitable impact that Covid-19 will have on the operations of the WHL and for the safety of all our players and officials, the Women's Hockey League regrets to announce the cancellation of the 2020-2021 season.
Other alternatives (such as delaying the start of play until January, providing practices until health regulations permit games, changing the league to 3-on-3 games to limit the number of people at the arenas) were discussed but in the end your Executive agreed that the WHL cannot put itself in a position where it cannot guarantee the safety of its players and officials.  As much as we all love hockey, it's just not worth the risk.
If you have paid your registration fee for this year, you must contact our Registrar, Lori Ballstadt, at whlregister@gmail.com.  You have two options:
Ask for a full refund.  Your full payment will be returned to you within the next two weeks.


Ask to leave your payment with the WHL for next year's registration. (If you choose this option, you will not be subject to any fee increase that may occur next season.)


We will be back!! And we want all of you back with us safe and sound.
---
2019/2020 CHAMPIONS
For a detailed list, including rosters, please visit our WHL HISTORY & AWARDS page. 
FUN LEAGUE
Regular Season Champs - BDO Dunwoody
Playoff Champs - BDO Dunwoody
BEER LEAGUE
Regular Season Champs - Algoma Insurance
Playoff Champs - Lafarge
MIDDLE LEAGUE
Regular Season Champs - Winmar
Playoff Champs - Our Driving School
BIG LEAGUE
Regular Season Champs - 50/50
Playoff Champs - Ontario Concrete 
---
---
CONGRATULATIONS!!!
On behalf of all past and present players of the WHL, we are extremely proud to congratulate Lorie Springall and Sharon Buehner on their induction to the Sault Ste. Marie Hockey Hall of Fame.  Lorie and Sharon have made outstanding contributions to the hockey community, the city of Sault Ste Marie and most significantly, to us, the players.  We are thrilled to see their hard work, dedication and commitment recognized. 
A ceremony was held on February 23, 2020 to honour all inductees.  Lorie and Sharon, the only females in the Hockey Hall of Fame, were recognized in the Builder Category.  
In 2001 they had a dream and what they have built is incredible. Due to their love of the game, many friendships have been formed and lifelong memories have been made.  We have all developed and learned so much as a result of their leadership and guidance. They have the changed the lives of many women. 
Lorie, Sharon - Thank you for all you do.  We are grateful.
---
YOU CAN BE AN IMPORTANT ROLE MODEL TO GIRLS IN OUR COMMUNITY
If you're looking to share your love for the game, the SAULT FEMALE HOCKEY ASSOCIATION  would love to have you. Consider applying to coach next season!  Coaching applications are posted on https://saultgirlshockey.ca  Midget AA & Bantam AA close January 31st.  Midget A, Bantam A, PeeWee A and Atom B close February 29th.   Any coaching certification costs will be covered.  You can apply now and enroll in any courses needed over the summer.  
---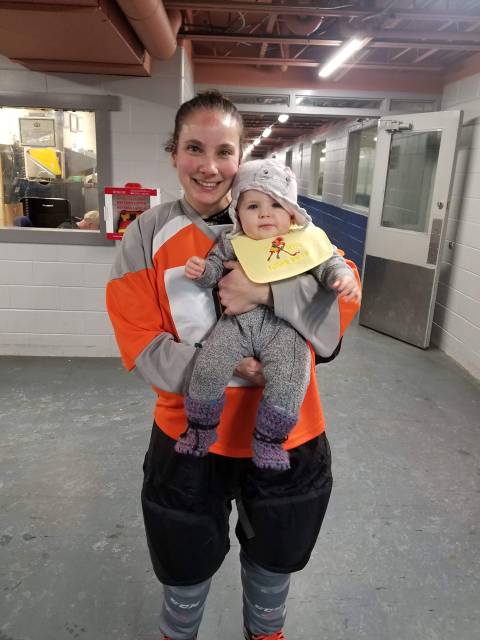 The WHL is excited to welcome some adorable players to our roster.  Please click HERE to see the newest additions.  Pictured above: Danielle Favaro with her daughter Linnea.  Allison, daughter of Jen Bibeau.  Eva Strom, daughter of Laura.