First impressions: Coliseum looks ready to go for today's games


Coliseum The Coliseum's field looks to be in pretty good shape despite the rain. Only the end zones have visible patches of water. Otherwise it appears the field will stay firm for both City Section championship games today.

But I'll bet Garfield and University are glad they are playing their Invitational title game first. The Bulldogs and Wildcats are set to kick off at 4 p.m.

The Championship Division game between top-seeded Birmingham and second-seeded Carson follows at 8.

-- Mike Terry Los Angeles Times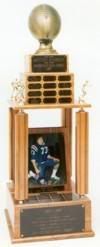 Garfield Wins! Brings City Title to East L.A.

Mario Villegas
Exclusive to EGP





As the final seconds ran off the clock, the Garfield High School contingent began to chant East L.A.! East L.A.! And East L.A. is now home to a City Section football title for the first time in 26 years, as Garfield outlasted University, 28-23, last Friday in the City Invitational finals at the Coliseum.

Garfield won the 2-A championship in 1981 for its only City football title, but lost title games in 1982, 1989 and 2006. Fridays victory helped ease the pain of last years loss for many members of the team.

That game has been on our minds since the beginning of the season, senior linebacker David Lopez said, recalling the 21-17 loss to Eagle Rock in a game the Bulldogs led 17-7 in the fourth quarter. We came out here with a lot of hunger because of some unfinished business. We finished strong this year.

The game matched two teams with contrasting styles on offense: Garfield attacking the opposition with a ball-control approach led by its hard-nosed running backs; and University using its explosive running backs out of a wishbone set.

Garfield won thanks to a defensive stand in the final two minutes, the second of two it put up in the fourth quarter.

Trailing 28-21, University reached the Bulldogs 8-yard line on its final drive, but on fourth-and-goal from the 12, Garfield cornerback Lanny Delgado knocked away a pass in the end zone to end the threat.

Had University scored they would have gone for the two-point conversion and the win because Coach E.C. Robinson always goes for two, Garfield Coach Lorenzo Hernandez said. It was a very emotional finish. But like Ive said from the beginning, the strong point of our team is our defense and it showed out there.

After University used its final two timeouts, Garfield had the ball at its own 20 with five seconds remaining. Rather than risk a blocked punt, quarterback Patrick Vargas took the snap and ran back to his own end zone, giving up a safety, but ensuring a victory for Garfield as time had expired.

All the hard work we put in paid off, senior wide receiver and defensive back Mychal Mack said as he fought back tears. All the hard practices, the practices at 5 in the morning, all the bleachers (we ran), all the miles and all the meetings, it all paid off for us. This is what we worked for.

A raspy-voiced Hernandez admitted afterward that he wanted vindication for last year.

Yes, for the kids, he said as he tried to call his wife, who was at home with their newborn son, from the field on a cell phone. Its all about them and they worked, and they earned it. Its been a long time since Garfield has won a championship and Im just glad to be the person to get it for them. What an awesome feeling. I�ve always dreamed about coming to a school and getting a championship. Its great.

A 48-yard touchdown run by running back Franky Diaz gave Garfield (11-3) a 28-21 lead with 4:54 left in the third quarter. Diaz was the workhorse in Garfields potent running attack with 196 yards on 30 carries. He had 124 yards on 21 attempts in the first half.

University tried to answer and drove from its own 45 to the Garfield 8. But on the first play of the fourth quarter, the Wildcats were stopped and turned the ball over on downs to the Bulldogs.

Garfield missed a chance to add to its lead after defensive end Jiovany Bautista recovered a fumble at the University 31. However, a tiring, but valiant, Wildcat defense stiffened and stopped Garfields fourth-down play at the 34 with 5:10 to play.

Behind Travis Rawls, including a 27-yard run and a 15-yard pass reception, University drives to the Garfield 8. But after a 5-yard loss, the Wildcats are faced with third-and-goal from the 13. On third down, Garfield linebacker Carlos Perez batted down a pass. Delgado ended the threat on the next play with his deflection.

Garfields defense was also led by defensive end Christian Orozco and safety Roy Orozco.

I knew beating Garfield was going to be a tough task and I felt it would come down to who had the ball last, Robinson said. I thought we could hurt them with the pass, but were not a passing team, so its hard to start passing in the championship game when that is not your style.

The teams played to a 14-14 tie in the first half. Garfields Sergio Macedo scored on a 27-yard touchdown run, but a sore hamstring prevented him from kicking extra points. After University had jumped offside, Garfield was unsuccessful on a two-point conversion attempt.

Forty-five seconds later, Trayone Harris ran 64 yards for a touchdown and University led, 7-6.

Garfield regained the lead, 14-7, in the second quarter on a 1-yard run by Eddie Valencia and a two-point conversion run by Diaz.

But a 26-yard touchdown run by Rawls tied the score, 14-14.

In the third quarter, a 10-yard touchdown pass by Vargas to Adrian Longoria and Roomel De La Torres point after try put the Bulldogs ahead, 21-14.

Garfields strategy on the kickoff was to kick short and away from the dangerous Harris. But Harris got a favorable bounce and he fielded the ball at his own 29 and ran 71 yards for a score-tying touchdown.

We were trying to kick it short, but we get a wicked bounce and there he goes, Hernandez said. Hes dangerous.

Harris (16 carries) and Rawls (14) accounted for most of Universitys offense with 116 rushing yards each.

Theyre unbelievable, Hernandez said. Theyre both great athletes and Ill be shocked if theyre not playing at Division I school next year.

Besides 196 yards from Diaz, Garfield also got 70 yards on 10 carries from Omar Hernandez and Macedo had 57 yards on nine attempts. They ran mostly behind tackles Efrain Gonzalez and Fausto Salazar, guards Oscar Torres and Edwin Mejia, center Justin Estrada, and tight ends Diego Granciano and Lopez.

We knew it was going to be a war and we kept fighting all the way through, Gonzalez said. Some people doubted us after we lost two games in a row, but we kept fighting and returned to the Coliseum and finished our unfinished business.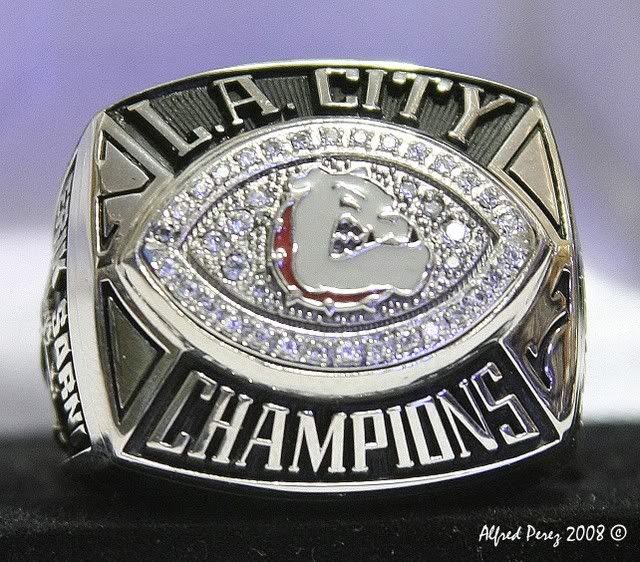 By RON GUILD, Sports Editor 13.DEC.07

Franky Diaz memories of games at the Coliseum range from the good to the bad.

He recalls attending the East L.A. Classic as a grade schooler when the Roosevelt-Garfield rivalry was held there. Last season, he was part of a Garfield High School team that suffered a gut-wrenching 21-17 loss to Eagle Rock in the City Section Invitational Division championship game.

As a backup to a pair of All-City running backs, he wasnt able to influence the 2006 game that much.

That he played a lead role this time made it even more satisfying for the junior tailback, whose 30 carries for 196 yards, including the game-deciding 48-yard touchdown run in the third quarter, helped Garfield defeat University, 28-23 last Friday in the Invitational final.

The feeling is unexplainable, especially coming from last year,he said. I saw the tears in my brothers (Miguel, a free safety and wide receiver now at UC Davis) eyes last year (following the loss) and I knew I didnt want to feel that way again.

He certainly likes this feeling.

Ive been here at the Coliseum watching the Classic when I was in the second or third grade, so this is something Ive always dreamed about.

Coach Lorenzo Hernandez, who directed Garfield to the second City title (it won the 2-A crown in 1981) in school history, said, This is a great feeling, something Ive always dreamed about. I really wanted this for the kids. Its all about them. They worked so hard and earned it.

When you consider the history, that this was only the second City championship in school history, it starts to sink in.

This was kind of bittersweet because we should have had it last year. We never won in the Coliseum when the Classic was here. I was feeling we were kind of hexed.

This was a clash of styles: Garfields ball-control power-I against Universitys big-play option offense.

The Bulldogs (11-3) won out, but it was more a matter of survival than anything.

Seemingly every time Garfield scored, the Wildcats (9-5) would answer with a quick strike.

In the opening quarter, Garfield went on a 99-yard, five-play drive, capped by Sergio Macedos 27-yard run, to take a 6-0 lead that would last all of 45 seconds.

Trayone Harris then went 64 yards on the first play following the kickoff to get the Wildcats even. Andy Campos kick gave them their only lead.

In period number two, fullback Eddie Valencias one-yard scoring run ended another Bulldog drive that led to a 14-7 lead. Less than two minutes later, University tied the score at 14-14 on a 26-yard run by Travis Rawls.

A 10-yard scoring pass from Patrick Vargas to Adrian Longoria gave Garfield the lead again at 21-14 with 6:50 left in the third quarter.

Not even a squib kick on the next play could save the Bulldogs. Harris fielded the high bouncer and raced 71 yards for the tying score.

Even after Diaz 48-yard run gave them the lead for good at the 4:54 mark of the third quarter, the Bulldogs had to withstand a few nervous moments.

They stopped them on downs once at the seven, then again in the closing moments. When Lanny Delgado batted down a fourth-down pass intended for Harris in the end zone with 1:02 left, Garfield was almost home-free. They still needed to run out the final seconds and on the final play, Vargas took an intentional safety by running into the end zone as time expired.

They were so athletic, Hernandez said of the Wildcats. We tried to kick short on them and they still bust it.

A 311-yard rushing effort, led by Diaz, fullback Omar Hernandez (10 carries for 70 yards) and Macedo (nine for 57), enabled Garfield to win the time-of-possession battle. Harris (16 carries for 116 yards) and Rawls (14 for 116) helped University averaged 6.5 yards per carry.

Defense was huge for the Bulldogs.

Senior middle linebacker David Lopez was all over the field making plays behind or near the line of scrimmage. He had 10 tackles, including three for loss, two others for no gain and a sack.

Our defense is the strong point of this team, Hernandez said. Lopez had the kind of game Division I (college) schools will measure him by.

For Garfield, the only thing better would be a return to the Coliseum next year to defend its title.

Were going to be back next year and do it again, Diaz predicted.