COACHES CERTIFICATIONS USAW
Perry Hall Jr. Wrestling (7 Basic Skills)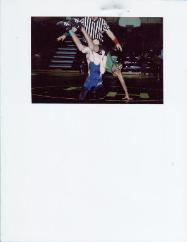 Stance / Movement
Level Changes
Penetration Step
Lifting
Back Step
Back Arch
Hip Heist
Scoring in Wrestling
While the ultimate goal in Wrestling is to PIN your opponent it is also possible to win on points.
This is a list of Possible scoring methods in wrestling:
Individual Matches:
Takedown = 2 Points
(Takedowns are scored from nuetral by taking your opponent to that mat in a "Controlled" position.
Escape = 1 Point
(Escapes are scored from the bottom position by gaining a nuetral position from the defensive start position.
Reversal = 2 Points
(Reversals are scored from the bottom position by gaining an offensive position from the defensive start position.
Near Fall = 2,3 or 4 Points
(Near Falls are scored from Top/Offensive position or from nuetral once a takedown is secured if the opponent lands on his back the number of seconds determine the amount of points.
Penalty Points = 1 or 2 Points
(Penalty points are awarded for numerous technical violations like a false start, illegal move, unsportsmanlike conduct, stalling, locking hands on top etc...
Team Scoring
Team Points are awarded after the conclusion of each weight class during dual meet competition to determine the Team Winner as Follows:
Individual Wins:
1-7 Point Win = 3 Points
8-14 Point Win = 4 Points
15+ Point Win = 5 Points
Pin/Forfeit/Disqualification = 6 Points
Team Points may also be taken away 1 or 2 because of Unsportsmanlike Conduct Violations.
Various Information for Parents and Athletes
BASIC MOVES
FROM THE NEUTRAL POSITION:

THE DOUBLE LEG TAKEDOWN (WHICH IS WHERE YOU USE YOUR STANCE, MOVEMENT, LEVEL CHANGE AND PENETRATION STEP IN ORDER TO SECURE BOTH LEGS FROM THE STANDING POSITION AND GAIN CONTROL OVER YOU OPPONENT ON THE MAT)

THE SINGLE LEG TAKEDOWN (SAME AS ABOVE BUT YOU GO FOR 1 LEG ON YOUR SHOT)


THE SPAWL / WIZZER AND CROSSFACE (IS DEFENSE AGAINST A SHOT IN ORDER TO PREVENT THE TAKEDOWN)

CEMENT MIXER (IS WHERE YOU SECURE THE HEAD ON THE HIP AND UNDERHOOK THE NEAR AND THEN WITH A TWISTING MOTION PUT THE DEFENSIVE WRESTLER ON HIS BACK, YOU CAN GET INTO THE CEMENT MIXER FROM TOP BY SPINNING TO THE FRONT, BY SPRAWLING FROM NEUTRAL OR BY SNAPPING THE WRESTLER DOWN WHILE ON YOUR FEET.)


FROM BOTTOM:

STAND UP
SIT OUT

(BOTH THESE MOVES REQUIRE YOU TO MAINTAIN A PROPER BASE AND SECURE HAND CONTROL BEFORE MOVING ONTO THE STANDING OR SITTING POSITION, DIFFERENT FINISHES ARE INVOLVED TO SECURE AN ESCAPE OR REVERSAL DEPENDING ON WHAT YOUR OPPONENT DOES TO COUNTER)


FROM TOP:

BREAKDOWNS: (TIGHWAIST AND ANKLE / NEAR SIDE CHOP / SPIRAL BREAKDOWN)
ARE ALL TECHNIQUES USED TO BREAKDOWN THE BOTTOM WRESTLER OFF HIS BASE AND PREVENTING HIM FROM ESCAPING AFTER YOU ACHEIVE A BREAKDOWN YOU THEN SHOULD MOVE INTO A PINNING COMBINATION TO SCORE POINTS.

HALF NELSON: (UNDER THE NEAR ARM AND ON TOP OF THE HEAD OR BACK OF THE NECK) YOU CAN USE A FAR WRIST LOCK OR NEAR LEG LOCK IN CONJUNCTION WITH THIS TECHNIQUE TO TURN THE BOTTOM WRESTLER.

DOUBLE ARM BAR OR CHICKEN WING: (OVER BOTH ARMS AND LOCKED ON THE BACK, ONCE YOU GET YOUR LOCK YOU MOVE OUT TO 1 SIDE AND HIGH LEG AND LOW LEG OVER THE BOTTOM MANS CROSS SHOULDER TO TURN HIM.


Commitment
November 28, 2005
Successful Wrestlers all have the following qualities, Commitment / Sacrafice, Dedication. These qualities are key for a young athelete to develop his skills. This sport unlike others also demands parental support, which also means self-sacrafice by supporting your son through the good and bad by giving up the shopping days to watch your childs development, The dedication and commitment to make sure your child is properly prepared and at all his scheduled events... The fact is most people are not willing to do what it takes to become a champion!
Champions are made, not Born!
The young wrestler needs all the support he can get from his coach, parents and teammates in order to reach the level of high caliber wrestling!
From my years in coaching, I've learned through my wrestlers what it takes in order to push them to that level. I've coached over 30 National Place Winners and Many State Champions during my 9 year run and plan to continue the trend. It's been my experience that the "Best Wrestler" or Athelete is not neccessarily the MOST successful. The guy who works the hardest and is in the best shape and is the most committed will always prevail over talent. Talent alone is not enough, Mental Toughness is the true key to making a Champion!
Mental Toughness can best be described from Mark Mynsk's Book Wrestling The Hawkeye Way as:
The average man will quit when he gets tired,
A Good man will push beyond the point of being tired until his mind say to stop.
While the Best know that the Mind is weaker than the body and continue to push beyond all bounderies.... Only when all bounderies are broken can true greatness be achieved!
No Life
I've heard the term in the past and recently "do you not have a life?"

the context of someone saying that used to get under my skin, but as you do something long enough and put your heart and soul into something.......you realize the fact that you've just made a committment that most are not willing to do!

12 years of coaching, US ARMY Service prior to that and High School and Youth Wrestling before that have taught me the following:

1. Committment at the level to achieve excellence is not only rare, it's rarely seeked!

2. You don't have to like what your doing, You just have to do it!

3. Losing is contagious and by the same hand so is winning!


So looking back over the last 20 or so years, Do I feel Like I've wasted my time?


I took this team over (my childhood team in 97' because noone else would and it would have folded if I'd not.) at the time I knew nothing about coaching other than imitating what was done when i was a child..........so, I stumbled my way through the first couple years and 12 years later.........and 40 or so national place winners later, dozens of tournament champions, state qualifiers, varsity wrestlers and hundreds of just regular kids............

I ask Myself: Do I feel like I've wasted my time or have no LIFE?

My answer is.....................This is my life, and I wouldn't want to be doing anything else everything i've done has been for these young men and one day they will become men and remember there coach and what he meant to them.......................and thanks to all that have given and will give for the benefit of those who will not!

Our Mission
The mission of the Perry Hall Junior Wrestling program remains the same as it has the past 4 decades.
To develop young men into good high school wrestlers and to improve athletic development for the boys that grace our program.
While everyone will not develop into a champion wrestler or even a champion athlete. It is our belief that the work ethic, dedication, sacrifice, leadership, team work and lessons taught in wrestling will be used during the course of the boys development into manhood and hopefully will help him down the pathway of years that we call life.

This coming season marks the 40th anniversary of the Perry Hall Junior Wrestling Program and through out the years the program has developed some of the States best wrestlers, coaches, officials as well as some great men who have become fathers themselves and will continue the traditions by passing the lessons they learned as a youth to their own children!

While the lunatic fringe of society will go to any extreme to win at all costs. The Perry Hall program takes great pride in the fact that the Team has always been a community program that manages to shine above the masses while using the talent of the Perry Hall town.

Perry Hall is located in Northeast Baltimore County with an approximate 12 Square Mile area! Perry Hall is surrounded by other suburbs on all sides that each have their own programs in place, yet none have equalled the accomplishments of our program!

As the next decade of Perry Hall Wrestling begins to unfold the members of the Old Era continue to influence the directions of the New! And that has been the key to the programs success the young learn from the old and make the future their own!




Being Successful
November 7, 2013
There is one undeniable fact about life that i would like to share.
The one thing that you can never get more of is TIME.
All successful people realize this one important fact!
Those who understand this fact realize that in order to be successful, you simply have to do the very best you possibly can in the alotted time given.  If you do this you most certainly will be successful.  This can be transfered to any aspect of life including sports, work, school, and relationships.
Success is not achieved by luck or good fortune with any consistancy,  Success is achieved by hardwork and dedication.  So simply put do your very best at every single task that you set out to do and when you reflect back on things you will know you did everything you possibly could to achieve your goals.
MOTIVATIONAL QUOTES
I dont want to give my opponent the satisfaction of watching me celebrate, which would make it look like a big deal that I beat him. -Brent Metcalf

Most men quit when they begin to tire.
Good men go until the point of collapse.
But the very best know the mind is weaker then the body and push themselves further beyond all limits.
Only when all limits are broken can true greatness be achieved.


Mark Mynsk
Wrestling The Iowa Hawkeye Way



The Man in the Glass

by Dale Wimbrow, (c) 1934

When you get what you want in your struggle for self,

And the world makes you King for a day,

Go to the mirror and look at yourself,

And see what that man has to say.


For it isn't your Family or Friends

Whose judgement upon you must pass.

The fellow whose verdict counts most in your life

Is the man staring back from the glass.


He's the fellow to please, never mind all the rest,

For he's with you clear up to the end,

And you've passed your most dangerous, difficult test

If the man in the glass is your friend.


You can fool the whole world down the pathway of years,

And get pats on the back as you pass,

But your final reward will be remorse and regret

If you've cheated the man in the glass.


"Do Not Pray for an easy life,
Pray for the strength to endure a difficult one." - Bruce Lee

"I welcome you to the community of people who have decided that easy will no longer suffice." - RIP


"If at first you don't succeed....
Try doing what your coach told you to do the first time."



Dual Meet Format
SOME INFORMATION ABOUT THE DUAL MEET FORMAT OR MATCHES.

IN A DUAL, TRI OR QUAD MEET
TEAMS COMPETE VS EACH OTHER BY WEIGHT CLASS IN ORDER TO ACCUMULATE TEAM POINTS FOR A TEAM TOTAL EACH INDIVIDUAL MATCH DURING THE MEET HAS THE POSSIBILITY OF GAINING 6 POINTS FOR THE TEAM DEPENDING ON THE OUTCOME.

IN INDIVIDUAL MATCHES:
A WIN BY 7 POINTS OR LESS IS A DECISION WIN AND WORTH 3 TEAM POINTS
A WIN BY 8-14 POINTS IS A MAJOR DECISION WIN AND WORTH 4 TEAM POINTS
A WIN BY 15 POINTS OR MORE IS A TECH. FALL AND WORTH 5 TEAM POINTS
A WIN BY PIN / FORFIET / DISQUALIFICATION OR DEFAULT IS WORTH 6 TEAM POINTS

DURING A TEAM MATCH EACH TEAM CAN USE 1 WRESTLER IN EACH OF THE FOLLOWING WEIGHT CLASSES THAT COUNT TOWARDS THE TEAM SCORE;

55 / 60 / 65 / 70 / 75 / 80 / 85 / 90 / 95 / 100 / 107 / 115 / 122 / 130 / 140 / 150

At the end of those weight classes a TEAM WINNER IS DETERMINED BY THE TEAM THAT HAS THE MOST POINTS.

Since we have several wrestlers in each weight class and some that are over 150lbs those wrestlers would compete in individual exhibition matches in conjunction with the TEAM MEET. Remember every match that you wrestle regardless of it being for team points or exhibition counts towards your individual record. So do not think because you may not be the "starter" that your match does not count.

THE STARTER IN EACH WEIGHT CLASS WILL BE DETERMINED BY THE HEAD COACH PRIOR TO EACH DUAL MEET. IN MOST CASES IT IS PRETTY OBVIOUS WHO THAT INDIVIDUAL IS. KEEP IN MIND THAT DURING TEAM DUAL MEETS I DO WHAT I CAN WITH THE LINE UP TRYING TO GET MATCH UPS THAT FAVOR US AND TRY TO WIN THE TEAM MATCH WHEN POSSIBLE. SOME STARTERS MAY BE BUMPED UP A WEIGHT CLASS SOMETIMES IN ORDER TO ACHIEVE THIS, I DON'T SEND WRESTLERS OUT THAT I KNOW HAVE NO CHANCE OF SUCCESS SO BE READY TO WRESTLE AT EVERY MATCH.


TOURNAMENTS WHICH YOU ARE PLACED IN AN INDIVIDUAL BRACKET ARE THE TIME FOR INDIVIDUAL ACHIEVEMENT.


THANKS,

COACH DOUG
MARYLAND JUNIOR WRESTLING LEAGUE BY LAWS
Before You Leave, Please Sign Our