Welcome to the Home of Centerville Elks High School Baseball. Follow us on Twitter @CHSElkBaseball
Please take a moment to explore the site!!
Division 1 District Championships - 2017, 2018
GWOC Championships - 2004, 2007, 2008, 2009, 2011, 2012, 2013, 2016, 2019
Look under "Pages" (above right) for more web pages and information
Welcome to the Home of Centerville Elks High School Baseball
Embrace Your Opportunity
(Invested or Interested)
---
Welcome New Elks Baseball Varsity Head Coach - Jason Whited
"I would like to take this opportunity to express how humbled and excited I am to be selected as the next Centerville Elks Varsity Baseball Coach.  As we all know this is one of the most respected and successful baseball programs in the state of Ohio and I look forward to embracing my opportunity of carrying on such a strong tradition.  I look forward to working with the coaches, administration, support staff, guardians and, most especially the players, to help continue the tradition that Coach Terry Dickten and Coach Tim Engleka have established.  It shows how unique of a program this is when you see that only two head coaches have served since 1964 and am once again unbelievably excited to be named the third in the last 50 years."  
- Varsity Head Coach Jason Whited
Focus of the CHS Baseball coaching staff 
Teach Young Men the Centerville Baseball Way via 4 Core Values called: 
"Elk FAST -

F

AMILY

A

TTITUDE 

S

KILL

T

EAM"

Teach Young Men Accountability & Responsibility.

 

Every practice, game, drill, rep can be a way to prove to your teammates you can be relied upon.

 

Earn the trust of your teammates through your actions and character.
Teach Young Men Life Lessons.

 

Overcome adversity, failure, and never settle.

 

Life is full of obstacles, Embrace them rather than run.
Teach Young Men Discipline.

 

Self-Discipline is developed through work ethic, habits, and character.

 

"For what is each day but a series of conflicts between the right way and the easy way?" -Jim Schlossnagle
Teach Young Men to Focus on Process Rather than Results.

 

Process is the focus, not results.

 

Emphasize the things we can control.
Teach Young Men the Proper Way to Compete.

 

Compete against your opponent, teammates, and most importantly yourself.
Elk Pride, Respect, Commitment and Hard Work are the foundation upon which our Tradition is built.
Thank you for visiting our website and for your interest in the Centerville Elks Baseball Program.
Jason Whited
Head Baseball Coach
ELK FAST
---
---
2019 - 2020 Fall & Winter Hitting Lessons and Winter Camp Info
Centerville Elks Baseball 2019-2020 Youth Opportunities
We are happy to announce the details of the 2019-2020 youth baseball opportunities presented by Centerville Elks Baseball.  We will begin our youth hitting lessons Monday September 30th and will run until February 10th.  Below is a description of the opportunities and attached is full details.  We look forward to working with the future of our program and excited to build relationships with the youth of Centerville Baseball.  Please do not hesitate to reach out with questions.
Youth Hitting Lessons-Monday Evenings beginning on September 30th and ending on February 10th (20 Total Lessons) K-8th
These lessons allow us to work on the core fundamentals of the swing mechanics but also emphasize the aspects of situational understanding and promoting competition.  We will utilize new technologies such as Rapsodo and Blast Motion to give players an advanced look into their swing and to provide visual feedback on improvements.  The lessons will have two time slots available (5PM-6PM and 6PM-7PM) and open to all players K-8th.  It is not necessary to attend all lessons to be able to participate in this opportunity and we are flexible to help allow players to attend as many sessions as they able to. 
Lessons will be broke up into 5 week sessions and will have a competitive aspect including:  Hard Hit Contact Percentage (3-8%), Quality at Bat Percentage, Extra Base Hit Percentage, and Situational Execution. We also are willing to schedule times for full team training or additional private lessons.  These full team training times were a huge success last year and we hope to be able to continue utilize going forward.  Email Coach Whited if interested in these options.  
Winter Baseball School – Thursday January 2nd and Friday January 3rd 9AM-3PM (LOCATION TBD)
Winter baseball school is an opportunity to work indoors on some of the finer skills of baseball while also teaching our core values and cultural constants.  The camp will begin at 9AM and run until 3PM both days with a 30 minute lunch break (lunch not provided) at 12PM.  Numerous prizes and competitions will take place along with several guest speakers.  Each camp participant will receive a tee shirt.
Click here for more details.
---
Varsity Schedule - 2020
We look forward to a challenging schedule once again with games against a very talented GWOC league (Beavercreek, Fairmont, Springfield, Wayne), Elder (Opener), Olentangy Orange (PBR Showcase at Chillicothe Paints Stadium), Anthony Wayne (PBR Showcase at Defiance), Moeller, Lasalle, St Xavier, and a game at Great American Ball Park once again.  Our goal is to prepare to play Best Game Last and challenge our young men on and off the field and feel this schedule will help accomplish that.  As always this is preliminary and subject to change.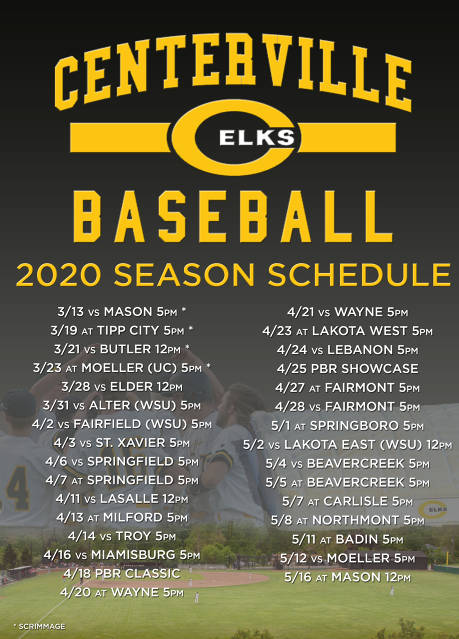 ---
2019 Varsity Season Video
Video shown at season banquet.
Click the Play button above.  Or, click here to view the video in a larger, separate window and/or to download.  (Turn up your speakers.)

---
Slideshow: 20190523 vs Elder - OHSAA District Championship Game
---
Slideshow: 20190510 vs Badin - Senior Night
Pregame Activities with Seniors and their Family:
The Game:
---
Slideshow: 20190507 vs Moeller - Herd Appreciation Night
---
Slideshow: 20190429 vs Beavercreek - Military Appreciation Night
---
Slideshow: 20190427 vs Milford at Great American Ball Park
A few more pictures than normal...not everyday you get to play your game at the Home of the Reds (Great American Ball Park)!
---
More Slideshows
Older 2019 Slideshows are located under "Pages" (top menu) then "Photos - Slideshows".  
---
2018 Division 1 District Champions!!!
6th District Title in CHS Baseball History, and first ever back to back seasons!
Congratulations, ELKS!
---
2017 Division 1 District Champions!!
---
2019 Varsity Team, Captains, Seniors, and Returning Lettermen
 Varsity Team
Varsity Team Captains - Lieberman, Smith, Hoffmann, Colopy
---
Seniors - (FR) Lieberman, Moyer, Hendrixson, Walch, (BR) Jenkins, Smith, Hoffmann, Colopy, Hill
---
Returning Lettermen - (FR) Lieberman, Smith, Jenkins, Hoffmann, Colopy, Hill, (BR) Moyer, Stahl, Requarth, Hendrixson, Walch
---
---
2019 Junior Varsity Team and Team Captains
 Junior Varsity Team
 Junior Varsity Team Captains - Kent, Robinson
---
2019 Freshman Team
---