Visit us on Facebook!
Get ready for 3v3 action in Joyce park in 2018!
Check Facebook for tons more photos of our events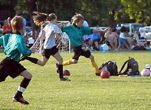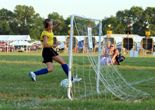 Cincy 3v3 - Cincinnati's Original Youth 3v3 League
We're proud to present Cincinnati's best 3v3 soccer
Update (6/11/18):  Cancellation of 2018 League Events:  Over the last 10 years, we've prided ourselves on putting on the best youth soccer development league for area teams and in the past we've had overwhelming support from teams in the area.   
Unfortunately, with our current amount of 2018 registrations, we feel that we would not be able to offer a quality, competitive opportunity for all families and players involved.  As a result, we have elected to cancel the league for this summer.  
We'll be processing refunds for all teams that have paid thus far.  

 Cincy 3v3 2018 League rules

Find out more about the league, including FAQ's
Be sure to check us out on Facebook!  Photos, info and more! 
---
Some 3v3 action photos from one of 2017's events...
2017 Photo Contest: Grab your camera (or phone), snap pics of your team in action and submit your entry today!  The best photos capturing the Cincy3v3 atmosphere can win prizes!  Send all entries to cincy3v3@gmail.com    
To see 2016 photo contest entries, check out our Facebook page.  For previous years, see the photo contest gallery portion of this site. 
---
Cincy 3v3 is proud to recognize its Official T-Shirt sponsor: