Skippy Goes Out in Style
Bob Rosario umpired his last game as a 30 year Volunteer Umpire for Little League at the Majors State Tournament in Aliso Viejo.
Thanks for all of the great memories and dedication to Little League and D31 Skippy!
---
Jonas Jackson at the Western Region
Jonas enjoyed a fantastic tournament and was awarded first base for the Championship Game. Way to go Jonas!
---
All Star Tournament Crews in Action!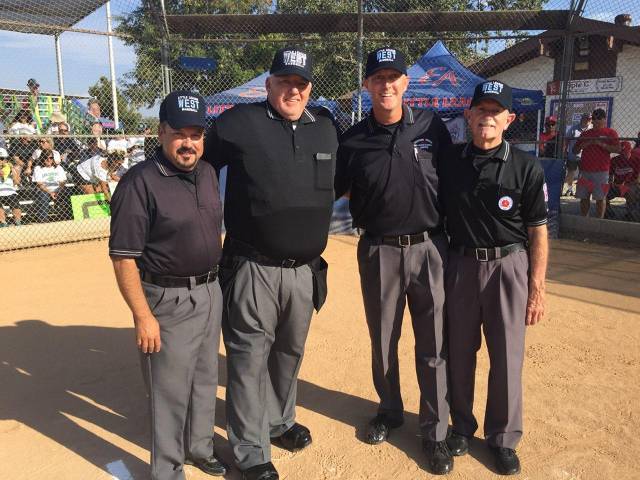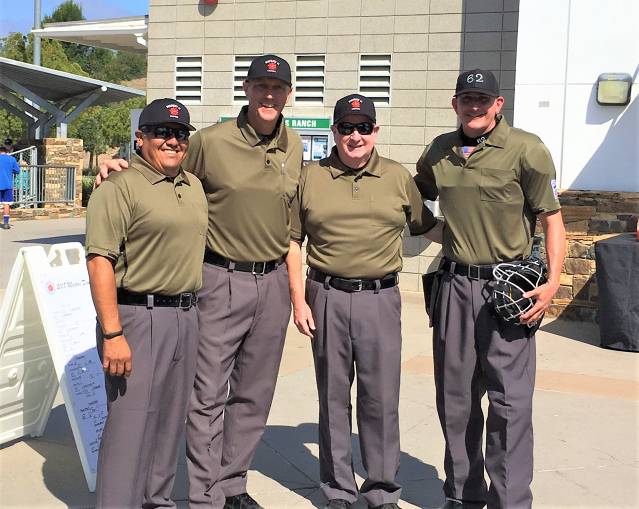 ---
D31 Staff Umpires Shatter Another Record

Our Volunteer Staff Umpires worked 403 assignments during the regular season in 2018!
This shatters the 2017 record of 385.
Congrats on a FANTASTIC season in our 14 leagues!
---
The "Deacon" goes Pink at the WR
2018 WR Softball Umpire Jonas Jackson and D31 Staff Umpire Jim Clark
work the Championship game during a recent softball tournament at the Western Region.
---
D31 Outreach Days Complete
In 2018, D31 had Outreach Days in 12 of our 14 leagues.
Now that's quite the "reach"!
---
Leagues Donating to the Coffey Fund
A huge THANK YOU to 4S Ranch, Rancho Bernardo,
Poway National, Encinitas, Rancho Santa Fe and Poway American 
for their generous donations to the D31 John Coffey Award fund. 
---
D31 Staff Looking Sharp in Red
Staff Umpires Dave Miller, Ken Judd and Paul Green rock the
"Alternative Red" on a weeknight game at PNLL.
---
The Umpire Registry is now FREE!

 Little League is now using the Umpire Registry to track Volunteer Umpires and house their Little League Umpire career resumes. LL will also use the Registry to accept Post Season Tournament Umpire requests eliminating all of the paperwork as needed in years past.
---
D31 Clinics Another MONSTER Success
We set attendance records once again with over 100 attendees at our
Rules and Umpire Mechanics Clinics. Bring on the Little League Season!
---
District 31 at the Little League Congress
D31 UIC Dave Miller attended the LL Congress in New Orleans and had the pleasure of meeting and listening in on breakout sessions by MLB Umpire Gerry Davis and ESPN baseball analysts Kyle Peterson and Jessica Mendoza.
---
LL Congress Votes on New Rules for 2018
Delegates to the 27th Little League International Congress, completed January 22nd in New Orleans, voted on 13 potential rules and regulation changes, with 11 of them voted in, approved by the Little League Board of Directors, and to be implemented for the 2018 season.
Seven of these new rules and regulations go into effect with the start of our 2018 regular seasons, two will apply to tournament play, and one tournament rule (with a local league option for regular season) is still being finalized and we will expect a further update on that. One rule affects only softball programs.
Regular season rules which have been approved include:
• Allowing leagues to set their own minimum/maximum number of players of a single age in any division
• Pitchers are no longer allowed to pitch more than two consecutive days (even if under the 20-pitch limit for no days of rest)
• Games suspended in the first inning will now be resumed from where they stopped
• Minimum schedule for Seniors Division play is now just 10 games
• In 9-batter lineups, substitution rules will now follow tournament rules
• In addition to the current 10-run rule, a 15-run is available one inning earlier
• In Majors division and above, managers' mound visits are reduced by one from previous rule
Changes for tournament play include:
• League age 11 and 12-year-old players who participate in 60% of an Intermediate team's games are also eligible to play on a Majors tournament team
• Use of an ineligible player during tournament games will be grounds for that team's complete removal from the tournament
A rule affecting the enforcement of mandatory play during tournament action is under further review, with an expectation of final decisions prior to the start of this year's tournaments.
For more complete descriptions of of the rules approved, along with complete records of District Administrators' vote totals from Congress, click on the Handouts below.
---
2017 Workhorse Award Winner
Congrats to Staff Umpire Shu Zhu for winning the
prestigious D31 Workhorse Award. Shu umpired
44 regular season games during the 2017 Little league season!
---
Little League Volunteer Umpires Support Chelsea
Over 100 Volunteer Little League Umpires from all over the West Coast
converged on San Marcos to support the community and Chelsea's Light Foundation.
It was a GREAT weekend for D31 to umpire and network
with the other fantastic umpires that support LL baseball.
---
Miller Honored with Northwest Championship Plate
Dave Miller worked 10 games over 7 days at the WR LLBB tournament
and was awarded the Northwest Championship Plate.
This made D31 Umpires 3-3 in WR plates for 2017!
---
Wimbrough Honored with Championship Plate at WR
Jeff Wimbrough in all his glory at Western Region Majors Softball.
He made us all very proud and was honored with the Championship Plate!
---
Heath Honored with Championship Plate at WR
Heath had an incredible tournament on and off the field at the
Western Region Intermediate Division Tournament in Nogales Arizona.
Heath received the honor of the Championship Plate! Way to go Heath!
---
D31 Crew on the Majors SoCal Championship Game
D31 had the honor of umpiring the Majors SoCal Championship Game for the
second year in a row. Green, special guest Rutz, Miller and Judd got the job done!
---
Millon's Final Game with D31
Andy Millon and Crew in Long Beach at the Majors SoCal Division Tournament.
Andy took the plate for his final game as a D31 Umpire and knocked it out of the park.
---
Former D31 Staff Umpire Climbing to MLB
We are extremely proud of former D31 Staff Umpire Mike Cascioppo.
Mike was promoted to Crew Chief for the 2018 AAA Minor League Season!
---
Aloha from Los Angeles
D31 Staff Umpires Millon, Zhu, Judd, Wimbrough, Graupmann and Ewan
spent the day in Los Angeles Volunteer Umpiring the 2017 Flynn Cup Softball Tournament. 
No one wears Palm Trees and Sunsets like this group!
---
District 31 World Series Umpire Jim Clark
Look who showed up on a recent email blast from Little League International!
Our own Jim Clark in all his glory at last year's Softball World Series in Kirkland, WA. 
---
D31 Staff Supporting Breast Cancer Awareness
Staff Umpires Gary Graupmann, Mike Cascioppo and Dave Miller join 
Western Region UIC Mark Bernstein for a day on the links to
support Breast Cancer Awareness.