2018 John Coffey Award Recipient
Congratulations to John Guerra of 4S Ranch LL
for receiving the distinctive honor of being selected
as the 2018 recipient of the John Coffey Award!
---
D31 Welcomes 2 New Staff Umpires
Congrats to John Guerra and Bill Gee
of 4S Ranch LL for being selected to the Staff of D31 Umpires!
---
WR Clinic Dates Announced
2018
UIC CLINIC (11/9-11)
2019
RULES I (1/18-19)
 RULES II (2/22-24)
 WEEKEND MECHANICS (2/22-24) 
WEEKLONG ACADEMY (2/9-15)
---
Skippy Goes Out in Style
Bob Rosario umpired his last game as a 30 year Volunteer Umpire for Little League at the Majors State Tournament in Aliso Viejo.
Thanks for all of the great memories and dedication to Little League and D31 Skippy!
---
Jonas Jackson at the Western Region
Jonas enjoyed a fantastic tournament and was awarded first base for the Championship Game. Way to go Jonas!
---
All Star Tournament Crews in Action!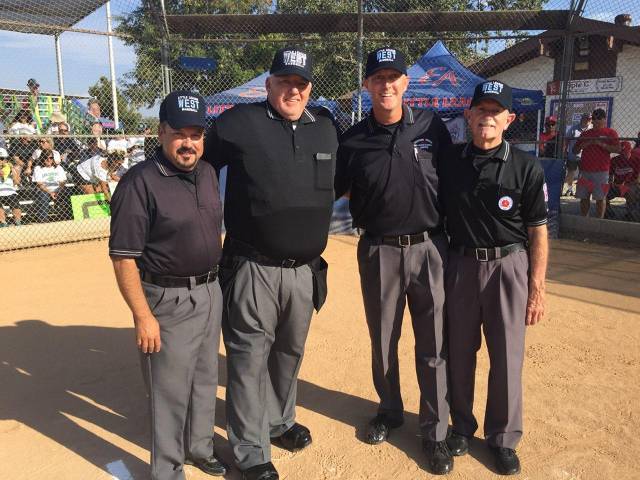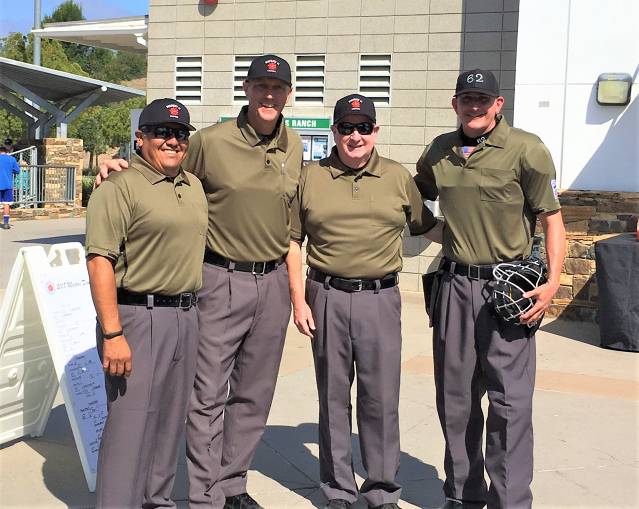 ---
D31 Staff Umpires Shatter Another Record

Our Volunteer Staff Umpires worked 403 assignments during the regular season in 2018!
This shatters the 2017 record of 385.
Congrats on a FANTASTIC season in our 14 leagues!
---
D31 Outreach Days Complete
In 2018, D31 had Outreach Days in 12 of our 14 leagues.
Now that's quite the "reach"!
---
Leagues Donating to the Coffey Fund
A huge THANK YOU to 4S Ranch, Rancho Bernardo,
Poway National, Encinitas, Rancho Santa Fe and Poway American 
for their generous donations to the D31 John Coffey Award fund. 
---
The Umpire Registry is now FREE!

 Little League is now using the Umpire Registry to track Volunteer Umpires and house their Little League Umpire career resumes. LL will also use the Registry to accept Post Season Tournament Umpire requests eliminating all of the paperwork as needed in years past.
---
D31 Clinics Another MONSTER Success
We set attendance records once again with over 100 attendees at our
Rules and Umpire Mechanics Clinics. Bring on the Little League Season!
---
District 31 at the Little League Congress
D31 UIC Dave Miller attended the LL Congress in New Orleans and had the pleasure of meeting and listening in on breakout sessions by MLB Umpire Gerry Davis and ESPN baseball analysts Kyle Peterson and Jessica Mendoza.
---
Former D31 Staff Umpire Climbing to MLB
We are extremely proud of former D31 Staff Umpire Mike Cascioppo.
Mike was promoted to Crew Chief for the 2018 AAA Minor League Season!
---
District 31 World Series Umpire Jim Clark
Look who showed up on a recent email blast from Little League International!
Our own Jim Clark in all his glory at the Softball World Series in Kirkland, WA. 
---
D31 Staff Supporting Breast Cancer Awareness
Staff Umpires Gary Graupmann, Mike Cascioppo and Dave Miller join 
Western Region UIC Mark Bernstein for a day on the links to
support Breast Cancer Awareness.