2019 Fall Ball Registration Has Closed!
Good luck to the WWSO Low Minors, Minors and Majors teams this fall!
---
Blue Thunder Travel Softball Tryouts
Tryouts will be held for the Blue Thunder travel softball teams. Please contact Tom Mitchell with any questions about tryouts at tmitchell81@gmail.com.  
10U - 2009/10 Birth years - 7/25/2019 6p to 8p; 8/1/2019 6p to 8p - Tryouts held at Barness Park on Majors Field
12U - 2008 Birth year - 7/30/2019 6p to 8p; 8/1/2019 6p to 8p and 8/8/2019 6p to 8p - Tryouts held on Barness Parks Low Minors field 
12U 2007 Birth Year - 7/21/2019 from 4pm to 6pm and 7/24/2019 from 6pm to 8pm - Tryouts will be held on Barness Parks Majors Field
14U 2006 Birth Year - 7/23/2019 6p to 8p; 7/25/2019 6p to 8p and 7/30/2019 6p to 8p Tryouts will be held on Dark Hollow aka Hampton Chase Park Back Field
14U 2005 (CHAOS East) - 7/18/2019 6p to 8p; 7/20/2019 10a to 12p; and 8/6/2019 10a to 12p.  Tryouts will be held on Dark Hollow aka Hampton Chase Park Front Field
Information about tryouts, coaches, teams, and news can be found at our website bluethunderfastpitch.org
---
Follow WWSO on Facebook and Instagram!
---
New WWSO Golf Cart!
Brian Webb recently delivered the new Webb Building Group golf cart that he very generously donated to WWSO! The golf cart will be used to transport food and drinks from the Snack Stand out to the fields, haul materials for field maintenance, and provide transportation from the parking lot to the fields for those who may need assistance.
Brian, we appreciate your generosity as well as all of your hard work and dedication to the WWSO Board. Thank you!
---
WWSO Goes to Bat Against ALS!
WWSO Blue Thunder players and their families recently teamed up off of the softball field to raise money and awareness of a lethal disease and salute coach Greg Heydet. Coach Heydet has been battling ALS (Lou Gehrig's Disease) since 2009. ALS is a progressive neurodegenerative disease that affects nerve cells in the brain and spinal cord. More than 5,000 people in the US are diagnosed with ALS each year and there are more than 20,000 Americans living with ALS at any given time.
If you'd like to learn more about ALS and how you can also participate in raising funds and awareness, please visit the ALS Association website.
(Picture 1) Mia and Alyssa Klein sold lemonade this summer to raise money for the cause. They presented a check for $510 in Coach Heydet's name to the National ALS Foundation!
(Picture 2) The 2006 Blue Thunder 12U team, parents and families participated in the 11th annual Hope Walk for the ALS Hope Foundation at Temple.
Thank you WWSO/Blue Thunder girls and families for your efforts in this very worthwhile cause and for supporting Coach Heydet!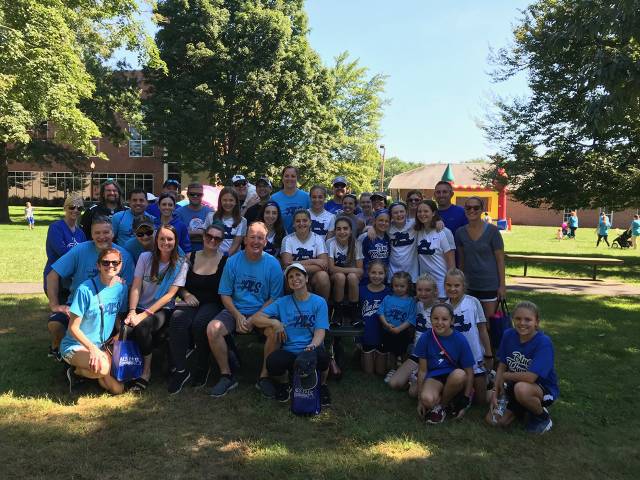 ---
Reminder: No Metal Cleats for In-House Games
Parents, in 2018 we will continue the WWSO policy of not allowing the use of metal cleats for in-house games.
---
2019 Clearance Requirements for Volunteers
In 2015, the Commonwealth of Pennsylvania revised the law on establishing requirements for background checks for volunteers who interact with children. 
Who needs clearances?
Under Pennsylvania's Child Protection Services Law ("CAPS"), any volunteer at least 18 years of age who is seeking an unpaid position as a volunteer responsible for the welfare of a child or having direct contact with children.  This applies to all individuals that will be a head coach, assistant coach, umpire and all Board Members.
Which clearances are needed?
All prospective volunteers must obtain the following clearances:
Report of criminal history from the Pennsylvania State Police (PSP); and

Child Abuse History Clearance from the Department of Human Services (Child Abuse).
Additionally, a fingerprint based federal criminal history (FBI) submitted through the Pennsylvania State Police or its authorized agent is required if:
The position the volunteer is applying for is a paid position; and

The volunteer has lived outside the Commonwealth of Pennsylvania in the last 10 years.
Volunteers who are not required to obtain the FBI Clearance because they are applying for an unpaid position and have been a continuous resident of Pennsylvania for the past 10 years must swear or affirm in writing that they are not disqualified from service based upon a conviction of an offense under §6344.
All volunteers will be required to obtain renewed clearances every 36 months.
Additional Background Checks:
As in the past, WWSO will continue to require that all of its volunteers submit annually to a national criminal background check.  All applicants must submit their information by completing the Consent to Perform Background Check.  The form is secure and information that is submitted is securely stored and encrypted.
Payment for Background Checks: Volunteers are entitled to receive one (1) CAPS child abuse clearance and one (1) CPSL state criminal background check every five (5) years at no charge.  Volunteers are responsible the cost of the CPSL FBI clearance, if required, every five (5) years which is approximately $27.00 at present.
Background Check Updates: Every 5 years, volunteers of WWSO must complete new background checks as required by CPSL.  The additional national background check required by WWSO must continue to be completed on a yearly basis.
For further information on the laws see: 
http://keepkidssafe.pa.gov/cs/groups/webcontent/documents/document/C_135249.pdf or contact WWSO Director of Risk Management, John Marquis at WWSORiskManagement@gmail.com.
---------------------------------
Completion Process for CPSL Require Background Checks:
ALL NEW HEAD COACHES, ASSISTANT COACHES, UMPIRES AND BOARD MEMBERS MUST COMPLETE STEP 1, STEP 2, STEP 3, STEP 4A OR 4B, AND STEP 5.
IF YOU COMPLETED STEPS 1-5 IN 2016, 2017 OR 2018, YOU ONLY HAVE TO COMPLETE STEP 1 IN 2019.
Step 1.  Complete the WWSO Consent to Perform Background Check form (same as prior years):
https://goo.gl/forms/Xs9utsLuCh0UUvm33
Step 2.  Complete the PA Child Abuse History Clearance:
Tips: 


- Create an Individual Account




- Organization is Warrington Warwick Softball Organization




- May take 10-20 minutes to complete




- You need to enter all of the places you've lived and people you've lived with since 1975




- Receive a response within 14 days
Step 3: Complete the Pennsylvania State Police Criminal Record Clearance:
Tips:
- Warrington Warwick Softball Organization
- After submitting, click Control Number link
- Print/Save the resulting certification form
Step 4A: IF YOU HAVE LIVED CONTINUOUSLY IN PA FOR THE PAST 10 YEARS
   Read, sign, and return the following disclosure statement:
http://keepkidssafe.pa.gov/cs/groups/webcontent/documents/document/c_160267.pdf
Step 4B: IF YOU HAVE NOT LIVED CONTINUOUSLY IN PA FOR THE PAST 10 YEARS
   Complete the FBI Background Check (with fingerprinting) – Fee: $27.50
https://www.pa.cogentid.com/index_dpw.htm
Step 5. Submit completed background check documents and certificates to:
 WWSORiskManagement@gmail.com or mail to WWSO, PO Box 183, Warrington, PA 18976.
---
---
Visit the WWSO Shop!
The WWSO Shop is your source for WWSO Apparel, Merchandise, Gear, Sportswear and Clothing! Choose from an endless variety of WWSO Merchandise including T-Shirts, Sweatshirts, Hoodies, Hats and Jerseys. Customize your design and personalize the back of your WWSO Gear to show your WWSO spirit and support your team!
The WWSO earns 15% on all sales made through the WWSO Shop!
---
Sunday, October 27, 2019
Low Minors
Deep Run 1 @ WWSO 1-Dernoski
1:00pm - 3:00pm
WWSO 2-Fanelli @ Lenape Valley 1
1:00pm - 3:00pm
Minors
Montgomery 1 @ WWSO 1 - Strachan
1:00pm - 3:00pm
Deep Run 1 @ WWSO 2 - Dee-Sheplock
3:00pm - 5:00pm
Majors
WWSO 2 - Hewitt @ Lenape Valley 1
1:00pm - 3:00pm
Sunday, November 3, 2019
Minors
Montgomery 1 @ WWSO 2 - Dee-Sheplock
3:00pm - 5:00pm
WWSO 1 - Strachan @ Deep Run 1
3:00pm - 5:00pm
View Full Schedule
Signup for Alerts
Get important messages from Warrington Warwick Softball Organization by Text & Email