Cal Ripken Minors Home Page - SAA 3rd-4th Grade Baseball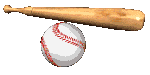 League Director :  Joe Buscaglia 
2017 Minors teams, practice schedule and cage schedule
2017 Minors team rosters  [-- CLICK HERE for 2017 SAA Minors Team Rosters --]    (TBD)

2017 Minors game schedule  [-- CLICK HERE for 2017 Game Schedule --]     (TBD)

2017 Minors batting cage schedule    [-- CLICK HERE for 2017 Batting Cage Schedule --]     (TBD)
*** if you do not see your player on a team, please contact Joe Buscaglia, SAA Minors Director ***

MINORS GENERAL PROGRAM INFORMATION and GUIDELINES
GENERAL 2017 SCHEDULE ITEMS:
Evaluations - early/mid March 2017
Team assignments (via coach draft) - by late March 2017
Team practice begins - late March 2017 
(weather permitting)
Games begin Saturday April 8, 2017 (weather permitting)
Regular season games end / playoffs begin - late-May 2017
Playoffs end (championship games) - mid-June 2017 (before school lets out!)
Note: The SAA season end priors to the end of the school year so as to minimize conflicts with vacations and other summer sports.
Changes to SAA Intramural Baseball (effective 2015)
2015 changes to the SAA Cal Ripken level intramural baseball program.  These changes affected the Minors and Majors divisions (generally 3rd-6th grade and 8-12 yrs old).

In 2015, we created 3 divisions. The Minors (46/60) combined the 3rd and 4th grade leagues into one league.  10yr and 11yr old 5th or 6th graders who wish to remain in Minors may do so upon request. The Majors division combines 5th and 6th grade players 10-12 years old who play on the 50/70 field.  7th grade players who do not turn 13 before May 1 are permitted in Majors upon request.  4th grade players (on a very limited basis and by Director invitation only) may be permitted to play SAA Majors instead of SAA Minors contingent upon league needs.

This change facilitates a better balance (numbers and teams) within and across the Minors and Majors leagues and allows for more efficient use of our fields and facilities (eg., more practices, more games, more time on the field learning the game).

Rookies will continue to include all 2nd grade players.

Coach Pitch and T-Ball remain unchanged.