2001 Fall Classic Ring awarded to each player on DelVal 
2010 (45+) DelVal Bomber ring on LEFT 2001 (28+) DelVal ring on RIGHT
All Players winning MSBL National Tournaments receive Championship Rings
2001 DelVal  Fall Classic 28+ Champions
DelVal 2001 is the first SJMSBL sponsored Team to Win a National Championship
Manager: Neil Hourahan MVP: Chuck Frobosilo. Picture taken @ Jack Russel Stadium
note: the flag held by Ed Moravec. 2 months earlier was 911.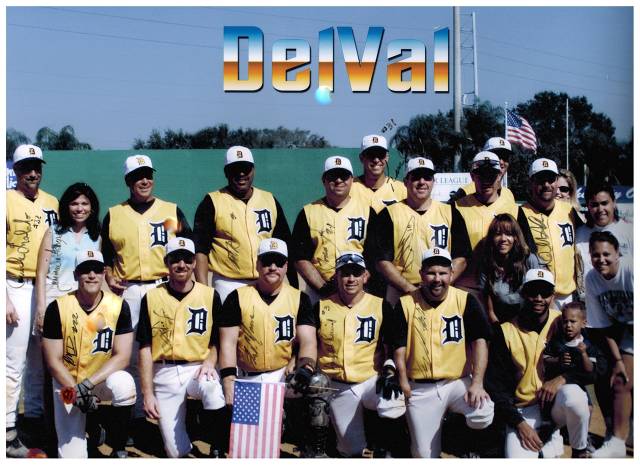 2004 35+ American Champions. Cherry Hill Tigers. Managed by Dave Kasen (Top row last guy on right) MVP: Steve Alemi (Top Row Center)
The SJMSBL is compiling a history of former Championship Teams. Please email Champion Team Name, Date, Team Pic, Division and any other info you'd like to record. Information submitted will be uploaded onto side tab, SJMSBL History of Champions.
Send info to eecnph@comcast.net
idea:Miles R. 2/28/15
For a link to the Regular Season 2009 Player Statistics Click here:
2009 South Jersey MSBL Champions
18+ National:

  Pennsauken Punishers (MGR. Armando Diaz /  Record: 11-4)
25+ American:

  South Jersey Rays 

(MGR. Dan Shannon /  Season Record: 10-7)
25+ National:

  Florence Bears 

(MGR. Michael Tolle /  Season Record: 19-2)
25+ Shore:

  Middle Twp. Yankees: 

(MGR. Chris Leusner /  Season Record: 16-3)
35+ American:

  Marlton Redsox 

(MGR. Walter Szwajkowski /  Season Record: 7-8)
35+ National:

 Cherry Hill Bombers 

(MGR. Tim McMaster /  Season Record: 11-6-1)
35+ Colonial:

  Delco Diamondbacks 

(MGR. Steve Davis /  Season Record: 16-2)
35+ Shore:

  Pigs Heaven Herd 

(MGR. Blair Rosenfeld /  Season Record: 11-1)
45+ Overall (American/National):

  Washington Twp. Senators 

(MGR. Nick Frese /  Season Record: 21-0)
Midweek Wood:

  Marlton Athletics 

(MGR. Terry Annese /  Season Record: 5-2)
Fall 18+/25+:

  Jersey Shore Yankees 

(MGR. Gregg Balin /  Season Record: 8-1)
Fall 35+/45+:

  Cherry Hill Reds 

(MGR. Tom Hewitt /  Season Record: 5-0)
Winter Ball 2008 Coordinated by Terri Anniese