2020 Divisional Meetings 1- 2 weeks after General Meeting
2020 Midweek Meeting scheduled for Thursday, April 23rd @ 7:00pm
Email Fall Championship Team Pic to eecnph@comcast.net
2020 Spring Season Opens Sunday, April 5
2020 General Meeting to be held in January DATE TBD
On behalf of the SJMSBL, the players, coaches, and managers, I would like to thank all who helped make the 2019 Toys For Tots/Holiday Food Drive a huge success. To make an event like this happen every year and grow every year, it takes the support and generosity of all. A sincere thanks to everybody!!! Looking forward to next year's event.
Lou Marshall
President SJMSBL
Neil Hourahan
Vice-President SJMSBL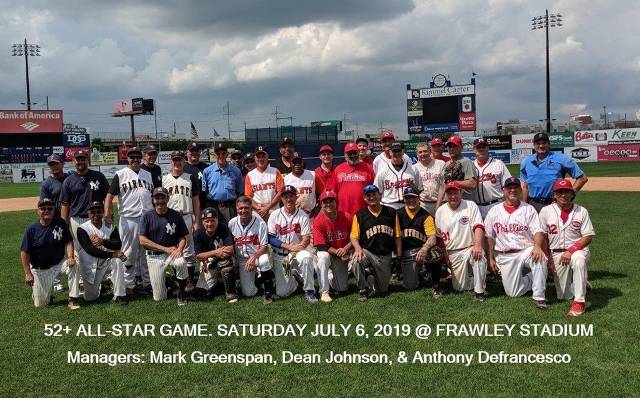 It is with much sadness that the SJMSBL mourns the passing of Tom Haas 11.23.2019. Tom was a long-time member and President of the South Jersey Hot Stovers. He will be sadly missed but not forgotten. His legacy and contributions will live on forever. He is the very fabric of what is good about our lives. He lived a great life and was a very important part of many lives. His contributions to the South Jersey baseball community are countless. He was also a long-time High School coach and touched many lives on and off the field. I was honored to call him a friend. Rest in Peace Tom!
____________________________________________________________________________
---
The South Jersey Mens Senior Baseball League    honored long time player Bill "Pops" Julio #7 8/18/2019. Bill played in South Jersey Baseball leagues since the seventies. He has played in the SJMSBL for almost 2 decades. He has been a mentor to many players. He retired after last years 2018 season at the age of 79 where he won a championship with the 52 Division Cinnaminson Reds. Bill wore the #7 throughout his career as do his two sons as a tribute to him. For those who know him and those who don't he has been so fondly given the nickname "Pops".  On Sunday the league will present him with a plaque and his former team the Cinnaminson Reds will present him with his old jersey signed by his teammates. The SJMSBL has been very honored to have Bill in our fold over the years. He has had many achievements, and certainly the commitment, passion for the game we all love. On a personal note Bill has been one of my best friends and the hours upon hours we have talked about baseball and life in general has been nothing short of priceless for me.
On the field Bill was as fierce a competitor as the game has seen. Off the field, Bill is a compassionate, caring giving human being. I have played on teams with him and hold those as very special times in my life. Bill has hung up the cleats, those who know him well are not totally convinced it is for good myself included. Wherever life takes him, anybody who knows him or who has stepped on the field with him is a better person for having done so.
Congratulations Bill from all of your family at the SJMSBL!!!
---
Joe McDyre passed away May 8, 2019. Joe was an Umpire Assigner and Umpire for the SJUA for over 40 years. He will be missed by the South Jersey Baseball Community. The SJMSBL offers Sincere condolences to the families & friends grieving there immeasurable loss.  
---
For 2018 SJMSBL Pictures
Go to "PAGES" then go to  "SJMSBL Champions 2010 -2019"
To see Pics
---
2019 MSBL National & Regional Tournaments UPDATED go to "pages" ^ & scroll down
---