2019 Fall Playoffs begin Sunday, November 3 @ 9:00am
Email Fall Championship Team Pic to eecnph@comcast.net
2020 Spring Season Opens Sunday, April 5
2019 Toys for Tots and Holiday Food Drive
This is our 6th annual drive
Let's all get behind this great cause!!!
 Lou Marshall (President)
  Neil Hourahan (Vice-President)
It is that time of the year again. Our sixth annual Toys For Tots and Holiday Food Drive is in full swing.
The SJMSBL and a host of South Jersey and Philadelphia area businesses have joined together again this year to be part of the United States Marine Corp. Reserves Toys for Tots 2019 campaign. The toys will be locally collected and distributed.  Take a moment and please think about how fortunate our children are, to be out there with all their toys and gifts on Christmas morning. Let's help bring a little bit of happiness and smiles to the faces of all children this holiday season! Please consider collecting toys from your team, friend's, families and communities and please join us at one of the events below or call Lou Marshall (856-266-7916 ) to coordinate pick up of the toys. Every single toy counts!  Please make sure these toys are unwrapped. We are also sponsoring a holiday food drive along with the toys for tots drive. Both events will take place at Cherry Hill National Little League Complex 601 Cooper Landing Rd. Cherry Hill Saturday, November 9th from 9:00 am until 4:00 pm please make sure all food items are non-perishable. Let's make sure everyone has the opportunity to not go hungry and has a feeling of contentment, knowing that they can feed their families this holiday season!
We have some fun events planned and lots of surprises for Saturday, November 9th which will be a day to celebrate our friends and families and the collection of barrels of toys and food for the less fortunate.
If anyone would like to get a collection box placed at a location of your choice, please reach out to Lou Marshall 856-266-7916. I will make sure we get the box to you.
   Tell some Friends!!!
Saturday, November 9, 2019
·       Lou Marshall and the SJMSBL will be hosting a game to be held at the Cherry Hill National Little League complex 601 Cooper Landing Rd. Cherry Hill, N.J. for children 6-12 yrs. of age from 12PM to 3PM. Food, drinks and great fun and a lot of surprises are on the menu. We will be there from 8am for the collection of non-perishable food items and toys.
·       Rain date Sunday November 10th from 9am to 3pm with the game time at 12pm                                                         
Please find the list of friends below that have generously volunteered to collect Toys for Tots . Please feel free to visit these locations and drop off a Toy!
**SJMSBL (Lou Marshall) 856-266-7916
** SJMSBL (Neil Hourahan) 609-304-8483     
**Dunphy Motors (Mark Singer) 7700 Frankford Avenue, Philadelphia, PA 19136 
**Bridesburg Boys & Girls Club (Jerry Houck) 2901 Bridge Street, Philadelphia, PA 19137
            ** Extra Innings( Kyle Morris) 100 Pike Rd. Building C Mt. Laurel, N.J. 856-437-6565 www.extrainnings-mountlaurel.com
            ** Headquarters Hair Salon( Johanna Marino) 119 Haddon Ave. Westmont, N.J. 08108
            ** Treno Pizza Bar ( Bob Platzer ) 223 Haddon Ave. Westmont ,N.J. 08108 856-833-9233
            ** Pinsetter Bar and Bowl ( Mark Platzer ) 7111 Maple Ave. Pennsauken ,N.J. 08109 856-665-3377
            ** Paul's Family Hair Care  ( Paul Clements ) 19 W. Main St. Moorestown, N.J. 08057 856-235-2712
We would like to also thank the following sponsors in addition to the ones listed above:
Columbia Bank ( 900 White Horse Rd. Voorhees, N.J. 08043 )
Eickhoff Family Shop-Rites ( Cinnaminson, Delran,  Burlington Twp., Hainesport, Ark Rd .Mt. Laurel )
Bottino Family Shop-Rites ( Washington Twp., Vineland, Millville, Upper Deerfield )
Browns Family Shop-Rites and Fresh Grocers ( Wyncote, Cheltenham Square, Parkside, Oregon Ave., Island Ave, East Norriton, Fairless Hills, Ben Salem, Fox St., Monument Ave. Brooklawn, Roxborough )
Ravitz Family Shop-Rites (Cherry Hill Garden State Pavilion, Evesham Rd. Voorhees, Union Mill Rd. Mt. Laurel, Marlton, Moorestown,  Mt. Ephraim Ave. Camden ,N.J. )
Fresh Grocers and Burns family Shop-Rites ( 56th and Chestnut, Upper Darby, LaSalle, Walnut St., Progress Plaza, Brookhaven, Drexeline, Grays Ferry, Wilmington )
Cathedral Kitchen Food Bank ( Camden N.J. )
Cherry Hill National Little League ( Steve Saft, Charles DeChristopher )
Camden Catholic High School
Third Base Sports and Trophies( 1960 Old Cuthbert Rd. #120 Cherry Hill, N.J. 08034, 856-665-0114 )
United Natural Foods ( 225 Cross Farm Lane, York, PA. 17406)
Alliance Sales and Marketing ( Greg Levine )
Smashmallow ( Mike Sapraicone, Ryan Barrios )
Presence Marketing ( Jeanine Sullivan )
Cento Fine Foods ( Frank Cifolelli )
Cherry Hill Babe Ruth ( Angelo Marchiano )
Philadelphia Pretzel Factory ( rt.70 Cherry Hill, N.J. )
---
The Rangers baseball program is happy to announce the 2nd Annual Phil Ball Music Scholarship event.

Sunday, October 13th- 1pm to 6:30pm.

The event will be held at Krick Wuder Saloon and Restaurant at 2672 Bridge Street, Philadelphia, PA, 19137.
To Donate to Phil Ball's GoFundme page CLICK HERE

DRINK AND FOOD SPECIAL
$25. 1pm to 4pm (during the Eagles game). Food buffet, domestic beer bottle/draft, and wine. 
$10. 1pm to 4pm (during the Eagles game). Food buffet and soda. Nondrinkers and children. 

And when the Eagles game ends; the live music will begin.
3 hours of live music. Friends of Phil will play them ❤️ off. 

If you attend this event- please bring extra cash.  Their will be donated baskets and 50/50 drawings.
---
Fall Team Managers, Please take a Picture of your Championship Team. Either email it to eecnph@comcast.net or text it to (609)304-8483. Summary of your season and championship run can also be posted below.
---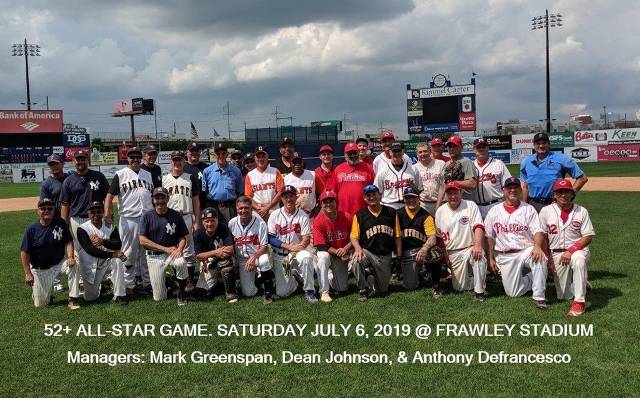 ---
The South Jersey Mens Senior Baseball League    honored long time player Bill "Pops" Julio #7 8/18/2019. Bill played in South Jersey Baseball leagues since the seventies. He has played in the SJMSBL for almost 2 decades. He has been a mentor to many players. He retired after last years 2018 season at the age of 79 where he won a championship with the 52 Division Cinnaminson Reds. Bill wore the #7 throughout his career as do his two sons as a tribute to him. For those who know him and those who don't he has been so fondly given the nickname "Pops".  On Sunday the league will present him with a plaque and his former team the Cinnaminson Reds will present him with his old jersey signed by his teammates. The SJMSBL has been very honored to have Bill in our fold over the years. He has had many achievements, and certainly the commitment, passion for the game we all love. On a personal note Bill has been one of my best friends and the hours upon hours we have talked about baseball and life in general has been nothing short of priceless for me.
On the field Bill was as fierce a competitor as the game has seen. Off the field, Bill is a compassionate, caring giving human being. I have played on teams with him and hold those as very special times in my life. Bill has hung up the cleats, those who know him well are not totally convinced it is for good myself included. Wherever life takes him, anybody who knows him or who has stepped on the field with him is a better person for having done so.
Congratulations Bill from all of your family at the SJMSBL!!!
---
---
Joe McDyre passed away May 8, 2019. Joe was an Umpire Assigner and Umpire for the SJUA for over 40 years. He will be missed by the South Jersey Baseball Community. The SJMSBL offers Sincere condolences to the families & friends grieving there immeasurable loss.  
---
Vehicles Damaged by Foul Balls: Does General Liability Cover?
TO FIND OUT
---
For 2018 SJMSBL Pictures
Go to "PAGES" then go to  "SJMSBL Champions 2010 -2019"
To see Pics
---
2019 MSBL National & Regional Tournaments UPDATED go to "pages" ^ & scroll down
---
Sunday, October 27, 2019
Fall 2019 45-52
PBC Royals @ Cherry Hill Rangers
9:00am
Bensalem Yankees @ South Jersey Phillies
9:00am
Elk Twp. Rays @ Montgomery County Yankees
10:00am
Fall 2019 21 National
SJ Astros @ Old Dirty Batters
9:00am
South Jersey Tigers @ Camden Pirates
9:00am
Runnemede Knights @ Phillies
9:00am
Fall 2019 21 American
Wildcats @ South Jersey Tribe
9:00am
Philadelphia Otters @ East Coast Black Sox
9:00am
Mt. Laurel Mayhem @ SJ Twins
9:00am
SJ Twins @ Mt. Laurel Mayhem
11:30am
Fall 2019 35
Haddon Twp. Rangers @ Audobon Blue Sox
9:00am
Philadelphia Kekambas @ PBC Royals
9:00am
View Full Schedule