2020 Fall League Opening Day: September 13
2020 Midweek Meeting scheduled for Thursday, April 23rd @ 7:00pm
2020 Spring Season Opens Sunday, April 5 or March 29
2020 Bridgeton Invitational Tournament
The Bridgeton Tournament have Granted the SJMSBL 2 Invitations.
May 18-20
For More Information Please CLICK HERE
8 Days of exciting semi-pro baseball action right here in Cumberland County, Bridgeton N.J This event rich in its history has been played each year since 1967. Supported strongly by the community and recognized through advertising and social media. Large commitment comes from the many volunteers in the Cumberland County area to make this event a staple in the Mid-Atlantic region for 50 plus years. The tournament has featured some of the best players on the East Coast and beyond. Many have gone on to play major college baseball as well as the professional level.. Special guest, fireworks, and concessions bring excitement to this family-friendly atmosphere here at Alden Field. J
---
NEW RULE FOR 2020
Tuesday, January 21 @ General Meeting.
57 Teams represented.
Managers voted unanimously that all teams need to have there Stats (particularly) game played - uploaded before there next game. If a team does not have stats updated by the next game, the offending team will get a forfeit for the game stats not uploaded.
Standing Point System below
3 Points for a Win
2 Points for a Tie
1 Point for a loss
0 Points for a forfeit- when you are the cause of the forfeit 
Also for the 2020 Spring Season- If a team Forfeits 3 games team is not eligible for playoffs
---
Gloucester County Phillies teammate, Troy Tucker is battling stage 4 colon cancer, unfortunately, it has also spread to his kidneys. Troy is out of work and does not have medical insurance. To help subsidize his Medical Bills please consider attending a Benefit in which all Profits will go to Troy.- Wayne Baker can also be called/emailed re: Details  856-845-3539 wbaker047@aol.com
BENEFITING      
TROY TUCKER
APRIL 11TH 2020
6PM - 11PM
AMERICAN LEGION POST 72
11 RAILROAD LN
BROOKLAWN, NJ 08030
                  TICKETS $30 EACH OR $50 PER COUPLE
INFORMATION OR TICKETS CALL/TEXT
DEB HANSEN          (609)206-4628
                           KRYSTAL TUCKER   (856)993-6429
**CHINESE AUCTION**
---
2020 Midweek Meeting scheduled for Thursday, April 23rd @ 7:00pm
Address of Meeting Location: 9 Parkdale Place, Marlton NJ 08053
Walk around the house to the patio in the backyard
* Please bring $600 Entry Fee. $600 allows for a max of 20 players on the roster
* If your team did not play SJMSBL 2020 Summer/Spring or SJMSBL 2019 Fall You will need to pay an extra $200 for Liability Insurance
* Please bring your home Field address and any dates that aren't available
We'll be deciding on Opening day (Last years opening day was May 28) and Playoff Schedule.
The Playoffs need to be completed before Labor Day
---
On behalf of the SJMSBL, the players, coaches, and managers, I would like to thank all who helped make the 2019 Toys For Tots/Holiday Food Drive a huge success. To make an event like this happen every year and grow every year, it takes the support and generosity of all. A sincere thanks to everybody!!! Looking forward to next year's event.
Lou Marshall
President SJMSBL
Neil Hourahan
Vice-President SJMSBL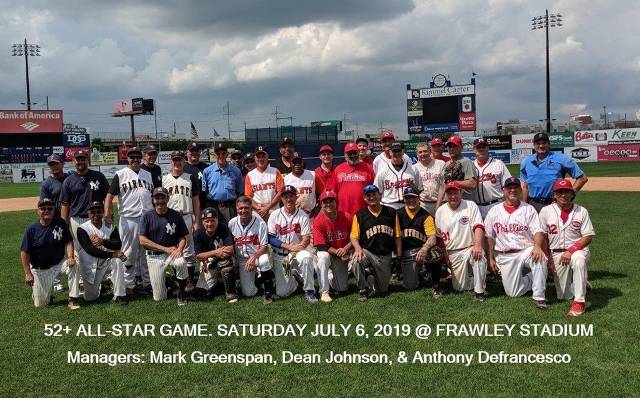 It is with much sadness that the SJMSBL mourns the passing of Tom Haas 11.23.2019. Tom was a long-time member and President of the South Jersey Hot Stovers. He will be sadly missed but not forgotten. His legacy and contributions will live on forever. He is the very fabric of what is good about our lives. He lived a great life and was a very important part of many lives. His contributions to the South Jersey baseball community are countless. He was also a long-time High School coach and touched many lives on and off the field. I was honored to call him a friend. Rest in Peace Tom!
____________________________________________________________________________
---
The South Jersey Mens Senior Baseball League    honored long time player Bill "Pops" Julio #7 8/18/2019. Bill played in South Jersey Baseball leagues since the seventies. He has played in the SJMSBL for almost 2 decades. He has been a mentor to many players. He retired after last years 2018 season at the age of 79 where he won a championship with the 52 Division Cinnaminson Reds. Bill wore the #7 throughout his career as do his two sons as a tribute to him. For those who know him and those who don't he has been so fondly given the nickname "Pops".  On Sunday the league will present him with a plaque and his former team the Cinnaminson Reds will present him with his old jersey signed by his teammates. The SJMSBL has been very honored to have Bill in our fold over the years. He has had many achievements, and certainly the commitment, passion for the game we all love. On a personal note Bill has been one of my best friends and the hours upon hours we have talked about baseball and life in general has been nothing short of priceless for me.
On the field Bill was as fierce a competitor as the game has seen. Off the field, Bill is a compassionate, caring giving human being. I have played on teams with him and hold those as very special times in my life. Bill has hung up the cleats, those who know him well are not totally convinced it is for good myself included. Wherever life takes him, anybody who knows him or who has stepped on the field with him is a better person for having done so.
Congratulations Bill from all of your family at the SJMSBL!!!
---
Joe McDyre passed away May 8, 2019. Joe was an Umpire Assigner and Umpire for the SJUA for over 40 years. He will be missed by the South Jersey Baseball Community. The SJMSBL offers Sincere condolences to the families & friends grieving there immeasurable loss.  
---
For 2018 SJMSBL Pictures
Go to "PAGES" then go to  "SJMSBL Champions 2010 -2019"
To see Pics
---
2020 Bridgeton Invitational Tournament
May 18-20
For more information CLICK HERE 
2020 MSBL National & Regional Tournaments UPDATED

2020 MSBL/MABL
National Tournament Calendar
 

Tournament

Dates

Age Groups

 

 

Holiday Classic

Viera, Florida

 

Deposits due

 Nov. 15, 2019

 

 

January 17, 2020

 to

January 20, 2020

 

 

30+,

45+,

54+

 

 

Desert Classic

Palm Springs, CA

 

 

Deposits due

 Nov. 15, 2019

 

 

January 18, 2020

to

January 20, 2020

 

 

 

25+

35+,

45+,

55+,

60+, 65+

 

Kickoff Classic

Las Vegas, Nevada

 

 

Deposits due Jan. 1, 2020

Week 1: March 7 – 9, 2020

 

18+, 35+ ,

55+  65  

Week 2: March 14 – 16, 2020

45+

50+, 60+,

70+

 

Las Vegas Open

Las Vegas, Nevada

May 23 – 25, 2020

18+,

35+,

45+,

50+

 

 

Phoenix / Tempe /    Mesa / Scottsdale

 

 

 

 

 

 

 

October 18 –

November 7, 2020

50+ Divisions

70+ Divisions

35+ Divisions

25+ Divisions – National/Mountain

 

55+ Divisions

65+ Divisions

40+ Divisions

73+ Division

Father-Son Divisions

 

45+ Divisions

60+ Divisions

25+ Divisions – Central/Cactus

 

Jupiter /

West Palm Beach, Florida

 

 

 

 

November 7 – 21, 2020

 

 

18+ Division

28+ Division

55+ Divisions

45+ Divisions

 

50+ Divisions

60+ Division

35+ Divisions
Contact Information:  National Office Ph: 631-753-6725 Email: info@msblnational.com
DATE

HOST CITY

CONTACT

PHONE

MSBL

MABL

18+

25+

35+

 

45+

 

55+

 

Jan. 17 – 20

Holiday Classic – Osceola, FL

National Office

631-753-6725

info@msblnational.com

 

30+

X

54+

 

Jan. 18 – 20

Desert Classic – Palm Springs, CA

National Office

631-753-6725

info@msblnational.com

X

X

X/

50+

X/

60+/70+

X

Jan. 18 – 20

Palm Beach Kickoff, FL

Dave Salley

386-299-8049

 

 

 

 

X

March 7 – 9

Las Vegas, NV – Kickoff Classic

National Office

631-753-6725

info@msblnational.com

 

X

 

X/

65+

X

March 14 – 16

Las Vegas, NV – Kickoff Classic

National Office

631-753-6725

info@msblnational.com

X

 

X

50+/

60+/70+

 

May 23 – 25

San Diego, CA

Jim Teeter

858-999-5141

 

 

 

60+/

65+/ 70+

 

Memorial Day

Atlanta, GA – Billy Townsend Memorial (Wood Bat)

Don Pike

(770) 595-5120

 

X

30+

X

40+

50+

X

Las Vegas Open - National Tournament

National Office

631-753-6725

info@msblnational.com

X

X

X

50/ 55/60

X

July 3 – 5

Colorado Springs, CO – Pikes Peak Classic

Bud Maison

719-238-5376

 

 

 

50+

X

July 3 – 5

America's Pastime Classic

Joe Banasik

832-992-7246

 

X

X

X

X

Labor Day

Atlanta, GA – Rosie Shootout (Sept. 2 – 4)

Don Pike

770-595-5120

 

X

30+

 

 

X

Huntsville, AL – Rocket City Classic  (Sept. 1 – 3)

Philip Ellis

256-837-8490

pellis@knology.net

X

 

40+

X

 

Indianapolis, IN

John DeCosta

317-626-1290

X

 

 

 

 

Richmond, VA Labor Day Baseball Classic

David Hash

434-806-5859

 

 

X

53+

20+

Southern California (Beat The Heat) –

Great Park, Irvine

Jef Brown

 

X

X

X

X

Best in the West Labor Day Tournament, 

Woodland Davis, CA 

Nathan Passantino

530-681-0755

nathanpassantino@hotmail.com

X

X

X

X

65+

X

Sept. 19 – 20

Buffalo, NY – Cataract Classic

Ralph Proulx

716-310-0500

proulxr@roadrunner.com

 

 

 

 

X

October 3 – 4

Liberty Bell Classic – Philadelphia, PA

Nick Chichilitti

215-534-4770

 

 

X

X

 

October 17 – 18

Columbus, OH – Capital City Classic

Rick Fryman

419-579-4859

Rfryman38@gmail.com

X

X

X

 

 
---